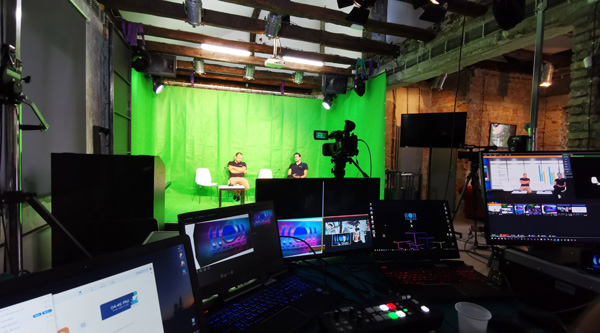 Prosound Conference Systems AV rental and live events company in Serbia has been working for clients in the conference and corporate events market for over 10 years and now carry enough AV equipment and in-house technical expertise to conduct more than 10 simultaneous live events in a day. They have achieved this through the specialists on their team, and by keeping up with new developments to help give their clients' productions an edge. The quality and flexibility of their equipment means that Prosound can use it in varied workflows.
More than two years ago, Prosound began researching new ways to play out video and graphic content to various types of display equipment, including multiple-projector setups and custom LED screen sets, for live event production. Prosound wanted a flexible system in which they could integrate SDI camera feeds into live production equipment, and record multiple channels from SDI sources. It also needed to integrate with vMix and Resolume live production software, which are Prosound's preferred brands for live event production.
Custom Integrations
vMix video mixer and switcher software can be used either for local video mixing or, more typically, for live streaming, publishing live productions directly to online streaming platforms and social media. It is unusual for the diversity of inputs it handles – multiple cameras, videos, images, audio, web streams, Powerpoint, titles, virtual sets, chroma key and others.
Resolume is a live video mixing software package, used mainly for performances such as AV shows using creative audio-visual playback with VFX, at stadium concerts featuring live composites and projection mapping, out to creative VJ engagements mixing live video at venues. Most styles of event and types of content are compatible with all Bluefish444 Epoch & KRONOS video cards, and real-time rendering is supported.
For their hardware foundation, Uros Vasiljevic, AV Manager for Prosound, decided to purchase Epoch | 4K Supernova S+ cards to integrate into a Xeon-based HP Z8 workstation. Uros chose the cards because of the flexibility they give by having input and output built into a single card, and by supporting formats from SD/HD to 4K/UHD SDI.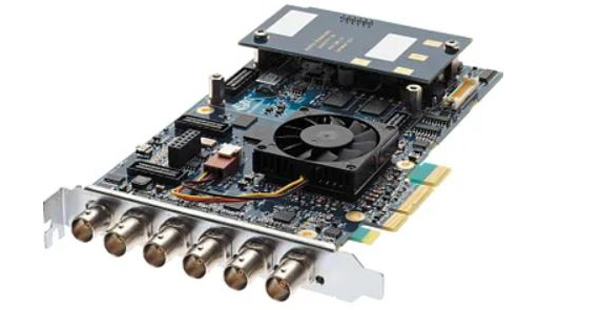 The Supernova S+ are certified for use with vMix and Resolume, and their specifications meant Prosound's team could deploy the system immediately for their current applications, and continue using it as their workflows evolved to 4K. Uros said, "The fact that the Bluefish website recommends specific workstations, Thunderbolt enclosures and supported software – including vMix and Resolume – helped us avoid a lot of the background research and compatibility testing usually needed when buying hardware for workflows."
Configurable I/O
Prosound initially used the Supernova S+ cards to integrate their SDI camera feeds and other video content into different compositions within vMix and Resolume. They would then use a switcher or mixer to output to the required destination, such as large LED screens or projectors.
Supernova S+ has four independent BNC connectors, which can be configured as four inputs, four outputs, or two inputs and two outputs. Prosound could use the same cards for a number of different workflows, which not only improved the efficiency of the over-all set-up but also became a critical factor when the pandemic arrived. Because the majority of events were moved online, the audience were now consuming live-produced video in a completely different way that, in turn, made a big impact on the technical requirements of staging live events.
By setting up the Supernova S+ cards' four-input configuration, Prosound could still use the same Bluefish-powered HP Z8 workstation during the pandemic for multi-channel acquisition. Forced to work in a mostly online environment, the four Bluefish SDI inputs were used to capture directly from cameras or from their video graphics systems. These live video feeds are then used in vMix and Resolume software to create dynamic visuals, before sending the final output to a streaming platform.
Evolving Environment
"The pandemic was obviously a challenge in terms of having to adapt to an evolving situation," said Uros. "Having an uncertain future makes it difficult to make plans or to know what we'll be dealing with in a month or a years' time. The Bluefish video cards helped us us to adapt to an online environment and continue to deliver to clients with a high quality of service. Also, once everything was set up, we haven't had to alter anything except change the I/O configuration as needed, and haven't encountered any issues with input compatibility."
As it seems likely that remote production of live events will be here for some time, Prosound is now considering the potential for integrating the Supernova S+ cards into Thunderbolt enclosures, making acquisition more flexible and portable. All Bluefish video cards are certified with several different Thunderbolt expansion chassis manufacturers. bluefish444.com