ShotPro is an application made for directors, DPs, producers and other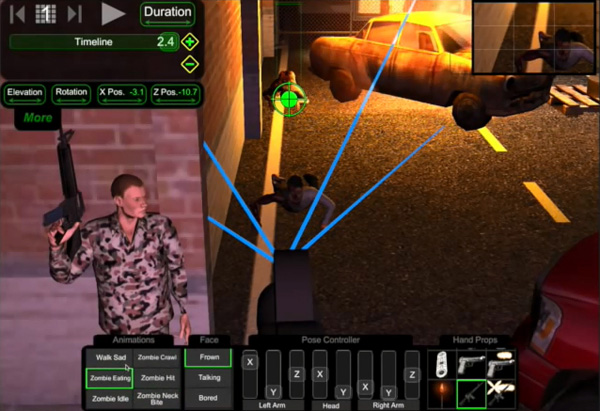 production team members who need to plan productions, communicate
ideas and work together on set.
---
ShotPro Review: ShotPro Takes Previs Tools On Set
ShotProis an iOS application made for directors, DPs, producers and other people who need to plan productions, communicate their ideas and work together on set. It has been developed by Dan Fearing and two colleagues in the US who between them share experience in short form video production, app development and programming, and puts genuine pre-visualization tools onto the iPad and iPhone.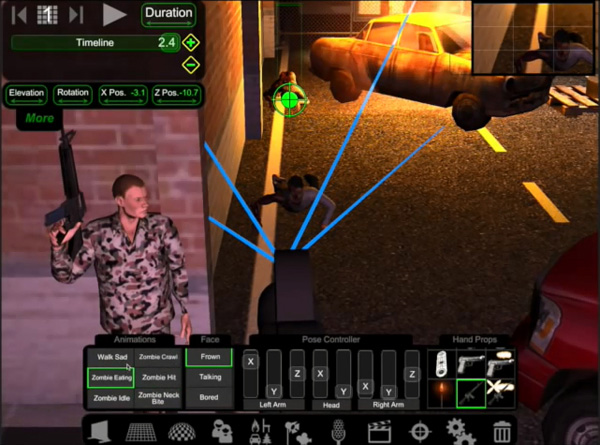 Dan said, "The inspiration for ShotPro came when we were trying to use one of the off-the-shelf storyboarding packages and found it fairly awkward to use. We wanted to develop a tool that filmmakers, including people not confident with drawing, could use to plan projects creatively, experiment with moves, animation and sound track ideas, and to show clients a basic outline of their concepts."
Moving Storyboards
Dan and his team also said that, since they were already finding tablets and phones extremely useful on set, they decided that essential previs tools - including set and shot design, character animation, lighting, sound track and comprehensive camera control - would be great to add to the devices' existing ability to share files over the internet. Having these tools on a tablet or phone also meant that these tools could be taken out to a location or on a set, and used to work through and edit a filmmaker's ideas, on the fly.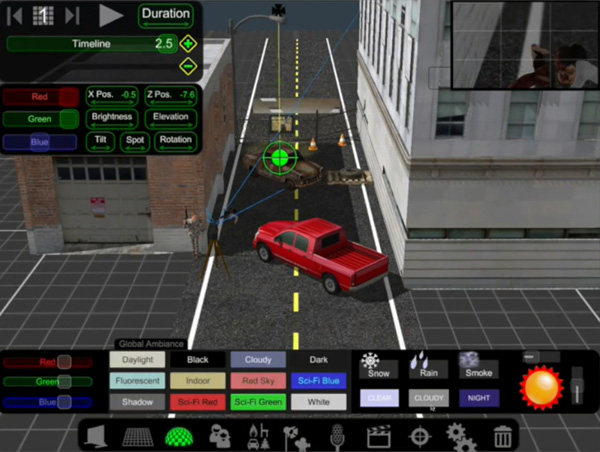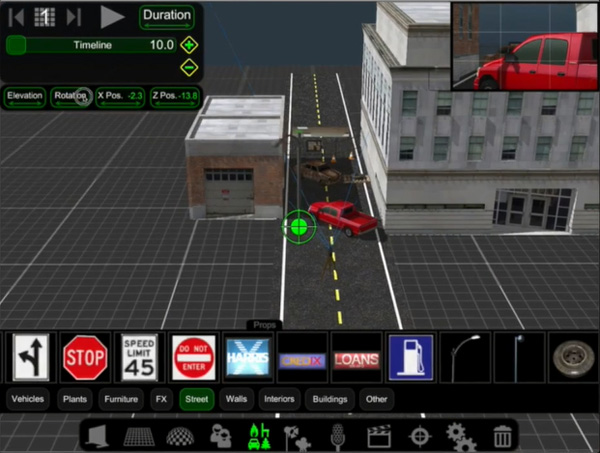 While the Unity game engine is at the foundation of this tool, it has required quite a lot of coding on top of that to achieve the level of functionality, control and ease of use the team was looking for. Inside the interface you have a3D set space, a collections of props, animatable characters, controllable lighting, cameras to position and searchable notes. All of these are used to create moving storyboards and block out your action and camera work.
A project can be rendered out as a movie at any stage andexportedto the user's camera roll as a .mov file in 24, 30 or 60 fps at 1080, 720, 480 or 240 resolution. You can also capture and exportsnapshotsat any time. Both the movie files and snapshots are simple to share.
Thepropsare organised into categories such as plants, water features, effects, streets and vehicles, buildings and furniture, and lots of others, all of which can be keyframed and positioned.Characterscover all age groups in many different professions, dressed in diverse clothing styles. When you choose your characters, you see that some are marked 'HD'. These are more detailed, for example, their facial expressions can be customised to match script.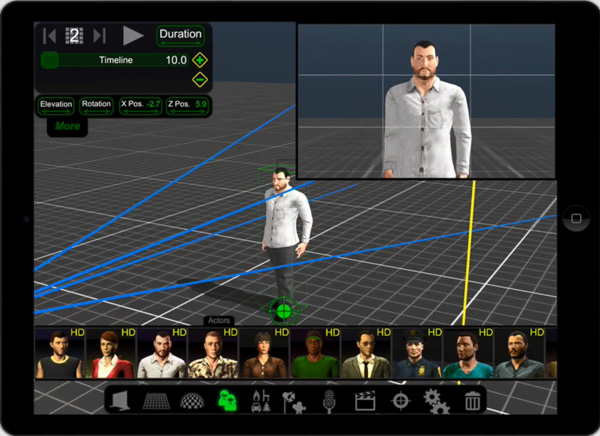 Animation Presets and Keyframing
Characters are manipulated and customised initially with pre-set moves, facial expressions and typical full-body actions like walks, runs and swimming. From there, the movements of characters, as well cameras and props can be animated further withkeyframing. To do this, you first nominate the length of the shot to keyframe, and then individually select the props, characters and cameras to animate and place keyframes along the timeline for each one.
Blockinga scene, the start point of a project, is straightforward. The set space is a grid system, and as you add props, lights and characters, you use multitouch controls to move them about, fine tune the cameras and precisely block the action. Thecamerasin particular are quite controllable for elevation, rotation, zoom, position and depth of field, and lenses are adjustable from 20mm to 350mm. You can set up a different, multiple-camera shoot, per scene. Thecamera viewis shown as you work as a picture-in-picture display in the corner of your screen.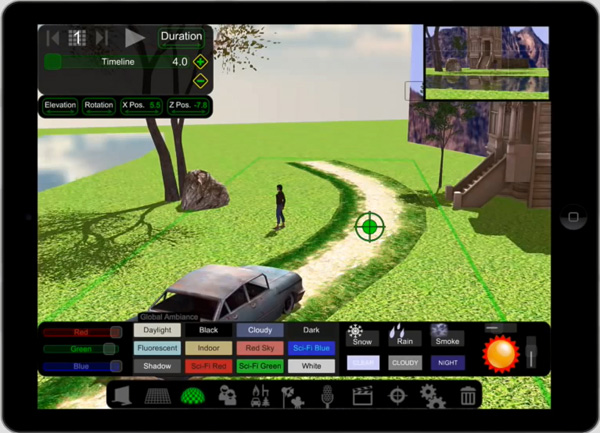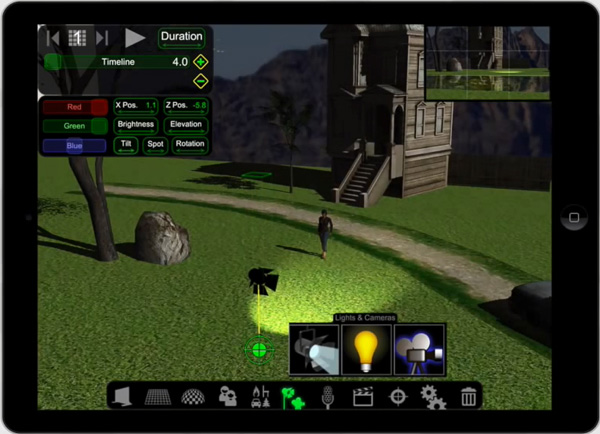 Lighting Up
Thelighting toolsare especially useful in ShotPro. You begin designing your lights with ambient presets like daylight, overcast, red skies, night time, fluorescent and other interior lights - all of which can be fine-tuned with sliders. You can also addatmospheric effectsincluding snow, rain or smoke, and swap skies from clear to cloudy to night, before adjusting the lighting to match.Floodlightsbecome very simple – move them up or down, adjust for brightness and use tuneable colour temperature presets from 3K to 6K.Spotlightscan be adjusted for tilt, height, size and rotation.
Thesuncan be switched on or off, and its position changed to go with the story. On this point, you'll see a difference between high quality mode and draft mode. Draft mode renders out even on older iPads in real time, but high quality mode, possible on the recent iPads, reveals changes to shadows dynamically.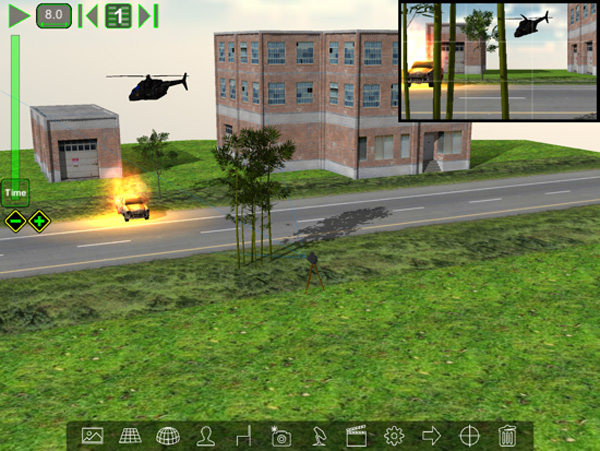 Dan the team wanted to make it clear that the app as it is now is only a starting point. In fact, their intention is to keep the software's functionality and usability continuously in development by staying in touch with theiruser community. This approach has so far yielded extremely useful updates ranging from aspect ratios, character posing and specialist camera rigs, to practical user tweaks like object selection and command warnings. Recent and pending updates are posted online, so you can follow the progress the app has been making, which is interesting. http://shotproapp.fullboards.com