Live event producers can use Matrox VS4Recorder Pro to capture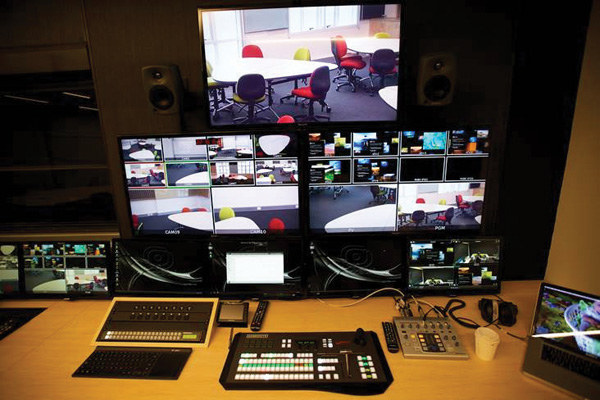 synchronized, frame-accurate, multi-channel files to NLE compatible
H.264, MOV and AVI files in quickly configured set-ups.
---
Matrox VS4Recorder Pro Captures Edit-Ready Multi-camera Action
Matrox Video's VS4Recorder Pro is a multi-camera recording and multiviewer software application developed to use with Matrox VS4 quad HD capture cards. Each VS4-based recording system captures up to four video and audio inputs to create files compatible with editing software from Adobe, Apple and Avid and for archiving.
The system's combination of functions and outputs can help make synchronized, frame-accurate, multi-channel HD capture simpler and more affordable for diverse types of projects. H.264 is produced in either MOV or MP4 wrappers, and AVI files can be generated using the Matrox MPEG 2 I-Frame codec. MOV QuickTime files can be created using DV, DVCPRO, DVCPRO50 and DVCPRO HD. VS4Recoder also functions as a multiviewer, displaying high video quality, even when monitoring interlaced sources on progressive computer monitors, and as much storage as needed can be added to the system.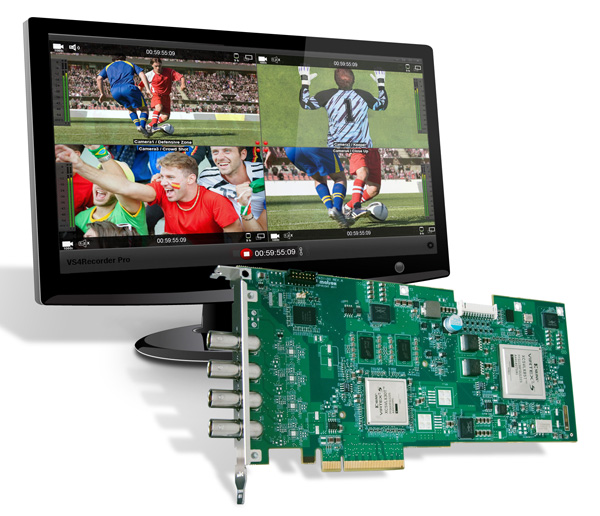 Demonstrated atIBC2014, VS4Recorder Pro includes automatic input detection to help set up quickly on-site. Event markers are available for Adobe Premiere CC so that while recording, users can highlight moments of interest for to save time in post-event editing. Users also have settings for capture duration and file switching without frame loss, and VS4Control forgang recordingof an unlimited number of video sources by networking multiple VS4-enabled machines together in a conventional master-slave configuration.
Matrox_VS4Recorder_Pro3 allow developers to incorporate VS4 functionality into their own applications. VS4-based systems also suit multi-camera live production streaming with Telestream Wirecastfor Windows orStudioCoast vMixsoftware.
Classroom Capture - University of Melbourne
TheScience of Learning Classroomat theUniversity of Melbournehas been using VS4Recorder Pro for an unusual capture research project. Located at the Melbourne Graduate School of Education, a team of technicians devised a method for capturing the extremely dense audio and video data produced in various classroom settings, to a very high level of detail. A computer farm of custom built Matrox VS4-based turnkey systems was combined with VS4Recorder Pro software, integrated by specialist reseller Advanced Audio Visual & Music Technology in Australia.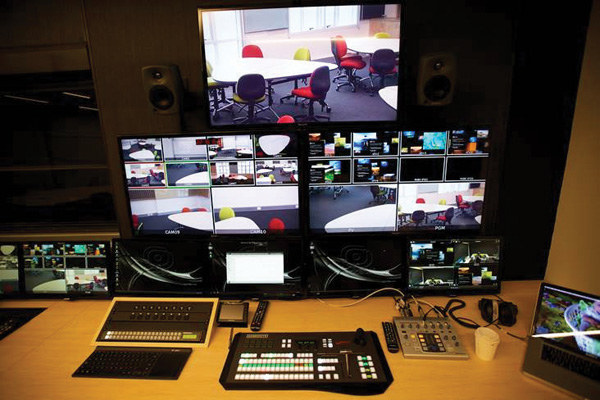 The university team is made up of international researchers in education, neuroscience and cognitive psychology who work together to understand the learning process between students and teachers. Using VS4Control, they networked four VS4 machines in a master/ slave configuration to capture up to 16 channels of HD video.
Explaining the decision to use the VS4 system, technical manager of the new facilityCameron Mitchellsaid, "We looked at a large number of options that could handle synchronous AV capture of multiple channels. Some were complicated and astronomically expensive, others simply unreliable. When we first trialled the newVS4Recorder Prosoftware, it not only worked, but the complete four-channel recording system could be bought at a relatively low cost."
The new Melbourne facility houses 16 channels of HD capture and up to 32 channels of audio which gives a very fine-grained perspective of the classroom. To improve the ability to control sessions, each researcher can use an iPad to control a personal audio monitor mix from within the control room. Traditional two-way communication systems also allow direct conversation between researchers and teachers, and messaging capabilities allow more discreet communication via iPads.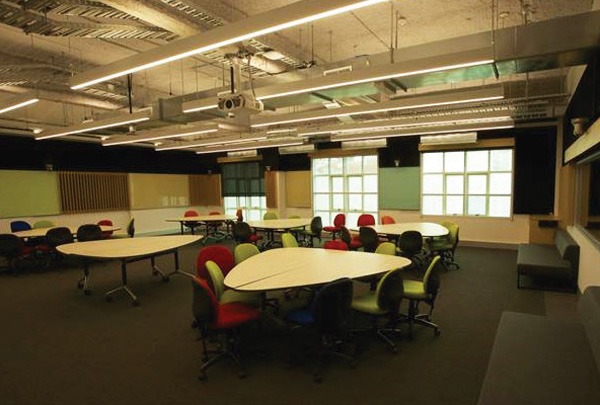 A group ofApple TVunits captures student laptop or iPad screens for real time records of student work in the classroom. The huge amount of resulting data is recorded directly to ahigh speed SAN, withweb proxiesmade available after the lesson for online access through a digital asset management system.
For Cameron, the VS4-based system's ability to capture the fast-moving environment of classroom teaching and learning is very useful to the university. "In the classroom, very little is actually scripted. The teacher may have a plan for how they intend the lesson to unfold, but the students don't. Our only chance to capture those one-off moments is to have more cameras, more audio and more recording. The way we have set up the VS4Recorder Pro system with VS4Control helps ensure we don't miss anything."
VS4Recorder Pro and the Matrox VS4 card are available as a bundle that includes the card and software, priced at $2,995 AU$ inc GST. www.matrox.com/video.In Australia please see New Magic Australia.