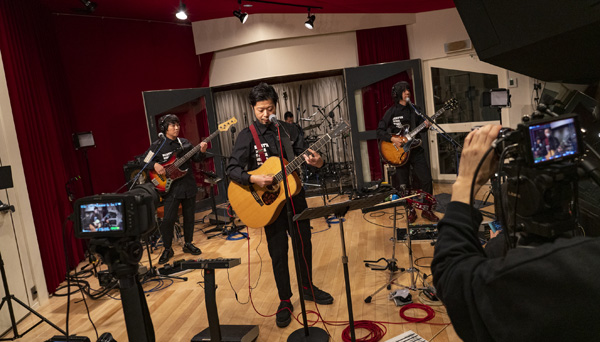 (photo © Daisuke Akita)
FREEDOM STUDIO INFINITY, a recording studio based in Tokyo since 1976, built a new studio with a complete workflow for live streaming performances in 2020. The studio gives customers an opportunity to use high quality audio equipment for musical recording, while streaming video.
Ryunosuke Ikoma, who has produced performances for a number of well-known musicians in Japan, coordinated the streaming equipment fit-out for the studio. Ikoma is also a sound engineer and at times shoots music videos himself. He said, "One of the early streaming events I produced for an artist at FREEDOM STUDIO made use of a Blackmagic Design ATEM Television Studio Pro 4K, URSA Mini Pro 4.6K G2, Pocket Cinema Camera 6K and Micro Studio Camera 4K, all of which I owned myself.
Streaming Commitment
"After watching that production, the studio owner decided to install similar streaming gear, convinced that video streaming would become more common." The new A Studio at FREEDOM STUDIO INFINITY includes six Blackmagic Micro Studio Camera 4Ks, ATEM1M/E Production Studio 4K and ATEM 1M/E Advanced Panel, UltraStudio 4K Extreme, Smart Videohub 40 x 40, six HyperDeck Studio Minis, HyperDeck Extreme Control, Video Assist 7" 12G HDR, MultiView 4 and Mini Converter SDI Distribution 4K.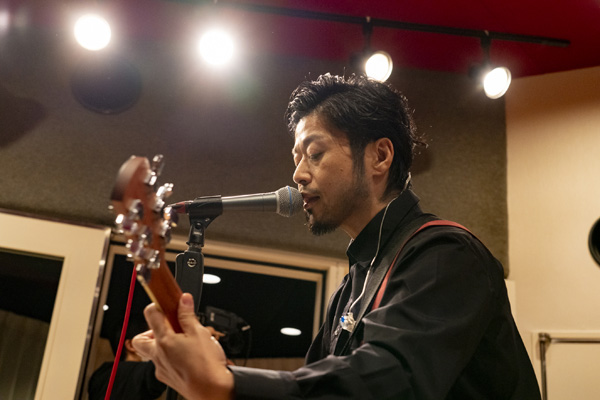 (photo © Daisuke Akita)
At the facility's other new studios, the crew uses four further Micro Studio Camera 4Ks, ATEM 1M/E Production Studio 4K, six HyperDeck Studio Minis and a Video Assist 7in 12G HDR, all mounted in a mobile rack, along with a Smart Videohub 20 x 20 router and MultiView 4 in Studio B.
Ikoma said, "The merit of streaming at FREEDOM STUDIO is that it allows high quality audio streaming using analogue recording equipment such as SSL (solid state logic), which is used for professional sound recording. The audio is mixed, then goes to a DAW system for plug-ins and multi channel recording, and is then sent to the ATEM to be embedded with video.
Multi-tasking
"Blackmagic products are affordable and compact, but have a lot of functionality with interfaces that are easy for most people to operate. Due to this ease of use, specialised sound engineers, who previously knew nothing about video, can now use the Blackmagic gear at a professional level."
SDI ports were built into the studio's walls to mount the Micro Studio Camera 4Ks. "For fixed cameras, we use those wall mounted cameras, and possibly one on an electric camera slider, while using tripod dollies for cameras with operators. All cameras are controlled via ATEM camera control software."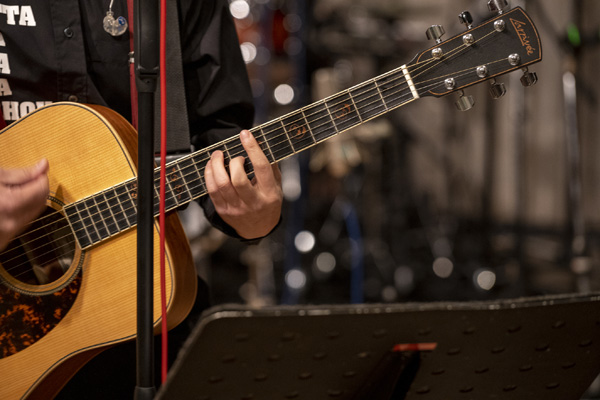 (photo © Daisuke Akita)
In December 2020, a rock band called THE INAZUMA SENTAI used the studio for the final streaming live show of a series in which they streamed four weekly performances. The band wanted to show a grass roots spirit and did the shooting, recording and editing for the first three streaming programs by themselves. They chose to stream from various locations, with unique content each time, so that all of their fans could watch all four live streams. As a finale, they decided to perform at FREEDOM STUDIO.
Stable Environment
Hiroyuki Kubo, the drummer of the band, said, "Live streaming requires a proper environment with a stable connection, reliable equipment and staff. Even if you meet all those requirements, you may encounter unpredictable issues. As a sound recording studio, FREEDOM STUDIO INFINITY achieves the best audio quality and has high quality cameras. The studio engineers have deep knowledge about their studio and equipment, which gives us confidence.
"Furthermore, showing live streamed performances from the where music is created gives audiences a chance to see what they usually cannot see. Even if it was designed for sound recording, not really for showing live concerts, it was special and rather cool to perform there."
The Smart Videohub 40x40 serves as a central device from which to send all camera inputs to the ATEM Television Studio Pro 4K. Footage is then sent to the facility's computers via UltraStudio 4K Extreme capture and playback hardware for streaming. Each camera feed is recorded with HyperDeck Studio Minis, controlled by the HyperDeck Extreme Control. During streaming, the MultiView 4 displays to the studio engineers four selected images on a large display installed in the control room for monitoring, while some images are sent to the ATEM Television Studio Pro 4K to handle four split screen streaming.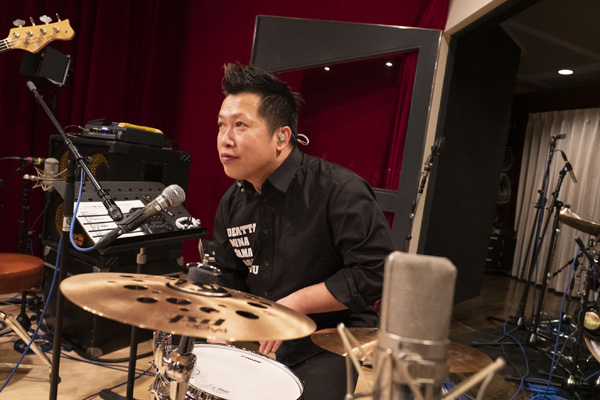 Hiroyuki Kubo, Drummer (photo © Daisuke Akita)
Authentic Finale
Looking back at the live stream from December, Hiroyuki Kubo said, "The streaming was perfect for the finale. The audience gave us positive feedback about the sound and picture quality and, as a live performance, it gave them a highly realistic sensation of actually being there. Performing in a solid environment was more exciting for us as well – it's a joy to play for our fans.
"Although we may have struggled a few time trying to do things ourselves, we keep making an effort to improve our technical knowledge for streaming and shooting while continuing to produce interesting content when we perform at FREEDOM STUDIO INFINITY. The band has to be tough!"
THE INZAZUMA SENTAI's new album recorded at FREEDOM STUDIO INFINITY titled 'Yoake No Uta' is now available. www.blackmagicdesign.com