Cinematographer Callan Green ACS shot two independent films, 'Show Boy'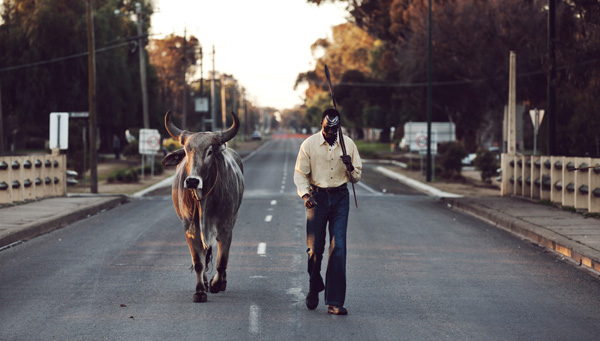 and 'Grey Bull', on his Sony F65 4K CineAlta camera, both set to premiere
at this year's Sydney Film Festival.
---
'Show Boy' and 'Grey Bull' to Premiere at Sydney Film Festival
Cinematographer Callan Green ACS had two opportunities over the past year to work on independent film projects, titled 'Show Boy' and 'Grey Bull', both times choosing to use his Sony F65 4K CineAlta camera. The two films have been selected to premiere at this year's Sydney Film Festival, 4-15 June, and are on the list of finalists for the festival's 2014 Dendy Award for Australian Short Films. 'Grey Bull' has also been selected for the Melbourne Film Festival later this year.
Back to Back
He said, "Working on drama is always a massive highlight for me because the majority of my work is in commercial and music video projects. I had originally intended to work on features and had a passion for film as a young boy. I often used to dream of being part of the creative filmmaking process - especially after watching 'The Never Ending Story' when I was a six-year-old. Shooting music videos and commercials is great work as well, but generally speaking, commercials tend to under-utilise your whole 'cinematography' brain because you are more likely to be enhancing someone else's visual idea and not your own."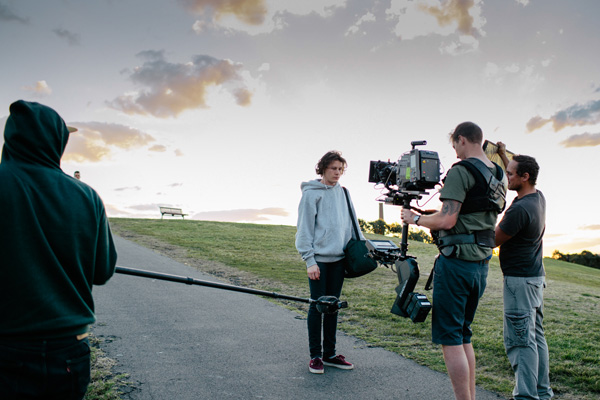 "Fortunately for everyone involved, the scripts for both films were superbly well written. Even very early on in their draft cycles the strength of their stories shone though. Both directors wrote their own scripts, which in turn created a sense of intimacy toward the characters and story - especially when discussing a visual approach."
"I was able to shoot the two films pretty much back to back, which meant an intense period of work for me but it was well worth the effort. 'Show Boy' was a simpler film to achieve compared to 'Grey Bull' because it was an urban-style shoot, mainly in found locations around inner western suburbs of Sydney. The director's family allowed us to shoot in their apartment for the father's house and we used a tiny local theatre called the Ruby Rabbit for the cabaret location.
Two Stories – One Camera
"'Grey Bull' also used found locations but was a much harder film to make for several reasons. The film was almost entirely self-funded by the director who had just completed a 3-year course at Victorian College of the Arts and therefore didn't have much cash to throw around. Also, we were shooting out at a country town called Nathalia, three hours out of Melbourne. On top of this we were working with non-English speaking, inexperienced child actors as well as animals - big ones, too. I was initially super scared of the bulls, but it was a seriously pissed off cow that almost killed me!"


Meanwhile, with $3,000 of funding from Metro Screen and just enough private financing through pozible.com to feed the crew of 12 people for a three-day shoot, 'Show Boy' began to take shape. It is a real-life story of Julian, a teenager battling to support his drunkard father by performing drag shows at an inner city cabaret bar while pretending to attend late night football training.
In the case of 'Show Boy', Callan chose to shoot with his Sony F65 because it gave him the greatest flexibility on the set and in post, and highest quality images. "The main character Julian leads a difficult, chaotic life at home but tries to appear tough and more controlled when outside, so we amplified his emotions visually by shooting all his exterior scenes on Steadicam and all the interior scenes handheld," Callan said. "We mostly shot with natural light except for the cabaret scenes where I really wanted to experiment with colour - mainly red."
Seeing Red
Callan was actually one of the first cinematographers in Australia to adopt Sony's F65 camera and has been using it successfully since its launch in late 2011, often describing it as 'a real cinematographer's camera'. He said, "Shooting with the F65 is an impressive experience for me. Its ergonomic design allows you to sit the camera beautifully on your shoulder. It's surprisingly lightweight and much easier to hold and move with compared to most other cameras. This was a huge advantage as both films were almost entirely shot handheld.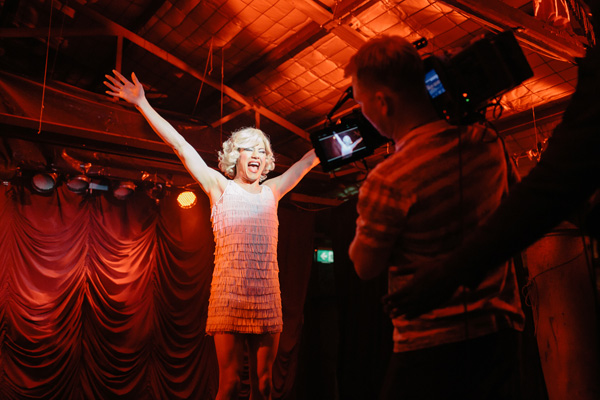 "I also love the feel that the mechanical shutter gives the images, and the internal ND filters are extremely helpful. While shooting the cabaret scenes on 'Show Boy' we saturated the set in red, both in terms of art direction and lighting design. Employing so much red can occasionally prove to be a nightmare for film or digital cameras to handle as they can sometimes produce bleedy-looking soft images - but the F65 coped with this pretty easily.
"The issues arise from the way the colours are captured, as well as the way we see red as human beings. We have a natural bias toward green so if our eyes, or digital sensors, are flushed with red it can sometimes become tricky to distinguish hard edges and shapes. This is why we tend to use digital green-screen for post work rather than some other colours – like red.
"One way around this problem is to add a tiny bit of pure white into the mix, which gives the viewer a base reference to judge other colours from. In a digital camera, the sensor uses an array of millions of tiny light cavities or photosites to record images. The F65's image sensor design stands out as an 8K sensor with 20 million photosites, giving it a more enhanced viewpoint of the world colour-wise compared to other cameras on the market today. It also has a wider colour gamut than film, and 14 stops of dynamic range – similar latitude to film but with a better signal to noise ratio."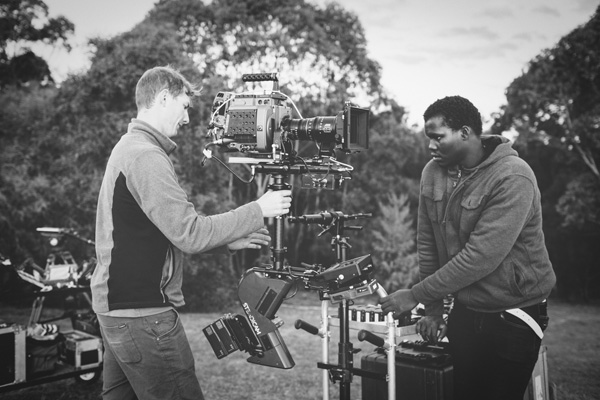 Into the Shoot
Its ability to shoot 4K RAW or RAW lite with 16bit digital processing is impressive, of course, but obviously it means being prepared for serious amounts of data, too - 4K RAW captures about 17Gb per minute and RAW lite about 11Gb/min. "The F65 also has several different full-HD 1920x1080 MXF file options in S-Log 3. You have a choice of data rates, starting with Low at 220Mb/sec, then Std at 440 Mb/sec up to the highest, HDCAMSR HQ at 880Mb/sec. These allow you to work the camera suitably for any job.
"I generally shoot all my TVC and music video work in the HQ setting. At this higher range HD at 880Mb/sec, you get almost 2.5 times the bit rate of other HD cameras on the market. It's much more information to work with and the results are terrific," Callan explained.As both films had fairly low budgets, the productions decided to go ahead with the camera's highest quality HD format as well, the HDCAMSR HQ.
"We would have preferred to shoot in 4K, of course, but we simply did not have the budget to buy the extra hard drives and other gear we would need," he said. "The F65 has a SR-R4 SRMASTER portable data recorder that attaches to the camera body via an optical port and two screws. I treat it as part of the camera and never take it off. It records to high-speed SRMemory data cards.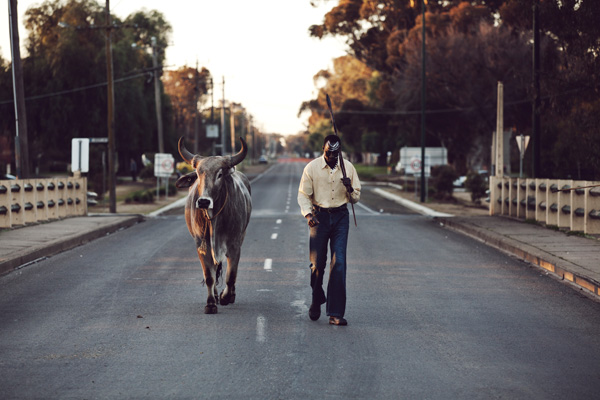 Preparing for Post
"We were running a relatively new MacBook Pro laptop with a solid-state hard drive and thunderbolt/USB3 links, which made life pretty easy, but if you try to use USB 2.0 or Firewire 800, the process does become slower. We shot about 4TB of footage on 'Grey Bull' over five days and about 2TB on 'Show Boy' over three days. The F65 shoots in MXF file format, which is ingested natively by the major editing software applications, and since both of our editors were using Avid, we didn't need to transcode anything for them."
Callan finds one drawback with shooting in HD on the F65 is that it is limited to 60 fps, although in 4K RAW you can shoot at up to 120 fps. This is somewhat unorthodox since most cameras reduce their maximum frame rates as image quality goes up. While commercials are generally shot at frame rates of 60fps and below, he needs to be able to offer up to 120fps and beyond nowadays. Although he could change to 4K RAW for these shots, supplying differing formats to the post house for the same project can create confusion.
From South Sudan to Nathalia
'Grey Bull' is a short film about Martin, a South Sudanese refugee living in Australia, negotiating his ancient culture in a foreign land and modern world. The film, written and directed by 2013 VCA Directing graduate Eddie Bell, is one that Callan is particularly proud to have been involved with.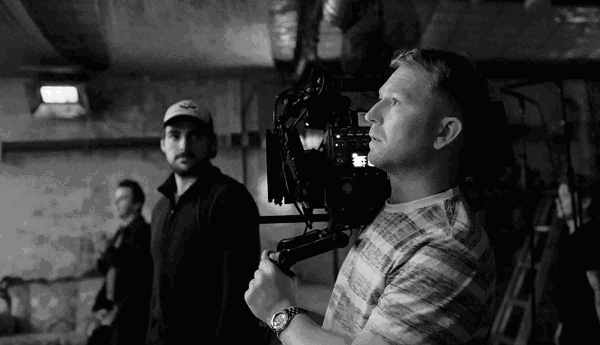 He said, "Nathalia, the town where 'Grey Bull' was shot, is a beautiful riverside Victorian town with a population of about 2,000 people. During the five-day shoot, it felt like every one of those 2,000 people came together to be part of the film. It was incredible. Also, part of the reason we shot the film in Nathalia is that it's where the bulls and bull trainers were based."
One of the more dangerous sequences involved Martin walking through the empty town at night with an unrestrained 1,200kg bull by his side. No lighting other than country street lighting was used, because lights might have startled the bull. "We shot this scene at 2000 ASA, 50 fps and a 180-degree mechanical shutter. It came out beautifully saturated, nice and sharp - or as sharp as you can get when shooting almost wide open on Zeiss MkIII Super Speed Prime Lenses, and with hardly any noise!" Callan said.
"The F65 performs so well in low light situations. All of our nighttime exterior scenes for 'Show Boy' as well were shot without any additional light. In such cases for both films, we shot night exteriors with ambient light between 1600 and 2000 ASA. To be honest, I couldn't tell the difference between that and the F65's native 800 ASA, which was our base ASA for all other scenes. It looked perfect even when projected in 2K on the big screen.