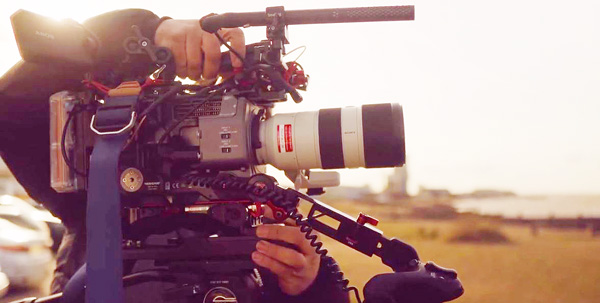 Over the past year, Sony has recognised a new demand for scalable and efficient workflows combined with remote, distributed production systems and new types of video capture.
In particular, Sony's broadcast and video production customer base is now interested in establishing complete, IP-connected infrastructures, in taking advantage of the scalability and agility of the cloud, and in straightforward acquisition of high quality video, including HDR imaging.
Simpler IP Connectivity
So far, Sony has delivered their IP Live production systems to around 120 facilities and OB trucks worldwide, and has found that over the last year, more customers want to make further use of IP infrastructures, mainly to increase efficiency. To support them, Sony has developed two compact IP extension adapters, the HDCE-TX50 transmitter and the HDCE-RX50 receiver, that add IP connectivity in 4K to their existing HDC system camera line-up.
These adapters were built to make it simpler to connect and set up dual transmission functionality for the HDC cameras to a SMPTE ST 2110 IP network. Complying with the ST 2110 standards, the HDCE-TX50 transmits signals from the camera head over IP networks to a CCU at a remote production centre. The HDCE-RX50 receiver supports IP routing with the HDCE-TX50 between the camera and CCU, connecting directly to the remote CCU while converting uncompressed signals from the HDC cameras to SMPTE ST 2110 to stream over the IP network.

HDCE-TX50 transmitter
The HDCE-TX50 also helps centralise equipment allocation between multiple studios, control rooms and machine rooms. Camera signals can be be routed instantly over IP to another part of the facility without needing to re-connect fibre cables.
The adapters include high frame rate (HFR) features supporting up to 6x slow motion in HD when using the HDC-5500, a portable system camera with three 2/3-inch 4K CMOS sensors and direct 4K output, and the associated license HZC-HFR50. Both models will be available in December 2021.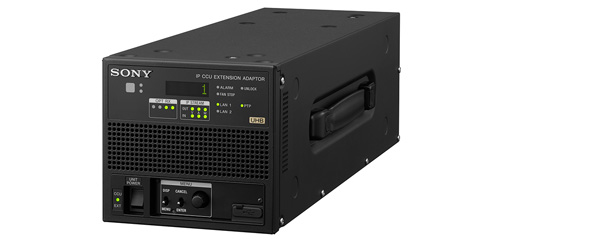 HDCE-RX50 receiver
Addressing the use of IP beyond 4K, Sony will release an optional 8K ST2110 Interface option board and SNMP (Simple Network Management Protocol) Agent Software, both of which will be available in October 2021. Adding to the CCU of the UHC-8300 8K camera system, the new Interface board UKCU-8001 supports IP operation of the 8K system. When combined with the SNMP Agent Software UZCU-SNMP80, operators can use the board to monitor IP operations and change settings remotely. This board has already been adopted by China Central Television (CCTV) to meet demand for 8K in China.
Converging IP Networks
For users who want to use IP systems for video production, Sony's IP Live production system now includes Nevion's orchestration and SDN control software VideoIPath. The software makes it possible to create reliable, scalable and flexible IP systems for converging LAN with WAN infrastructures, opening options for sharing resources and designing new or temporary workflows.
The new version 3.0 firmware release of Sony's IP Live System Manager, scheduled for May 2021, includes a south-bound interface to VideoIPath, thereby extending its broadcast control capabilities with VideoIPath's network orchestration. Sony's NXLK-IP50Y and NXLK-IP51Y SDI-IP converter boards, used to connect SDI devices to IP networks, will also be upgraded in September 2021 to support NMOS (Networked Media Open Specifications), which means VideoIPath can control them as well. Ultimately, the goal of both of these IP Live updates is more robust IP systems at an optimised cost.
Remote Production Gets Closer
Sony recently expanded the XVS series of switchers with the introduction of the XVS-G1, a 4K-ready, compact, entry-level device with an optional GPU-based effects and graphics module. Its hardware performs high-speed, real-time 4K HDR processing at low latency that can be upgraded or extended through software updates.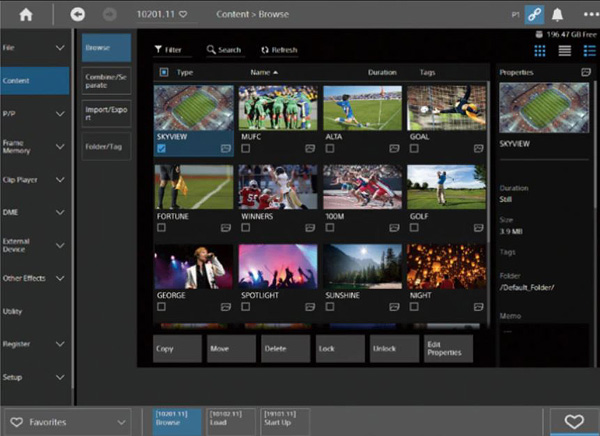 XVS-G1 switcher web browser
Now, the functionality of the rest of the line-up – XVS-9000, XVS-8000, XVS-7000 and XVS-6000 – will be upgraded through firmware update Version 3.6, available from June 2021. It adds Inter-Group Connection functionality capable of connecting multiple switcher control stations, which is useful for scaling or redesigning systems between multiple studios and remote setups. An optional license is also available for HDR conversion on 12G-SDI input.
In remote environments, the BRC-X400, SRG-X400 and SRG-X120 cameras will support the SRT protocol to transmit high quality video at low latency, with firmware version 3.0, available in June 2021. Sony's Adaptive Rate Control function gives systems a more stable connection, optimised between the network environment and available bandwidth. In a conventional streaming set-up, resolution is sacrificed in favour of framerate. Adaptive Rate Control alters that prioritisation so that, under bandwidth constraints, framerate is dropped to favour resolution.
Supporting RTMP/RTMPS (Real Time Messaging) Protocol as well, the cameras will stream directly to social media platforms with a simple connection. The new application Virtual Cam Driver for Remote Camera is also planned for release in June 2021, allowing the remote cameras to be set up as web conference tools.
Sony Ci Security and QC in the Cloud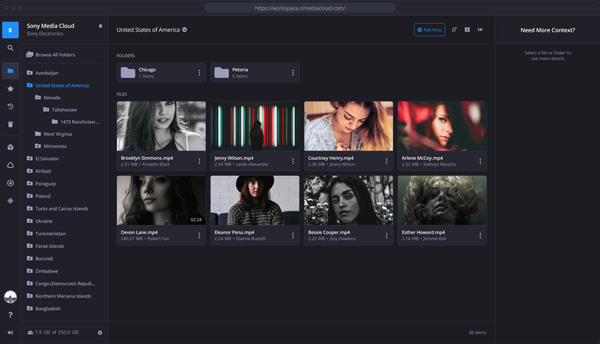 On the Sony Ci Media Cloud
Sony continues to add functionality to the Ci Media Cloud for secure remote collaboration in the cloud. Several features and new administrative controls, have been developed to improve content protection. For example, Ci now includes multi-factor authentication (MFA or 2FA) to verify access to Ci accounts. Where MFA is enabled, users will be asked to verify themselves before logging into Ci by entering a code sent via SMS message.
For remote teams, Ci's new quality control (QC) features are used to perform quality and compliance checks entirely in the cloud, and avoid further file transfers. The content is secured in a single location. An example is the Source Frame Review, a tool for viewing uploaded video files – directly in the Ci Pro Player web browser – frame-by-frame at the file's source quality. Users previously had to download the full source file to view a frame at source resolution.
Ci's Audio Meter tool in the Pro Player dynamically displays the decibel levels for each audio channel in a video. In a QC workflow, this tool allows you to identify which channels have audio and their respective audio levels – without downloading and importing into an NLE. Users can scrub through the video a frame-at a time to check levels as a bar chart display and also hear the audio while scrubbing to help locate a/v sync issues.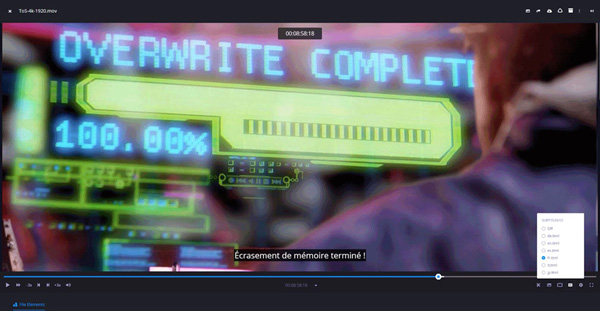 QC of timed text files including closed captions and subtitles.
Ci also supports QC of timed text files like closed captions and subtitles in the Pro Player, while adjusting playback speed and previewing frame-by-frame so you can also check for missing captions or captions with incorrect timing.
Video Acquisition – Formats and Codecs, Ease of Use, Monitoring
The upgrades and new products that Sony plan to release shortly for their video acquisition equipment are aimed to increase content quality, from capture to monitoring, and make workflows easier to use and more efficient.
Still focussed on the HDC line-up, Sony is currently developing a new 4K camera system with the same HDC form factor and a Super35 global shutter CMOS image sensor. Users can work with its shallow depth of field to lend creative expression and cinematic bokeh to images. The camera will be compatible with Sony's existing SR Live for HDR workflow with HLG and S-Log3 (more below). The new model is expected to be available in 2021.
The Sony XDCAM camcorders will receive several successive upgrades. For instance, the 4K shoulder camcorder PXW-Z750 will have a longer cache recording duration through the version 3.0 firmware update planned for May 2021, adding more flexibility for use in news, documentary and natural history recordings.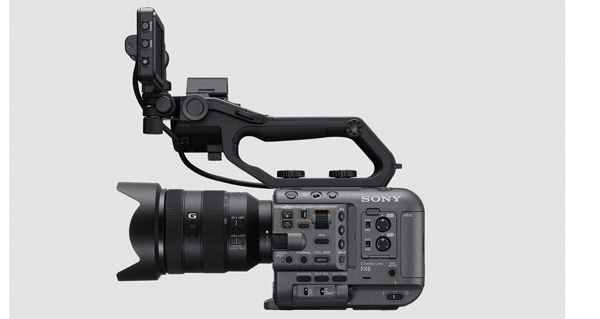 Sony PXW-FX6
A firmware update planned for later in 2021 will give the PXW-Z280 handheld camcorder HD 120 fps support and improves its cloud capabilities, including remote operation and faster media relay.

Also, in May 2021 the PXW-FX9 and FX6 will receive firmware upgrades to support 4K 120p RAW output with an external recorder, a new HDR model in the Atomos Ninja 5 series. At some time in 2021, Version 3.0 firmware will extend functionality in the FX9, including an Anamorphic mode to display 2x and 1.3x desqueeze and Cinemascope frame lines in the viewfinder. These changes are planned further to those already announced – the 700PTP protocol allowing remote control, a Centre Scan mode for Super 16mm lens and B4 Lens support and adaptor.
Sony has built a new model for the professional monitor line-up, the PVM-X3200 32in 4K HDR picture monitor. This model, launching in October 2021, is based on the existing TRIMASTER system and supports an all-white luminance of 1000 cd/m2. It also matches 100 percent of the colour gamut of the BVM-HX310 TRIMASTER HX master monitor in order to maintain continuous colour accuracy from production to post. With the optional license PVML-HSX1 scheduled for June 2021, the PVM-X3200, PVM-X2400 and PVM-X1800 will also support internal conversion of HDR to SDR and 4K to HD.
SR Live for HDR Workflow
Sony's SR Live for HDR workflow focuses on creating Live HDR and SDR programs simultaneously through a single production unit. By using the new SR Live Metadata, Sony HDC cameras capture the user's settings and send them through to post-production via an SDI link. Several organisations, such as Euromedia Group, have adopted this workflow so far.
The SR Live Metadata packet stores 26 parameters describing creative decisions and camera adjustments the camera operators make during production. Embedded within the SDI signal, this metadata supplies information to allow exact duplication of the SDR programme from the HDR layer. Consequently, the SDR production output precisely matches the intention and settings of the grader.
Sony is making more of its equipment compatible with SR Live Metadata. For example, Sony's range of shoulder camcorders, the PXW-Z750, Z450 and X400, will now integrate more easily into an HDR workflow – SR Live Metadata will be recorded in greater detail in a recording file due to a new firmware update planned for May 2021.
Improving this function further to emphasise efficiency, from April 2021 the Metadata-based part of the workflow will include SR Live MetaFile allowing users to manage SR Live Metadata files by making them shareable between Sony's HDR production converter HDRC-4000 unit via USB or email, instead of relying only on the SDI link.
From May 2021, Sony is making SR Live 3D LUT files available that perform HDR/SDR conversion with the same image quality as the HDRC-4000 converter unit. By importing this SR Live 3D file, third-party converters that support 3D LUTs can also be used in Sony's SR Live for HDR workflows, giving the system more flexibility. pro.sony/solutions2021