To complete a recent TV campaign on time, South African studio Embassy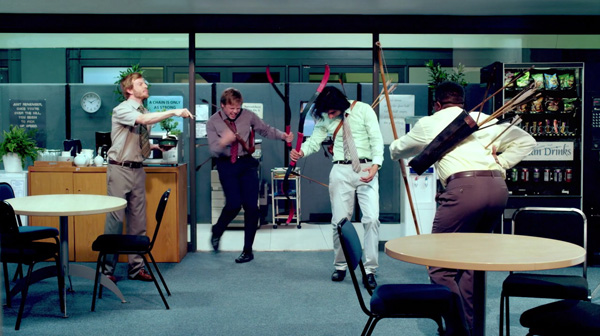 ran remote approval sessions on cineSync and Frankie review software between
Johannesburg and Cape Town.
---
Embassy Enlists cineSync & Frankie for TVC Review
To help them complete a campaign of three comedy TV commercials for the local theatre chain, Ster-Kinekor, South African production and post companyEmbassyused cineSync and Frankie review-and-approval software to run remote approval sessions between its studios in Johannesburg and Cape Town.
Remote Sessions
The commercials were directed by Grant de Sousa for agency FoxP2. Two days of filming took place in Cape Town before Embassy completed editing and post at its studios in Johannesburg. The commercials involve visual and special effects, in which actors are blown out of explosive chairs, shot with arrows and other stunts. Because the director and agency were located in Cape Town, and the client and post team in Johannesburg, Embassy used a combination of Frankie and cineSync to communicate internally and complete the review and approval process with the director and client in about two weeks.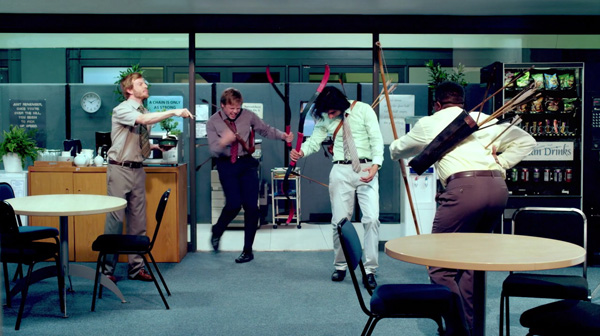 "In some ways Frankie and cineSync sessions are more effective than being in the same room because everybody's focused on the session," said Peter van Jaarsveld, managing director at Embassy.Frankie, a browser-based video review tool, was used to review references for the director's treatment, do reviews of the extensive in-camera and post tests for the stunts and to edit review sessions before agency and client approvals. Any of the users could make frame-accurate comments, mark up and annotate on the screen, with all notes saved in a PDF document shared with everyone.
"We used Frankie any time we needed a collaborative review, because there's no software to install and it's easy to use," Peter said. "We only had to send the URL of our uploaded video to our client and de Sousa, which they click on to enter the session."
Limited Bandwidth
Bandwidth can be a problem in South Africa, limiting the size of files that can be shared. For a 30-second commercial, 15-20 Mb files were uploaded once and then viewed in Frankie simultaneously by everyone in the session, no matter where they were. But the much larger ProRes files, which are viewed on both the vendor and client sides, required cineSync for review of files stored on site at both locations.
"We usedcineSyncfor live approvals between our suites in Cape Town and Johannesburg because of its option to display high-res files to HD broadcast monitors via Blackmagic HD-SDI card, with no latency," explained Peter. "This allowed the client to review colour grading and final picture in sync with the agency and director."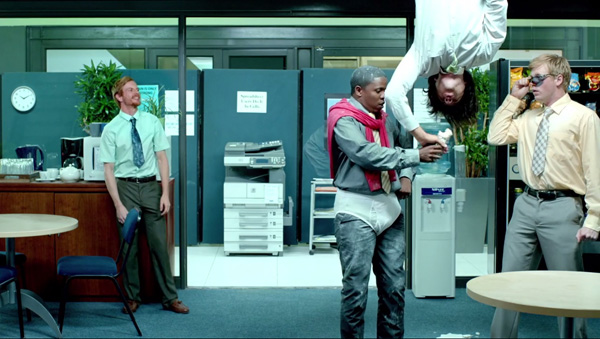 At the end of each review session, Embassy generated a PDF summary from Frankie that included all comments, notes and frame-accurate, marked-up screenshots. They sent the PDF to the editor and compositor, as well as the client.
"The PDF summary added accountability to the sessions, removed some of the subjectivity from the review, and helped avoid miscommunication about direction," Peter said. "We gave our clients a day or two to look it over and see if anything had been missed, and kept it as a reminder and to show clients the feedback they gave us. The PDF summary is probably the single most important part of the system. As much as everyone likes the fact that they can watch their film together and do the annotations and mark up the screen in real time, receiving the PDF makes a lasting record."
Diverse Skills & Dispersed Teams
Embassy started out as a postproduction facility in 2007, doing commercial post directly for ad agencies. Over the years it was asked to shoot commercials, corporate videos and training videos and that led to the full-service production company it is today.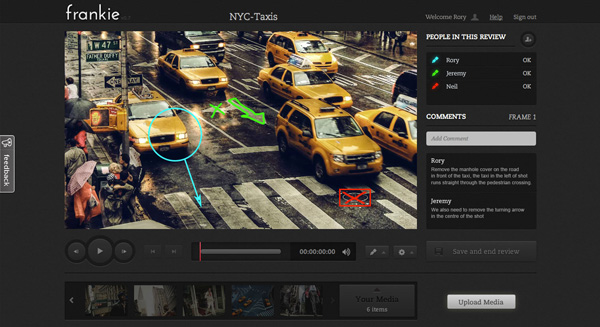 The main studio is in Johannesburg, with 26 staff, including compositors, editors, cinematographers and client-service producers. It also has a post studio in Cape Town, working mostly with ad agencies in the city and servicing work that comes from its London satellite office. The London site works with clients such as Unilever and BP and relies heavily on the team in South Africa to complete post. Each office has its own creative director and runs its own creative.
"Our London office will send the brief to us in Johannesburg, we'll farm out the work to the artists and then we send our work back to London for review on Frankie," Peter explained. Once a week the creative directors from the three locations come together in a Frankie session to review all the work done by the company during the previous week, as well as any dailies or problem shots they need help with. These sessions involve six to seven people and can last up to an hour-and-a-half, covering tasks from videocasting and offline approvals, to VFX approvals.
Most of the artists at Embassy can either design and edit, or composite and shoot, or direct and write. Peter feels that multi-skilling is essential in a market like South Africa where there is little room for specialists. "This kind of work also makes Frankie useful to us. Because our artists are multi-skilled, they need to plug in at various stages of the pipeline, often necessitating work over evenings or weekends," he said. www.cospective.com