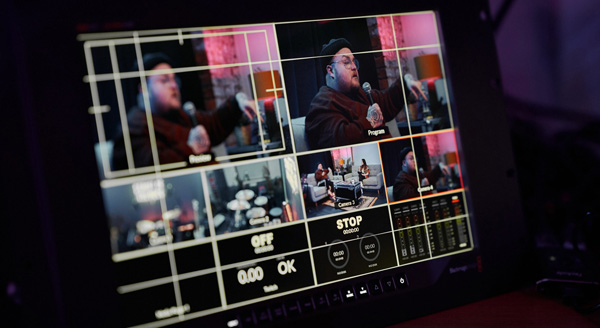 Scruff of the Neck TV is a platform and independent label in the UK dedicated to new music discovery, and broadcasting live as part of an official Twitch partnership. Each live show is a three hour stream hosted by Abbie McCarthy from BBC Radio and Jack Wood of Radio X and features band interviews and live performances.
To date, more than 90 hours of content has been produced, resulting in four and a half million views. Artists who have featured on the channel include Yonaka, The Slow Readers Club, Bad Boy Chiller Crew, Lottery Winners and Larkins.
"We're excited about creating new opportunities for artists to reconnect with their fans through high quality, live performances and programming that is free to access," said the head of live at Scruff of the Neck, Chris Brearley. "We hope to develop a space for new music discovery, while building an online community for people who want to immerse themselves in a gig experience, and become part of the conversation with the performing talent."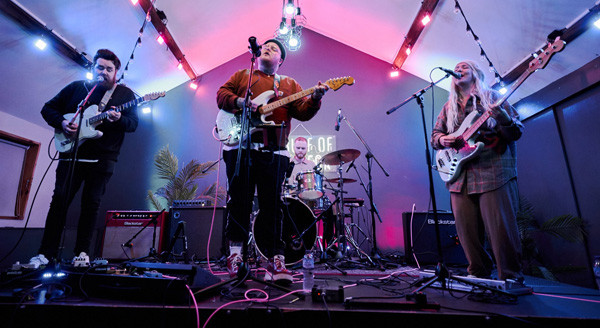 As part of Chris' vision, versatility and ease of use were important components for making this venture work. "We're working with multiple camera feeds, four to six per show, plus video tape content from other sources," he said. "The ease of use of the Blackmagic ATEM Mini Extreme has been central in allowing us to develop the format."
The channel produces shows using a mixed package of cameras from Blackmagic Design, including the Pocket Cinema Camera 6K, URSA Mini Pro 4.6K G2 and Micro Studio Camera 4K. A series of Blackmagic Micro Converters are used to bridge the SDI cameras and ATEM hardware, and the ATEM Mini Extreme's multiview output is displayed on a SmartView 4K.
"We create high value production pieces, aiming to get as close to a real live concert that viewers can feel part of," said Chris. "We have two roaming cameras to get us in among the performers and add movement to the broadcast, and rely on a series of fixed cameras positioned around the set to give the audience even more vantage points."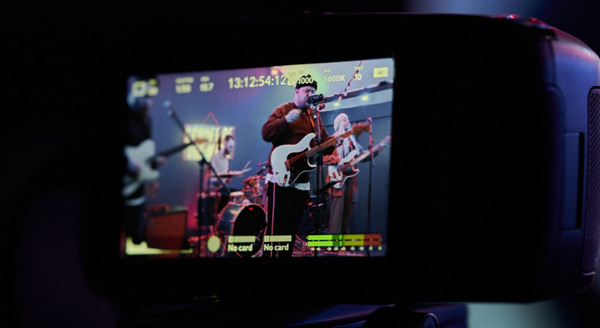 The main challenge in establishing the studio's streaming capabilities has been operating while adhering to Covid regulations. This included working with a smaller production team to limit the number of people gathered in the room at any given time.
"Thankfully, the functionality and capability of the hardware we're using has made it easier than we anticipated," Chris said. "We've been able to deliver our weekly broadcasts safely under government guidelines, without needing to compromise on quality."
Although the pandemic gave rise to the initiative, Chris doesn't envisage the return of regular gigs making this form of broadcasting redundant. "We want to evolve and give the show purpose beyond the return of real live shows by taking the format into venues," he said.
"There's a lot of untapped potential in the ATEM Mini Extreme ISO, which will allow us to continue to grow and evolve." The Mini Extreme ISO has the same features of ATEM Mini Extreme, and also records nine separate H.264 video streams in real time, allowing capture of all 8 clean feed inputs as well as the program video. A DaVinci Resolve project file is also saved to allow the project to be recreated and edited later. www.blackmagicdesign.com