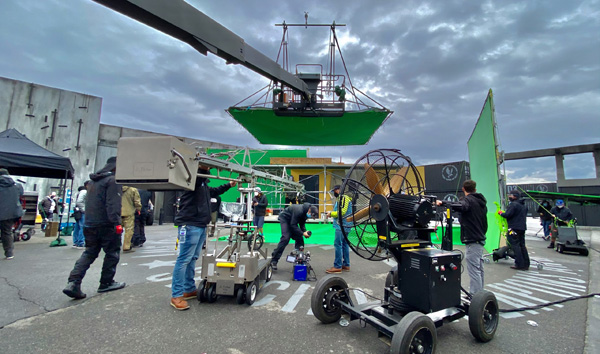 Green screen shoot on the 'S.W.A.T.' set.
CBS TV series 'S.W.A.T.' is a fast moving production by definition, on air and on set. Shot on multiple stages at Santa Clarita Studios and at diverse locations throughout the Los Angeles area, the series averages 100 set-ups per day.
Capturing the show's fast-paced stories and action sequences for the screen is the work of cinematographer Francis Kenny, ASC and his crew, who have many years of experience shooting crime dramas and thrillers. His long credit list includes 'Justified', 'Heathers', 'Bonny & Clyde' (miniseries 2013) and New Jack City.
Back on Set – with a Difference
Working on the show's 2020-2021 season under Covid restrictions meant extra challenges – shortened 10-hour days, smaller crews and safety protocols. "This was one of the first test shows to start up again after lockdown. Production would have been set back another six months if 'S.W.A.T.' had failed," Francis said.
"Our camera crews were required to work at a distance from the actors and from each other," Francis said. "We moved the cameras further apart, limiting the crews in size and keeping them separated between the cast, the A crew and B crew. Video village, which normally gathers together many crew and guests, was replaced by several video stations equipped with a fleet of new monitors. Some of the stations were set up at remote locations to allow the writers upstairs and producers to see the images live."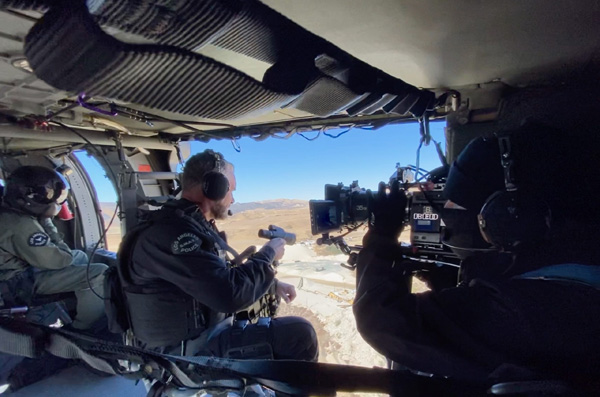 Francis Kenny uses a handheld rig inside a Black Hawk helicopter.
When planning gear for the new season, Francis' priority was dependability. He moved the production up to 8K RED Monstro cameras, supported by Teradek Bolt 4K Max, SmallHD 17in 1703 monitors, DJI Ronin and Steadicam Air among other tools.
Robust Monitoring
Because of the dependence on monitor viewing to collaborate safely, a reliable, real-time camera signal was vital. Each of the show's three cameras were fitted with Teradek wireless video transmitter/receiver systems. The Bolt 4K series is the first generation to include the BB3 chipset, which is made to deliver reliable signal transmission and reception over more frequencies (13x 40MHz) and has a more robust algorithm for dynamically changing frequencies. Reconnection times are faster and signal switching is automated.
Those features were a major advantage when working at S.W.A.T.'s high-traffic locations, which continuously receive interference from other wireless devices. Teradek's earlier devices accommodated four receivers, but the new BB3 Bolt 4K systems sync up to six transmitters to support more points of view.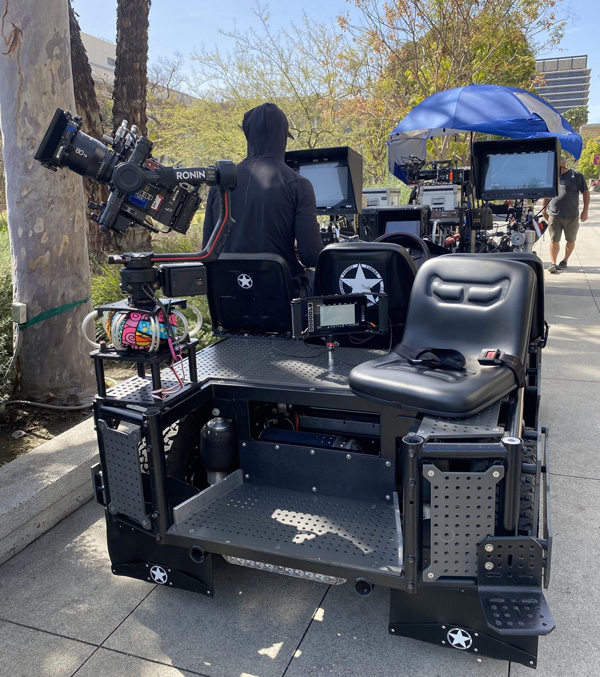 A camera car with the Director's rig and SmallHD monitor.
Francis said, "The newer system is also more stable under challenged locations and fast to set up. It transmits longer distances where proximity between transmitters and receivers is not possible. This is especially evident when, for example, we are shooting on location in small rooms where we need to transmit multiple video signals through walls and other barriers."
Rooftop POV
One of their locations was the Presidential suite of the Biltmore Hotel in downtown Los Angeles. The script called for a police surveillance set-up 1,000 feet away, across a park on top of the 26-story City National Bank building, which the Bolt Max accommodated with its 5,000ft range. For the rooftop POV shot, Francis placed a 1,000mm lens on a camera rigged with the Bolt 4K Max transmitter.
"Within the hotel suite we staged the actors near the window," he said. "On a monitor inside we watched what they were shooting, live with zero delay – through walls near microwave towers, in the middle of a mass of city cell phone signals. It was amazing but scary to realise that it is possible."
Perpetual Motion
'S.W.A.T.' episodes are characterised by vehicle chases involving cars, trucks, trains, boats and helicopters. In these cases, B or C cameras were rigged with the new Teradek system, which maintained signal strength with no lag throughout the shoot.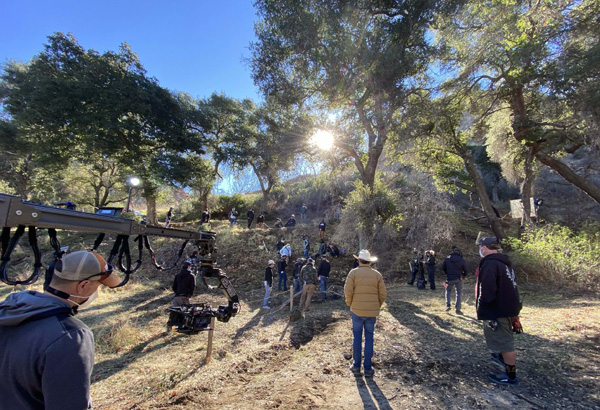 Shooting on location.
Francis' experience in high action projects includes aerial shooting, in particular, thousands of hours logged on helicopters. For a scene shot through the open door of a Black Hawk helicopter, he admitted he had to cover his eyes a few times as they flew through the city at altitudes ranging from 4ft to 1,000ft. Regardless, the Bolt delivered an uninterrupted signal back to monitors for the ground crew, writers and producers in their various locations.
"When the cameras are always moving, as they are on the 'S.W.A.T.' project, reliable wireless transmission gives us the potential to use different techniques. It's about solving problems on the fly. Hidden in a closet or behind a column, I would watch a monitor, pulling iris that might range from 2.8 to 16 stops with only hand to eye coordination for control, leaving no room for delay.
Bolt App for Channel Management
He was particularly happy when the Bolt App became available for iPhone. Its Spectrum Analyzer and Wireless Health analysis tools are used to manually designate specific 5GHz channels, and monitor interference. To help users sync to another receiver, it shows status, configuration and pairing with different devices.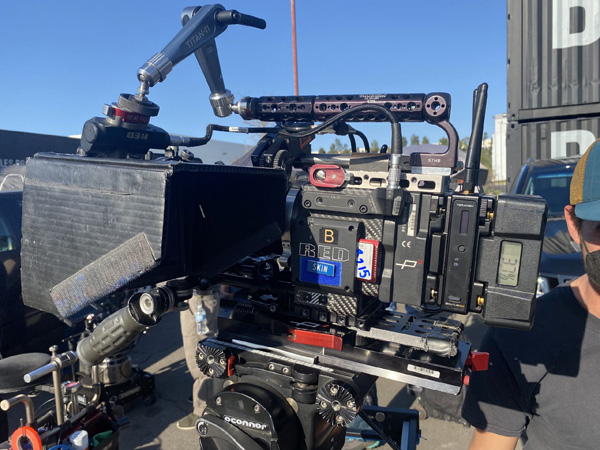 One of the crew's RED cameras rigged with the Teradek Bolt Max.
"Before the Bolt App, pairing manually was always an issue," Francis said. "My 1st AC sometimes took 20 minutes to find a small enough channel to fit into the receiver. In season 2, we didn't know how to dedicate a channel to prevent conflict between the Ronin 2 and the Preston MDR signals, for example, but the Bolt App now allows users to dedicate channels.
"This season we had three or sometimes four different wireless video systems on set at the same time, plus signals from 25 iPhones, Wi-Fi and unshielded cable going through the air – a lot of wireless conflict. Teradek's Spectrum Analyzer always found the right signal." www.teradek.com