Egyptian-American filmmaker Sherif returns to his native Cairo with a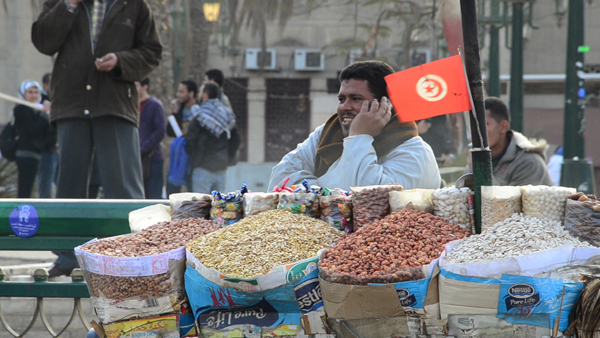 Nikon D7000 a year after the Egyptian Revolution began, to record
how Egyptians see their way forward.
---
Indie Filmmaker Captures Life in Cairo after Arab Spring
The documentary 'From Queens to Cairo' follows Egyptian-American filmmakerSherif Sadekas he returns to his native Cairo with his family one year after the start of the Egyptian Revolution. With so much misinformation emerging from the media, Sadek wanted to see for himself how Egyptians perceive their way to democracy after many years of authoritarianism. His journey takes him from Tahrir Square into taxi cabs, to demonstrations and slums as he searches for perspectives from all walks of life.
Capturing Cairo
Sherif spent the month of January 2012 in Cairo on the shoot, followed by eight to nine months in post back in New York. He chose the Nikon D7000 for the shoot, for several reasons. Prior to this, he had owned a Nikon D90, the first DSLR to record video shooting 720p at 24 fps, and consequently he now had a Nikon lens he liked using.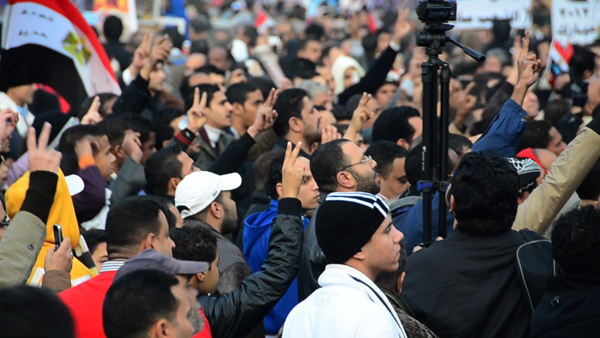 "Although in a well-controlled environment with a good lens, the D90 can shoot good-looking video, it was a little too basic for the Cairo project, without depth of field capability and unable to accommodate an external mic. But it taught me the value of having a high-quality camera that shoots both stills and video," said Sherif. "So I was ready for an upgrade to the D7000. It can record 1080p at 24 fps, takes a mic and handles depth of field."
The Nikon D7000 records video using H.264/MPEG-4 AVC compression. Sherif recorded to SD memory cards, and loaded the camera with a 32GB and a 16GB at the start of each shooting day. "The Nikon takes both cards at the same time, so I would set the camera to fill up the 32GB card first. If that reached capacity, it automatically switched to the 16GB card. For my purposes I never ran out of storage using this system. Actually, I was more likely to run out of battery power!"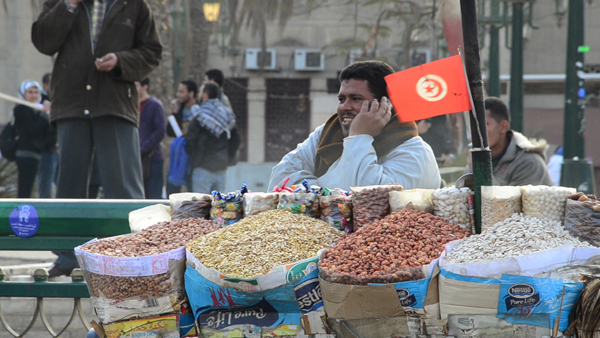 All the Gear
He shot almost the entire project using a monopod, a piece of equipment he now regards as essential for a one-man operation, shooting out in the field in stop-and-go conditions. It stabilizes the camera just enough to retain a handheld feel but prevent excessive camera shake. In a constantly moving scenario out in the street, he could very quickly extend the monopod and then pack it up again.
When events and demonstrations drew Cairo's people out into the streets at night, Sherif countered the city's intense orange street lamps during interviews by using a single small light attached to the camera, just bright enough for the interviewee's face. The rest of the scene would remain in the existing lamp light.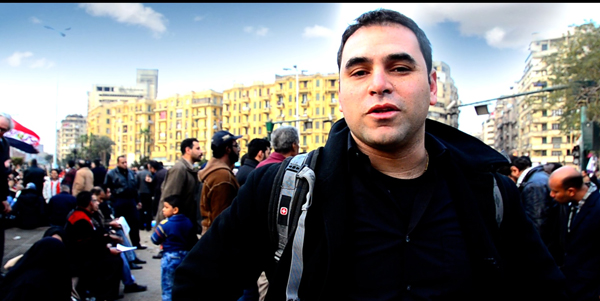 Circumstances in Cairo prevented him from spending any time on location pre-editing or preparing files for the editor. After getting back to his accommodation and downloading the media onto a laptop at the end of a day or night shoot, he only had time to look over and scroll through the footage using Quickview. Interestingly, throughout the shoot he had quite a different film in mind to what is now seen in the finished documentary.
Hidden Story
"This story in my mind was what I was aiming to capture but when I returned with all of the footage to my editor in New York, he turned to me and said he saw another, very different story hidden there. I had hired an editor instead of trying to do the cutting myself, having attempted to edit one of my previous projects and finding it frustrating. I'd shot the film, I'm in it and it needed to be edited by someone outside of the production process. After we discussed and argued over our varying visions for the project, I had to agree he had some compelling ideas. Eventually we arrived at a hybrid project that worked for both of us."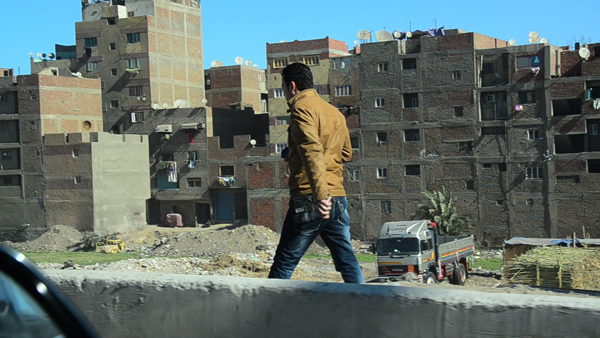 The editor worked in Final Cut Pro. Sherif had 25 hours of Nikon media, all of which was transcoded to ProRes. AssimilateSCRATCH Labwas used to create the dailies because they were able to use the software to create time code for the images, which the Nikon does not record. They output a version of the footage with the time codes burnt in, along with the file name and reel number.
This helped the editor, who did not speak Arabic, to reference translations that Sherif had written. Sherif instructed the editor to go through the footage and make notes against time codes each time a train of thought or new event started up that he might want to include. After he had marked up the translation, the editor could refer to it and find the specific translations by time code.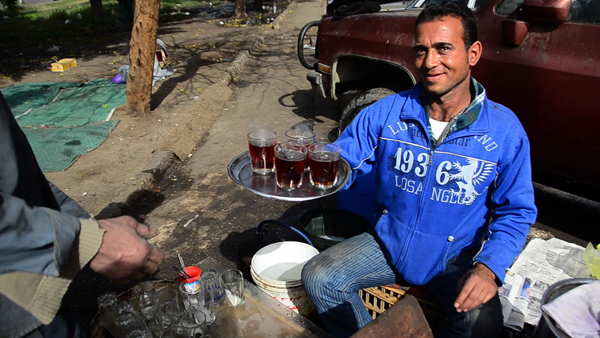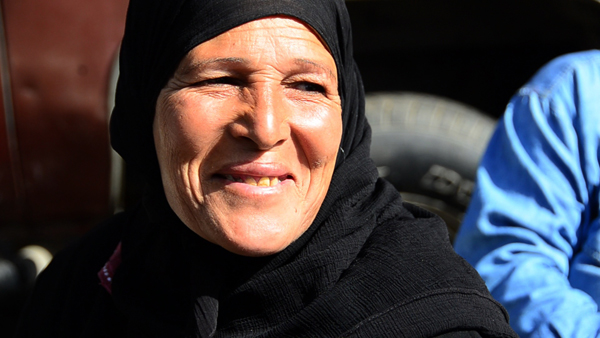 Looks Development
Once the edit was locked, they conformed back to the clean media without the burn-in and were ready for the colour correction. Sherif wanted to help differentiate the various time frames within the story by using separate looks. He had shown the film to viewers who knew little about the Arab Spring or Egyptian revolution and were slightly confused by the inclusion of archival footage used as 'flashbacks' to provide context.
In the end, he established three different looks. The pre-production scenes in New York were coloured slightly bluer, to give a colder wintry feeling. Conversely, Cairo was much warmer and also heated by conflict, reflected in a more orange-toned grade. Finally, they developed a de-saturated, high-contrast look, though not taking it as far as black-and-white, for the flashbacks.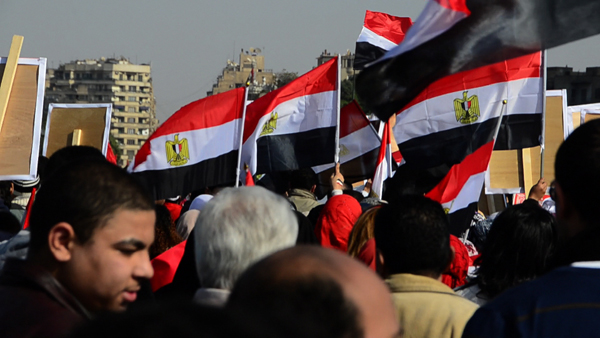 He did the conform himself on his own computer, using Assimilate SCRATCH software.http://www.assimilateinc.com/products/scratchHe could also use SCRATCH well enough to create a preliminary project setting up the essentials of his three looks as guidelines. He then exported this for the colourist, who continued from there to refine the grade.
Conform Management
One other challenge that SCRATCH also helped with was organising multiple sources of footage for the conform. Further to all of his own Nikon material, he had also hired another photographer using a Canon to do a re-shoot for him in Cairo. There was the archival footage as well, plus clips of network news broadcasts from YouTube, most of which was MPEG data. He found it easy to become disorganised in the conform, but SCRATCH's organisation helped to manage the varied media and also to cut some of the YouTube material together into an extended sequence.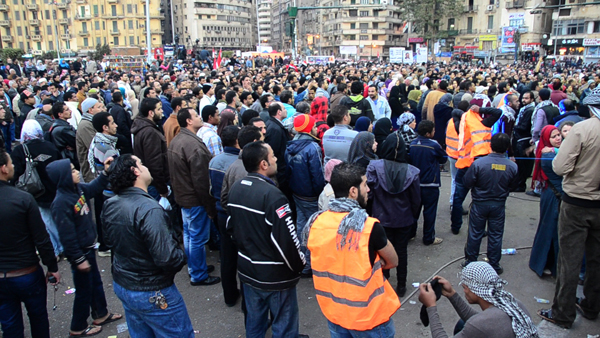 Sherif prepared the final translations and typed them up as he watched the final edit, and then created the subtitles himself in Final Cut Pro. The project contains two styles of titles. One was a simple white-on-black insert showing dates and places, and one was quite creative, for which he hired a graphic designer, used to introduce certain individuals by freezing on a frame and adding explanatory graphics and text.
Sherif Sadek has been nominated asBest Director of a Short Documentaryfor his film at theMadrid International Film Festivalcoming up 1 – 6 July 2013. Most recently, the project was the winner of Best Feature Documentary at the Queens World Film Festival in New York, held in March 2013, made the Official Selection at the Rainier Independent Film Festival, Washington, in May 2013 and was featured on Indiewire as Project of the Day.www.akhnatonfilms.com