In April, the Scottish Ten project surveyed Sydney Opera House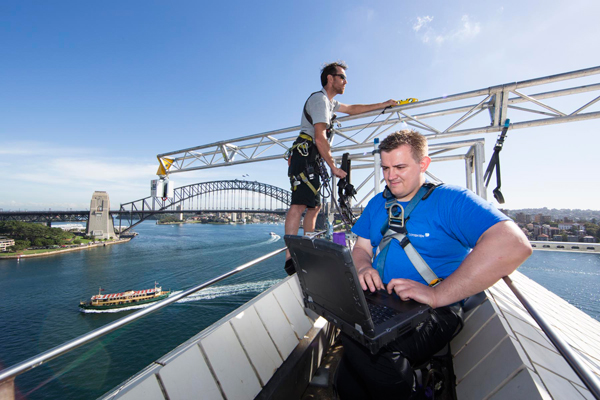 inside and out to create a highly detailed 3D model of one of
Australia's most famous buildings.
---
Scottish Ten Captures Sydney Opera House in Full 3D Scan
The Scottish Tenis a five-year project shared between the Scottish Government's heritage agency, Historic Scotland, The Glasgow School of Art's Digital Design Studio and not-for-profit digital heritage organisation CyArk. The project's survey team captured the Opera House using a laser-mapping technique. An interactive render will be delivered in time for the Opera House's 40th anniversary celebrations in October 2013.
UNESCO World Heritage Site
The Opera House was chosen for the Scottish Ten survey project as one of ten UNESCO-inscribed, World Heritage sites to be preserved for posterity - along with Mount Rushmore, India's Rani ki Vav (The Queen's Stepwell) and China's Eastern Qing Tombs – and is the only modern structure to be included. In 2007, the Sydney Opera House was listed as a World Heritage Site and described by UNESCO as representing 'multiple strands of creativity, both in architectural form and structural design.'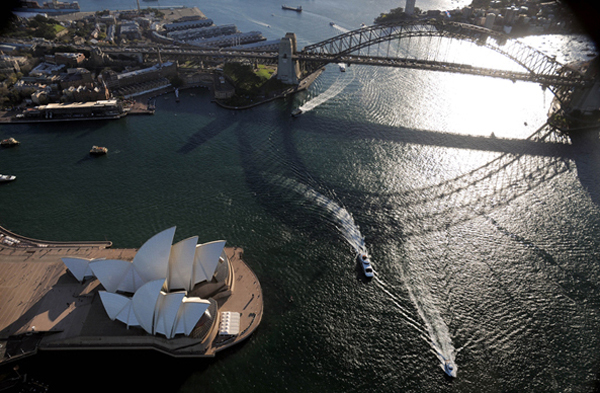 The project will provide the Opera House with comprehensive building-management and conservation data, which can also be used in education and training and to help improve the experience of the Opera House's 8.2 million visitors a year.

The Opera House consists of two main halls located side-by-side and seven performance venues – the Concert Hall, Joan Sutherland Theatre, Playhouse, Drama Theatre, The Studio, the Forecourt and the Utzon Room. Justin Barton, MA (Hons), Manager of Partnership Development at CyArk, explained that all of their 3D digital preservation projects begin with a full scope of the site, done by reviewing architectural drawings, photographs, aerial/satellite imagery and any other resources that may help plan how many scans it would take to fully capture the structure.
"Some sites first require a reconnaissance visit. We visited the Opera House at least twice for this purpose due to its complex geometry, creating hard-to-see locations on the exterior of the building," he said. "Photos were captured, a site walk was performed with SOH staff, and design drawings were obtained by the Scottish Ten team to take back to Scotland for scoping.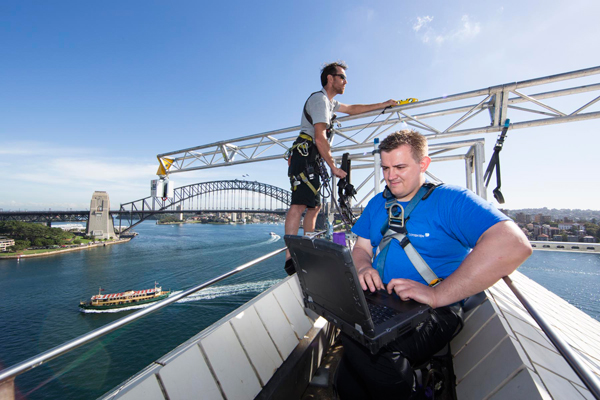 Team and Scan Systems
"The core team had seven people, made up of four from Historic Scotland, two from the Glasgow School of Art's Digital Design Studio, and myself from CyArk. At various times we had additional help, including a member from CyArk Europe's office, three from Maptek, one from Leica Geosystems UK, various members of the SOH staff assisting us with coordination and access to the theatre venues and sails, as well as three of the rope experts from Kerrect Group. We spent two and a half weeks in Sydney, spending 15 days documenting the Opera House with scanning and photography."
The team was using four different models of scanners at the site. Two of the Leica Geosystems ScanStation C10s were in use, a time of flight laser scanner with an optimal maximum range of 300m, or a real world maximum range of about 100-130m, and a maximum capture speed of 50,000 data points per second. They also had the Leica Geosytems HDS6100, a phase-shift scanner with an optimal maximum range of 79m, real world maximum range about 50m, and a maximum speed of 508,000 points per second.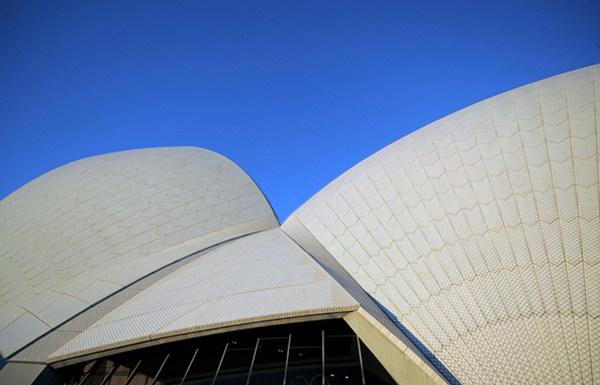 The FARO Focus3D phase-shift scanner has an optimal maximum range of 120m, real world maximum range of about 20m, and a maximum speed of 976,000 points per second. Maptek I-Sight 8810 is a time of flight scanner with an optimal maximum range of 2000+m, real world max range 500-1000m, and a maximum speed of 8800 points per second. They needed high-resolution DSLR cameras as well, mostly Nikon, to photograph the structure, traditional photography as well as HDR panoramic imagery to overlay with the laser scan point cloud data.
Data Output & Deliverables
The data was captured in native proprietary formats for each scanner – for example, ZFS for the HDS6100, IMP for the C10s, FLS for the FARO, and so on. Images were captured in both RAW – that is, NEF for Nikon - and JPG format. The raw laser scan data will be converted over to other formats, primarily ASCII text information where each point is recorded as an XYZRGBI value, 'I' representing the laser return intensity value. The ASCII versions will be brought into other software for additional edits and modelling, such as Bentley's Pointools, Geomagic, 3DReshaper or Polyworks for mesh modelling, and 3ds Max for final photorealistic modelling.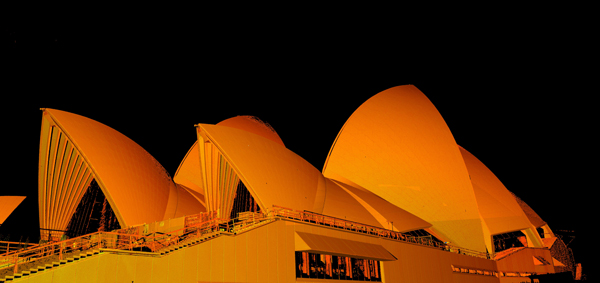 "From this we can create a host of deliverables," said Justin, "including architectural drawings for as-built information, as well as moving imagery such as animated fly-throughs of the 3ds Max rendered models for interpretation and outreach. In some cases we will also work with the site authority to use the data to create virtual tours available as online and mobile apps, and teacher lesson plans that utilize the accurate, measurable 3D data for art, science, and math courses.
Treacherous Sails
The Scottish Ten team found the logistics of capturing 100 per cent data coverage on the sails of the Opera House were a challenge. With the SOH building management team, they designed a specialised rig to facilitate scanning from the spines that run along the top of the sails, allowing coverage that wasn't possible from ground level. Justin said, "The rig was a cantilevered positioning device that allowed us to suspend the HDS6100 scanner out and away from the sails to provide vantage points of the highly arched roof structure. Without it, we could not have captured the full exterior of the structure from the ground due to the slope of the sails.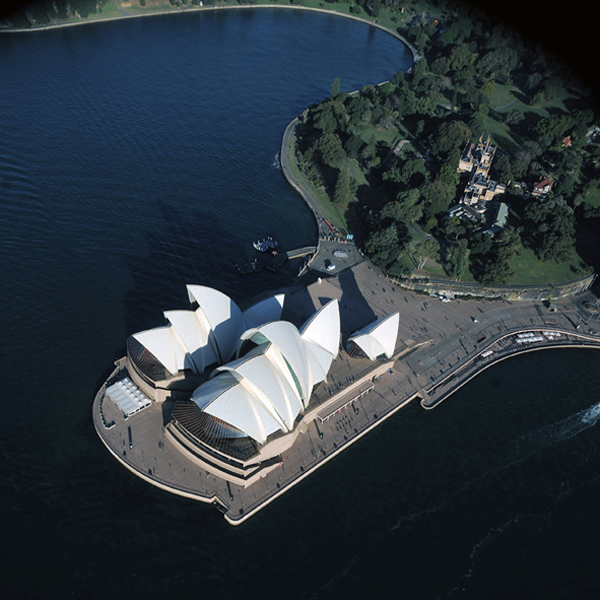 "We had to move the rig to the top of each sail, but access to these areas is very limited and difficult to manoeuvre. It was critical that the SOH management and rope access team work with us to design and construct a rig that could be safely moved into position and operated from quite dangerous heights."
Because the Sydney Opera House is not a stand-alone, isolated structure, it was also important to capture the complete Sydney Harbour context within which it sits. "It is
positioned on a peninsula point, overlooking the harbour and the bridge," Justin explained. "Its prominent position is important to understanding its lively city environment. Furthermore, any heritage specialist will explain that no site for a man-made structure is chosen arbitrarily, especially those of cultural significance and value. Some structures are located strategically for things like defense, viewsheds, water or food access. The prominent location of the Opera House is no different." www.sydneyoperahouse.com
All images are courtesy of Jack Atley.