The team at Digital Pulse studio in Sydney handles virtually any production and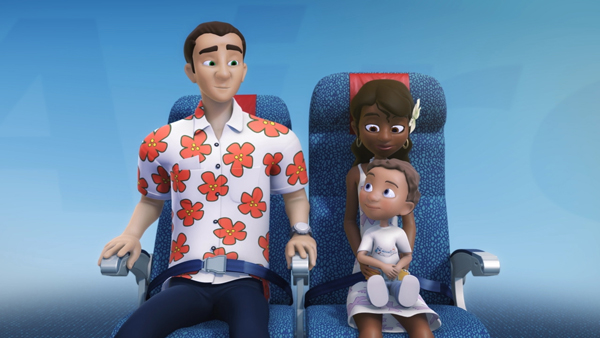 post services and tasks in-house, with a talent for experiential and interactive
projects and events.
---
STUDIO PROFILE: Digital Pulse Creates Digital Experiences
A recent visit to Digital Pulse production and post production facility in Sydney showed that their team is set to handle most any production and post services and tasks in-house. From all types of editing through finishing, their abilities include effects, motion graphics and animation, plus sound mixing and design. Specialties include colour grading and correction, and character design and animation.
Digital Pulse's full time staff handles the core services of editing, motion graphics, design and 3D work. Sound design is carried out in a dedicated suite by an in-house artist on Pro Tools. For larger projects or to provide specific services such as grading and character animation, a regular pool of freelance artists augment the team. Where required, clients can also work on a project with creative directors or technical producers from Digital Pulse. For live action content, the facility works with sister company Lustre Pictures who provide producers, directors and camera crew.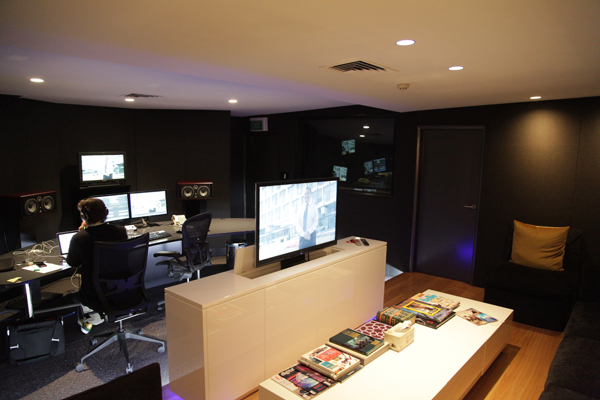 While Digital Pulse regularly completes commercials, titles and idents, corporate films and promos for broadcast and online delivery, where the Digital Pulse team stands apart is in creating content for experiential and interactive projects and events. Managing Director Brett Heil said, "We have a technical team who help our graphics department deliver content at extremely high resolutions and on complex playback systems. Our systems are geared to render and deliver content quickly and efficiently at any resolution. Workflows are key to all of our jobs, and for large projects, specific workflows are developed to allow the greatest output in the least time, while allowing for changes."
Facility Tour
The suites and equipment at the facility, located at Crows Nest, are kept up to date. The editorial team changed NLE in the last 12 to 18 months from Final Cut Pro 7/AVID to Premiere Pro CS6, finding it was quicker and a more flexible application across the range of broadcast and interactive projects the company was taking on. Premiere Pro, as part of Adobe Creative Suite, is also compatible with After Effects and Photoshop.
Digital Pulse has found that 64bit After Effects and Photoshop, and knowing how to use them in varied situations, is the winning software combination for the demanding large-screen, interactive-performance type of projects that some facilities aren't prepared to take on. After Effects' tools have been able to adapt to different demands and deliver for varied format and screen sizes, which is not as easily achieved with more traditional hardware based systems.
Below: A series of idents directed for Fox 8 breaks the barrier between reality and fiction. The idents transform everyday people via their shadows into models and cartoon characters, and created a strong visual impact for the new season of Fox 8 programming.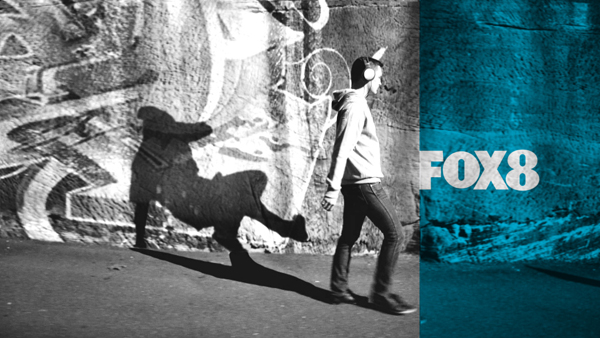 The DaVinci Resolve system is the facility's newest acquisition, situated in a grading suite with two LED screens and a Sony OLED monitor. Digital Pulse typically calls on two skilled, local colourists who work at the facility. Character animation is also a specific service where Digital Pulse augments its own 3D team with high-end free lance character animators, working in Maya.
All of the facility's project media is centralised and stored in a shared SAN accessible to others working on projects. The edit suites are also connected via KVM switches and a Blackmagic Studio Videohub router back to the machine room to increase everyone's ability to share projects and work together.
Creating the Experience
Expertise in experiential, interactive and event work has come from completing a fascinating line-up of projects. For example, in 2011, Digital Pulse was commissioned to produce all content for the enormous LED screens used in the Australian stage production of the musical 'Hairspray'. Their content created a continuous panorama showing a cartoon-style vision of Baltimore in the 1950s and '60s.
Also in 2011, Digital Pulse supplied content for the Opening Ceremony of the 12th Arab Games at Doha in Qatar. An LED pixel was placed behind every seat in the massive stadium, creating a contiguous screen covering the entire stadium area when seen from above. Establishing workflows was especially critical in this case to control and make available the enormous amount of required data to a remote crew, who worked for two weeks on site at Doha.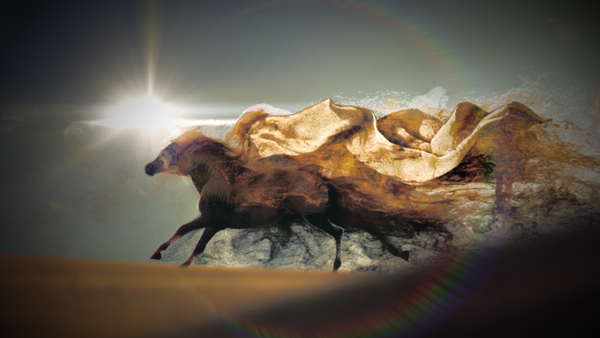 Olympic Dreaming
Australia Unlimited Kinect is an interactive experience produced with events company Rizer for Austrade. "Early in 2012 we were approached by Rizer to come up with some ideas for an Olympic related project for their client Austrade," Brett said. "Austrade were hosting a function promoting Australian companies to all the organisers of major sporting events for the next 10 years. The function was to be held at the Australian High Commission in London, the day after the opening ceremony of London 2012. The installation had to be interactive, fun and engaging."
Digital Pulse proposed an interactive experience using Microsoft Kinect. Working with the team at Rizer, they developed an interactive fly through of all the major cities hosting Olympic, FIFA or Rugby world cup events.
Once the brief was finalised, the Digital Pulse graphics team created montage style versions of each city. While the graphics were underway, their programmers mocked up a prototype of the program awaiting the assets which, when complete were incorporated into the program and thoroughly tested. Finally, their sound engineer gave each country its own soundtrack with specific cultural references.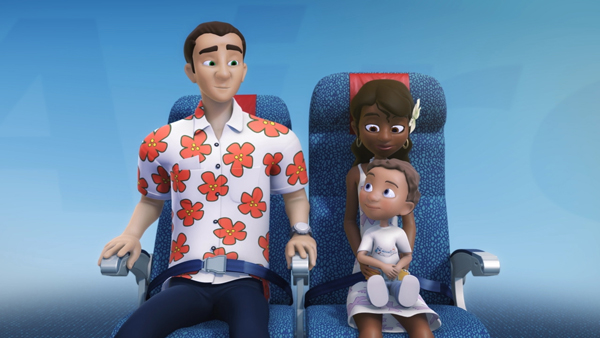 Visitors to the booth at the High Commission were able to select their city from a map simply by moving their hand through the air. Once they selected their city a graphical fly-through commenced culminating in a fantastic display in which the viewer could activate a laser, fireworks and projection show over their city. This booth proved to be the most visited of the night.
Flight Safety
Most recently, Digital Pulse completed in-flight safety videos for Air Calin of New Caledonia. Air Calin briefed Digital Pulse through the agency Interact on the demographics of the characters they wanted for the project, as well as the style and design of their new business class seat, which required a separate video.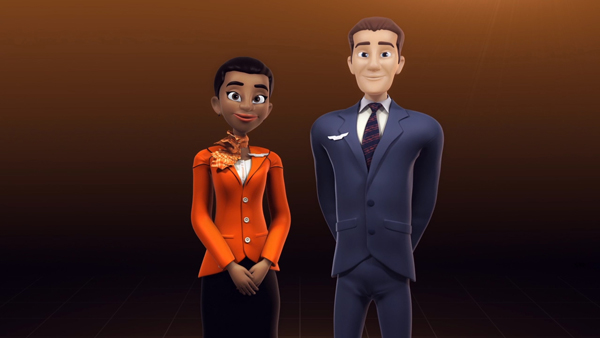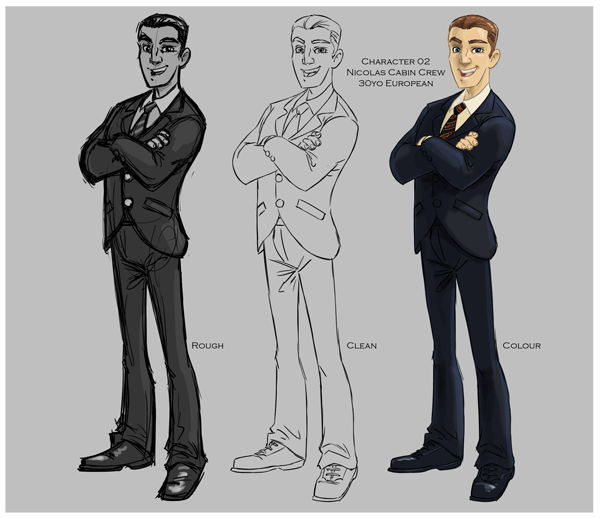 Brett said, "Our character designer roughed up some sketches, and in almost every case the client loved the look of the characters and approved them immediately. We could then get started on 3D modelling in Maya. It was very important for Air Calin that the characters matched the drawn images as accurately as possible. In addition, we had to pay great attention to ensuring that every element of the aircraft that we showed was accurate to the actual aircraft. For example the style of the life jacket, the buttons on all the seats even down to the colour and texture of the carpet had to be exactly as on their planes."
Similarly, the key for the character animation was that the actions performed by the characters clearly show the correct way to behave in an emergency, or to use safety equipment. "While we had little artistic license in their actions, the team tried to add some warmth by subtle eye and body movements. All work was rendered from Maya with final compositing completed in After Effects," said Brett. www.digitalpulse.com.au