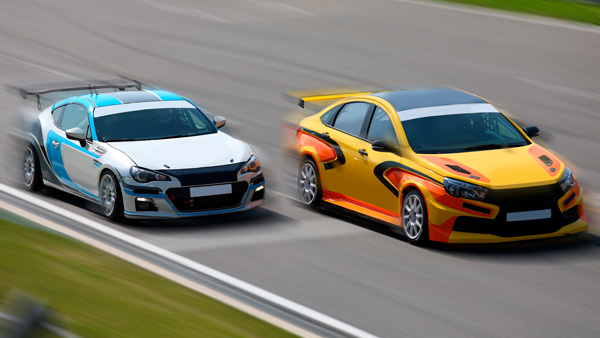 Spanish motorsport timekeeping and graphics production company Al Kamel Systems encodes, transports and decodes synchronised, multi-camera remote production (REMI) video feeds at ultra-low latencies between its client racing circuits and its production centre in Barcleona.
Synchronised, High-Quality Streams
Al Kamel produces coverage for internationally recognised motorsport competitions for distribution via television and web broadcast, with a speciality in timekeeping and graphics elements of the productions. In order to supply the timekeeping and graphics signals for high-profile racing events, Al Kamel needs encoding and decoding equipment capable of sending multiple synchronised, high-quality video feeds over long distances at speeds that make it seem as though they are producing the video on-site.
For example, when covering the 24-hour automobile endurance races at Le Mans, they need to transport low-latency video between the racing circuit in France and their production studio over 1,000 km away in Barcelona. To do that, their team uses the Matrox Monarch EDGE encoder and decoder pair as part of its equipment.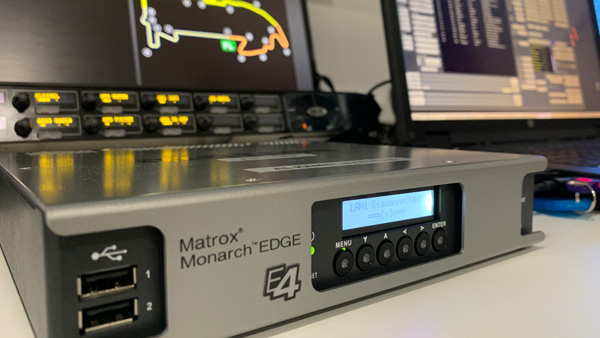 By watching a product demonstration from Spanish AV distributor Broadcast Multimedia, Al Kamel found that one Monarch EDGE encoder and decoder pair can simultaneously transport four, low-latency HD feeds. This functionality is what they need to be able to produce the titling graphics at low enough latencies within the 24-hour production workflow used at Le Mans.
Referencing the Action
At the racing circuit, the Monarch EDGE E4, a 4:2:2 10-bit encoding device, is fed four 1080i50 SDI signals from various cameras and multiviewer devices, and then sends the video signals via proprietary WAN to the Monarch EDGE D4 decoder that Al Kamel has installed at the production centre in Barcelona. These feeds are used to reference the real-time action at the racing circuit, and ultimately to embed graphics into the broadcast signal without delay. Graphics are embedded using the graphic servers that are also located on the circuit, and operated remotely from Barcelona.
Because of Monarch EDGE's ability to transmit precisely synchronised signals, Al Kamel can integrate it successfully into different workflows for various types of sporting events. In some cases, Monarch EDGE is used to send content from Barcelona to the remote circuit production centre, and therefore the teams keep an encoder and a decoder both at the circuit and in Barcelona.
Real-time Graphics Integration
In those situations, the graphics generated by the Vizrt Viz Engine 3.11 rendering engine and Viz Artist are supplied through two synchronised signals (Fill + Key) at 1080i50 to the Monarch EDGE encoder. The signals are then sent to the Monarch EDGE D4 decoder located at the circuit while maintaining the interlacing of the original images at all times. From there, the signals are connected to the final downstream (DSK) key input of the video mixer, which integrates the graphics generated remotely in Barcelona into the broadcast signal in real-time.
Managing Director at Al Kamel Nacho Puig said, "The Matrox Monarch EDGE's features have really improved Al Kamel's ability to produce near-real-time video production and graphics for motorsport competitions. Being able to keep glass-to-glass latencies down to just a few frames while maintaining the video quality have made a big difference for us." www.matrox.com