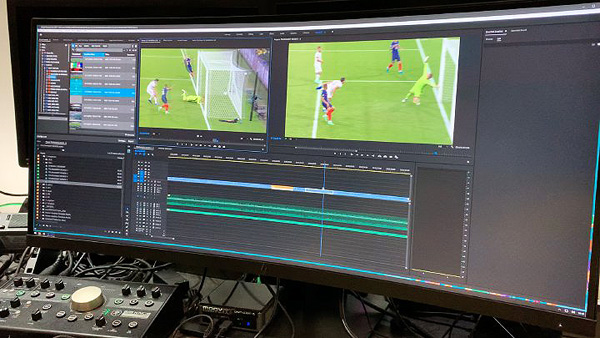 During UEFA EURO 2020, MoovIT video and IT systems integrator was appointed as a host broadcast supplier for UEFA and delivered a number of remote workflow tools, along with their partner companies. MoovIT supported technical planning and the implementation of workflows for news reporting at the Championships.
The project included a remote element due to UEFA's decision to operate the core of their broadcast systems at the International Broadcast Centre (IBC) in Amsterdam, and move their post-production, quality control and edit facilities to UEFA's supplier IMG, based at Stockley Park, London.
Consequently, MoovIT needed to supply part of the post-production infrastructure at the IBC, led by MoovIT's project manager Jan Fröhling who worked throughout the tournament with his team in Amsterdam. This team was supplemented by remote infrastructure at the IMG studio in London with a secondary MoovIT team to deliver post-production support.
Choosing Remote
UEFA hired Moovit to deliver thin-client systems to London – including monitors, audio equipment and Wacom tablets – with remote access to the craft editors and materials stored at the IBC. MoovIT also designed and delivered the mobile infrastructure that UEFA's ENG teams used at the tournament venues. The network infrastructure would be retained as originally planned, with the same tools and integrations.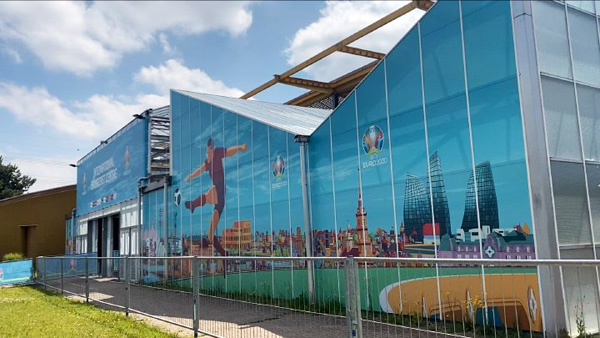 The most important connection for the remote setup was the dedicated fibre-optic line the EBU supplied, which served as a static link between Amsterdam and London used for real-time media transfer.
Centralised PC-over-IP connectivity engineered by Teradici was installed for remote software support and access to computers. Amsterdam-based desktops were transmitted to England using the Teradici system and presented in an experience very similar to physically sitting at the computers in Amsterdam. Teradici also connected audio signals and monitoring, voiceover systems and peripheral devices such as Wacom tablets.
Data and Project Management
UEFA's technical setup centred on EVS systems integrated with central storage. The EVS IPDirector live production asset manager was the central database, accessed through applications for live media content browsing, control, edit and playout. Various tasks were automated using EVS VIA Xsquare for orchestration.
VIA Xsquare works as an entry point used to transform, orchestrate and monitor media files as they move through a live workflow, starting with ingest, then to shared storage and distribution. Users managed all workflows between EVS systems, third-party storage and NLE software in a single web interface.
The main NLE was Adobe Premiere Pro, with an integrated EVS IPLink panel. IPLink accessed the IPDirector database, which lists content and makes it searchable. Editors used the panel to import content from the media asset management (MAM) system into their projects. Forming an automated workflow, the transfer points for further processing of content were contacted automatically.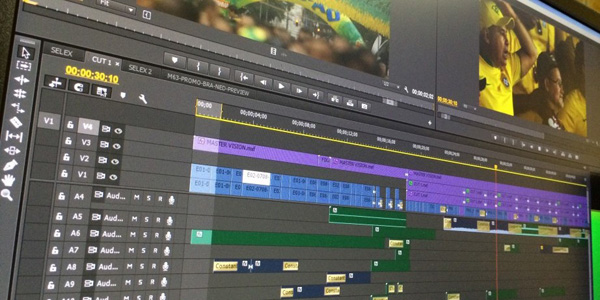 MoovIT's Helmut4 project management software was added to this system to manage the finished content packages based on predefined criteria. With its diverse components and modular build, Helmut4 did not need to be closely integrated or customised for EURO. It could still serve as the central control unit for video project management in that complex environment and meet the entirely new requirements of UEFA EURO 2020.
Signal Transmission
Typically, video signals created in Premiere on an IBC desktop in Amsterdam would be transferred via cable to the editor's monitor for visual inspection. But in this remote setup, the distances involved called for a different approach. The pipeline consisted of a NewTek NDI plug-in integrated into Premiere, transmitting video signals from Amsterdam to London via the network tunnel, which allows encapsulated private network communications to be sent across public networks.
The plug-in generated an NDI signal and transmitted it across the network to England, where decoders from Kiloview received the NDI data streams and converted them into classic video signals. The signals were finally made available for review on the editor's monitor.
Remote News Gathering and Editing
Live and mobile news reporting during the tournament needed to cover the 11 stadiums, numerous training grounds, the host cities and countries, and the supporting sponsors.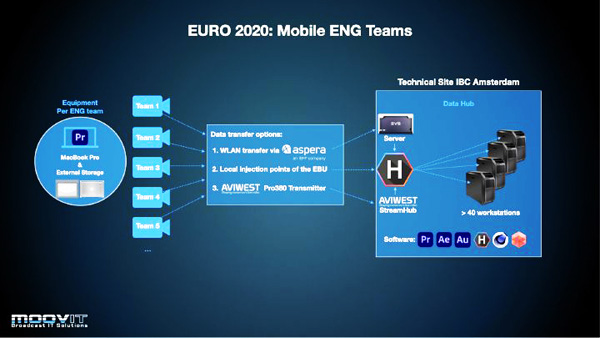 MoovIT packed approximately 60 backpack kits to supply the UEFA ENG teams in each broadcast country with the necessary equipment. Each team – consisting of editors, camera operators and media managers – received a backpack containing a MacBook Pro with peripherals, storage media, power adapter kits, hard drives and other gear. Premiere Pro and Helmut were pre-installed on the laptops, which they used to produce rough cuts or edits that could then be transferred to the IBC with central metadata profiles and extra descriptive information.
Three transfer methods were available – using Aspera as a browser plug-in, using an EBU box that was available as a transfer system in the stadiums and training grounds and connected to the server in Amsterdam, or using mobile transfer via AVIWEST transmitters, which are compact hardware units with eight LTE modems to transfer video over mobile data networks.
Having these options gave the operators more flexibility for file transfers, regardless of the environment and conditions the reporters were working in at any given time.
Meet the Press – Anywhere
Teams and squads meet the media on the day before each of their games to discuss the latest hot topics that fans are looking for, and their pre-match preparations. Typically, the press conferences take place at fixed locations close to the stadiums, where large numbers of journalists can gather. However, with COVID-19 restrictions in force in many countries, this concept was not viable everywhere. A flexible, professional mobile system was needed to organise press conferences.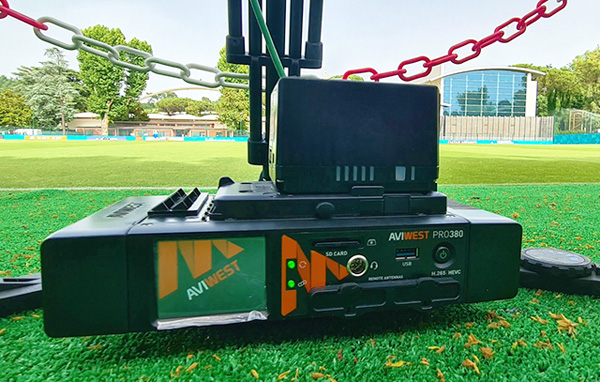 The planning team found the necessary collaboration features in the AVIWEST Pro 380. Video signals were encoded in H265 10-bit and transferred to the IBC via mobile and/or fixed-line internet connections. The system was able to use stationary network cables, WLAN or mobile 4G data simultaneously and aggregate the bandwidths for the transmission of video feeds. Live signals would arrive on the receiving server at the IBC, ready for further processing.
The entire setup was operated by UEFA, supported by AVIWEST, and planned, evaluated and integrated by the MoovIT team.
Green Screen Automation
Player introductions are a popular part of football match coverage, accompanied by up-to-date images and information using green screen techniques.
During EURO 2020, MoovIT's software developers devised their own system to automatically remove video backgrounds by integrating the Unscreen engine. The raw material – that is, background imagery, graphics and so on – was stored in After Effects template projects at the IBC and transferred via API to the Unscreen engine.
Based on AI, the engine analyses the footage to determine where a person is situated within the image content, instead of generating a conventional pixel-based mask, before extracting the person from the image based on the calculated data. The result would then be integrated back into the template project, where the image content could be scaled and positioned before being sent for further processing.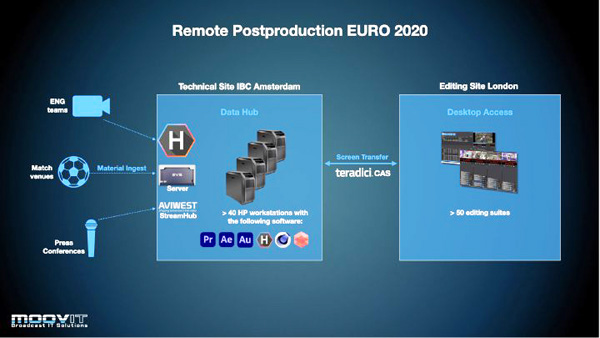 Review and Approval
When reviewing the content of clips, communications between the editors in London and the Amsterdam team were largely automated using MoovIT's RevApp tool in the MoovIT cloud. Once RevApp was integrated into the post-production infrastructure via Helmut4, clips could be assigned to the relevant editors for review directly from the Premiere timeline. Each editor was notified via a link and could respond regardless of their location and platform.
MoovIT's team was a primary player as well in the planning, evaluation and integration of selected workflows for UEFA. As a result of this work, approximately 6,000 clips containing 17TB of data were exported from Premiere. This resulted in a total of about 180 hours of relevant video content generated during the four-week tournament.
By combining standard software management tools into systems that could be tailored to the needs of the situation, MoovIT's software developers successfully built many innovations in a very short time for the UEFA EURO 2020. Later on, these innovations will serve as the foundation for future workflows to serve in sports coverage and many applications beyond. www.moovit.de