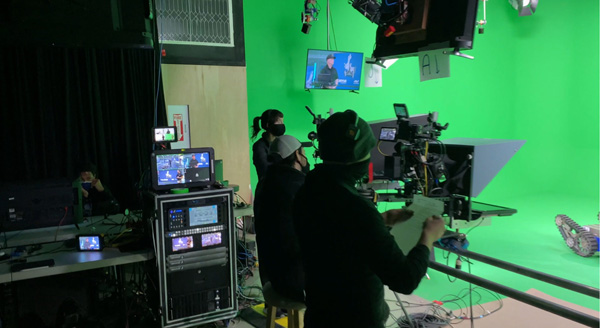 Creative and production studio, Butcher Bird Studios handles a wide range of production styles, from streaming and AR/VR to virtual production techniques. Their team is recognised for their ability to create live interactive virtual events for customers including Legendary Digital, Netflix, Twitch and others.
Butcher Bird directors Jason Milligan and Steven Calcote began working with Unreal Engine in 2019, when many filmmakers were attracted to the potential of virtual production, but the techniques were still very new and had rarely been used. By 2020, although large-scale, large budget projects such as 'The Mandalorian' were using virtual set-ups, Lead Technical Director Griffin Davis felt sure there was a way to use the same techniques on a more modest budget.
Wild West
"It often feels like we're in the wild west with these new methods," said Griffin. "We all saw what 'The Mandalorian' had accomplished and sought to learn how to do it ourselves, but lacked Disney's funding. So we toiled and struggled, tested, built and re built."
Early projects at Butcher Bird using some of these techniques included a science fiction adventure titled 'Orbital Redux', streamed and performed live, and created and produced on the company's green screen stage. Griffin said, "We used Blackmagic URSA Mini, URSA Mini Pro and Micro Studio cameras with several different ATEM switchers, encouraged by the fact that that all pieces of equipment would communicate well with each other."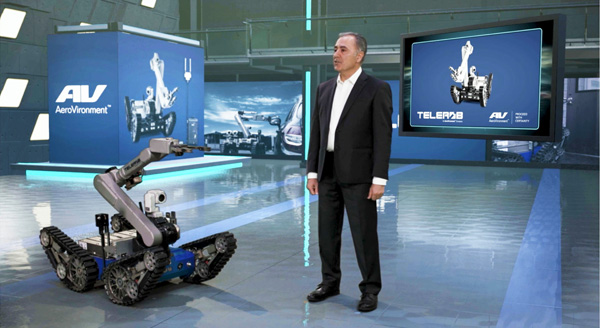 Now, nearly three years later, with clients challenging producers for new, innovative approaches, Butcher Bird's work on these early projects has meant that their team is ready to deliver. Incorporating Unreal Engine into their workflow, the team has been able to produce real time virtual shots on stage without using expensive, limiting LED wall infrastructure. That meant using green screen, which in turn means live compositing, a feature that Unreal Engine handles natively.
Ultimatte Live Compositing
However, considering the heavy workload of generating a virtual environment and rendering it through Unreal, Griffin decided to look for a different way to handle the composite. By using a Blackmagic Design Ultimatte 12 keyer with the Ultimatte Smart Remote 4 control device, he realised he could approach image processing differently. "We found we could finish our composite inside of the Ultimatte, which was simpler because it is the Ultimatte system's entire function," he said.
A live feed from the camera is sent into the Ultimatte as a foreground element, while camera tracking information is sent to Unreal simultaneously and used to position a virtual camera. The virtual camera position informs the software to send a tracked animated background, seen from the correct POV, back to Ultimatte for the final composite with the foreground element. "We also send a garbage matte into the Ultimatte so that the camera operator can tilt around the entire world, no longer having to constrain himself to the confines of the green screen," said Griffin.
Ultimatte version 12 improves on the system's flare, edge and transition processing to remove backgrounds without affecting the colours that need to be preserved. Ultimatte 12 can also isolate and treat different parts of the image separately, and keep colour transitions between areas smooth. New flare algorithms remove green tinting and spill from scenes, which improves shadows and transparent objects with reflections. Ultimatte 12 automatically samples the colours, creates mattes for walls, floors and other parts of the image, and then applies corrections. Shadows are mapped and composited onto the new background.
Multicamera Production
For their studio configuration, Butcher Bird acquired three Ultimatte 12 systems to support multicamera production. Each system was fed with one of the camera outputs. The information was routed to three computers, each running Unreal. "We use multiple Blackmagic SDI distribution boxes and converters to send monitor feeds to our numerous operators to ensure the real time feedback," said Griffin.
"While the plethora of hardware creates quite a bit of cabling work for our team, it's also a good failsafe. Running three separate feeds ensures that none of the Unreal computers are over tasked." Each Unreal machine then feeds its data back to an Ultimatte, which produces the final composite, while also feeding that information back to the camera operators, the Technical Director switching the show and multiple Hyperdeck Studio 12Gs that record the feeds and final choice of cameras.
For director Jason Milligan, creating a real time virtual environment involved more than recreating a major studio system. "Virtual production isn't new," he said. "It has been around in various forms for quite a while, especially in the sports and news broadcasting arenas. What has changed is the level of quality, availability and affordability. The latest virtual production software and devices are helping to make real time visual effects widely accessible.
New Markets
"At Butcher Bird, we are aiming to use these filmmaking tools in markets that can't traditionally afford this level of production, such as live streaming, virtual press conferences, industrial productions and others. At the same time, we are actively incorporating these techniques into our narrative-based work and expanding on conventional ideas about shooting on location."
The idea of an affordable and accessible virtual environment has created special opportunities for Butcher Bird, and allowed them to expand their creativity as well as the possibilities for their customers. Executive Producer Luis Reyes notes how they have become more than a service provider now. "We are best when we work with the client at the inception of a project when we can illuminate capabilities clients may not know are possible. In a sense, we become creative partners for their endeavour."
For Griffin, using the Ultimatte 12 and the capabilities it gives them opens up a wider future for Butcher Bird Studios. "Our productions are limited less by budget, time or technical skill than by our own imaginations. I foresee this continuing a trend that in my opinion began with digital filmmaking, where the means of production becomes so accessible that professionals and consumers have access to the same tools, and effort and creativity become the catalyst for spectacle." www.blackmagicdesign.com