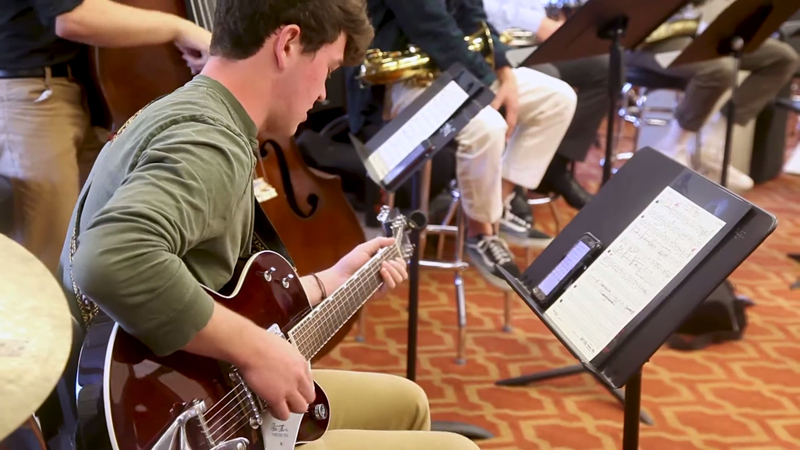 The Setnor School of Music at Syracuse University, founded in 1887, currently occupies one of the oldest facilities on campus, a building constructed in 1889. Recently, the school, with about 300 students, modernised and upgraded its department infrastructure, including a move from analogue cabling to audio networking, which had to be done with consideration to the historic significance of the building.
The School built the new system on the Audinate Dante standard for digital audio networking, which distributes hundreds of uncompressed, multi-channel digital audio channels via standard Ethernet networks with extremely low latency and precise synchronisation. Dante allows audio, control and all other data to coexist effectively on the same network.
Critical Connections
Traditionally, the critical connections between microphones, mixers, processors, amplifiers and speakers in an audio system have meant long analogue cable runs. Dante replaces these connections with a computer network, sending hundreds of audio channels over Ethernet cables that maintain digital fidelity. Managing the connections with software makes routes fast and readable, and since all devices are on the same network, signals can be sent between any of them with no change to wiring.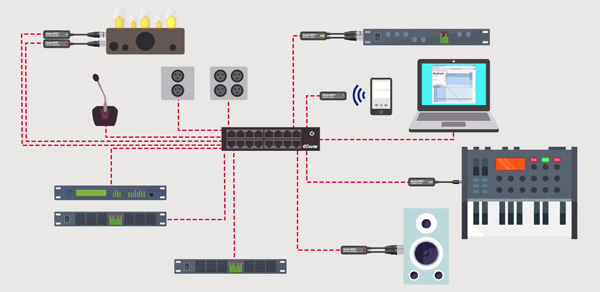 Dante allows almost every component to be placed on the network
Dante systems are simple to expand, and are also compatible with a low impact approach. Copper wire and XLR cables running between rooms at Setnor had been installed sometime in the 1950s and the old analogue cabling and break-out panels had become outdated, noisy and inflexible. Dante was a critical part of the upgrade because it met the requirements while making minimal impact on the historic buildings.
"With a building like this, we can't just knock big holes in the walls and run more copper," said Kevin Muldoon, an instructor and the Sound Recording Engineer at Setnor. "We're replacing all the many runs of copper and XLR with about 200ft of fibre optic cable to navigate through all the twists and turns to get signals from the auditorium to my office."
Student Performances
Kevin is also responsible for recording student performances for live streaming and archiving. With a Dante audio network connection in place, he and his team run all their microphone inputs through Dante-enabled Rupert Neve RMP-D8 eight-channel microphone preamplifiers to the live board for mixing, recording and live streaming. The preamps prepare the microphone signals for processing by the other equipment.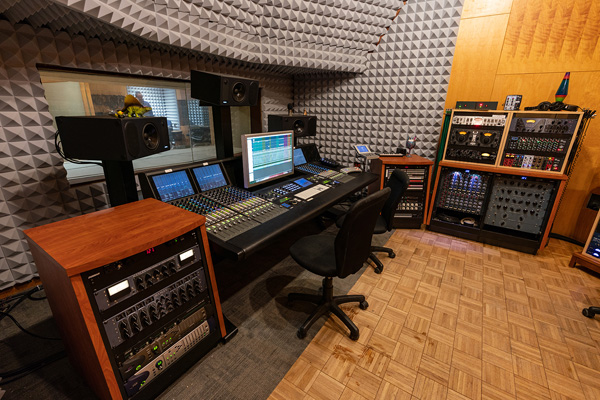 Belfer Recording Studio at Setnor School, Syracuse University
Specifically, the XLR microphones in the auditorium connect to the RMP preamps, which convert the signals to the Dante network/fibre connection to an Avid MTRX audio interface in the studio, and then into ProTools for recording. A signal is also sent to the back-up recorders via AES/EBU outputs. Soon, Kevin plans to add a Dante network card to their Midas mixer, so the team will be able to work on projects concurrently – such as mixing for different recording and live streaming performances simultaneously.
"Eventually, we want the Dante system to bring together our entire campus network, so we can connect to our off-site studio, as well as our separate jazz building and the Belfer Recording Studio in yet another building," said Kevin. "We want to get to a point where a complete Dante audio network supports a direct integration between all of these locations."
Along with the high audio quality and synchronisation, Dante keeps latency ultra-low and has an accessible user interface. The software's network management features help set up and configure complex networks quickly, and make system integration simpler.
Analogue or Digital
"While working as an instructor, I can expose students to new audio network systems as well as the analogue way of doing things. The benefits of digital audio really sink in when you do that," said Kevin. "The flexibility and ease of working with a digital network allows you to much more with it than with an analogue system. Furthermore, you never have to worry about AC hum or grounding problems, or dragging around a big audio snake."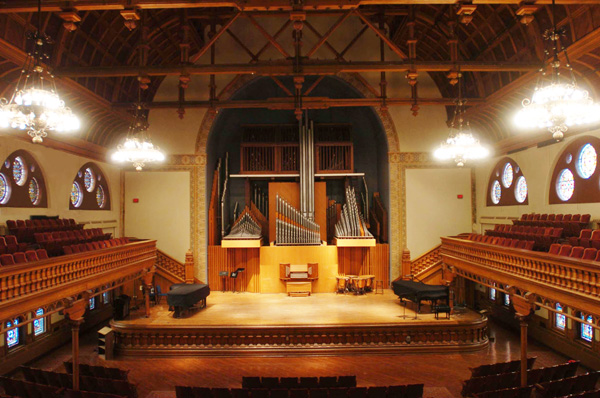 The functionality of an analogue system is implemented in a central rack. The speakers are often cheap and use daisy chain wiring but monitoring potential issues is difficult. In an audio network, each speaker has its own audio system so that signals can be controlled and monitored over an Ethernet network, and the power-over-Ethernet shares the same cable.
IP-based with open API's, the network functionality is distributed using management software and, with no physical speaker wiring, each speaker can be part of multiple zones, and added or removed individually. Also, by using IP based health monitoring and configuration of the complete system, users are immediately notified of problems.
To demonstrate all aspects of an audio production system to his students, Kevin teaches a class on audio electronics in which the students build DI (direct input) boxes and preamps and learn how to solder and repair basic equipment. He recently began having students build ethernet cables. He said, "There's no doubt Dante will play a big part in our future as well as the future of the industry." www.audinate.com