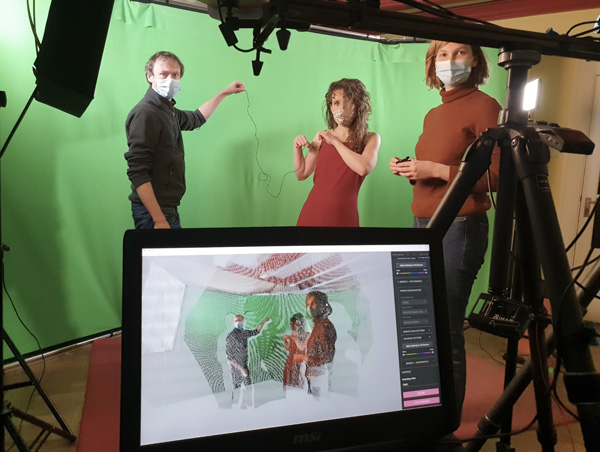 Volumetric video developer Arcturus has updated its HoloSuite tools, adding support for the 3D capture software, Depthkit Studio, made by Scatter. This update, delivered as a plugin, makes it possible for content creators to capture, edit and distribute volumetric projects using one pipeline, supporting hologram production for augmented and virtual reality (AR/VR), single-POV media, 360-degree spatial videos and similar outputs.
Depthkit Studio supports live-streamed volumetric video capture, streaming a subject in real time in a Unity scene on the same computer, and broadcasting over the network for teleconferencing, virtual production and live events. Users produce lightweight files, made for real time, and use Deferred Surface Reconstruction for realtime meshing, so that decisions like texture blending, level of detail and geometric density can be made at run time.
Depthkit Studio clips become Unity assets, used for lighting and casting shadows. On one PC, the software combines data from up to 10 Azure Kinect depth sensors, and is designed to work with the user's existing hardware. The user sets up the rig to suit the application – front-oriented captures are quicker and lighter to produce and run well on most platforms, but full body captures allow the captured video to be viewed from any angle.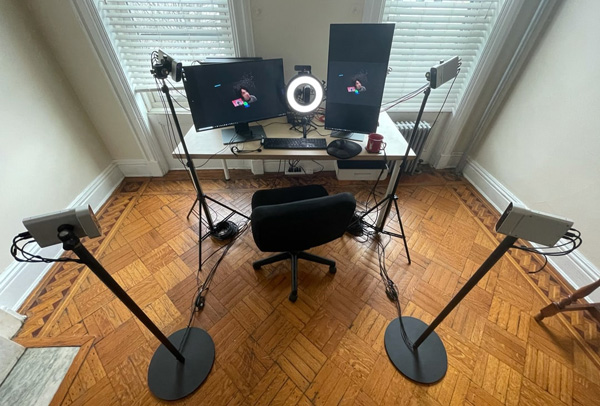 Depthkit Studio set-up
Following capture, HoloSuite takes over with tools for authoring, editing and streaming the volumetrically captured actors to use as live-action performances in immersive virtual and AR experiences.
Capture to Distribution
"Interoperability is important to give creators access to the tools required to gain skill and differentiate themselves," said James George, co-founder and CEO of Scatter. CEO of Arcturus Kamal Mistry said, "By working with companies like Scatter, our goal is to help artists bring humans into the metaverse by streamlining the creation and distribution process. That starts with building an end-to-end pipeline from capture to post-production and streaming."
Because the volumetric video market is expected to grow rapidly over the next few years, to remain competitive, content creators need to make their methods for capturing, editing and distributing volumetric video simpler and more affordable. Due to this new partnership, Depthkit Studio users can now upload their volumetric video footage into HoloEdit, where users can refine and polish it, and add distinctive features, including interactive cues.
The video can then be compressed and exported for direct distribution, or uploaded to game engines for further integration into existing projects and environments.
Once the project is ready for the public, the completed file can be imported into HoloStream for distribution. Content creators can then directly stream their work to any web browser. Arcturus develops proprietary algorithms to ensure a consistent, high-quality stream, regardless of bandwidth stability. This gives consumers options for viewing AR holograms directly on their mobile devices, and explore videos without buying extra hardware or software. The experience for VR users becomes more immersive.
Adding Audio Tracks
Along with the Depthkit plugin, further updates to HoloSuite include support for Unreal Engine 4.27 and increase audio support, making it simpler to add audio tracks to volumetric video. Users can now import audio files, including mp3, wav and mp4, directly into HoloEdit, then align them with an existing project. The completed file can then be exported with the audio intact without requiring other software.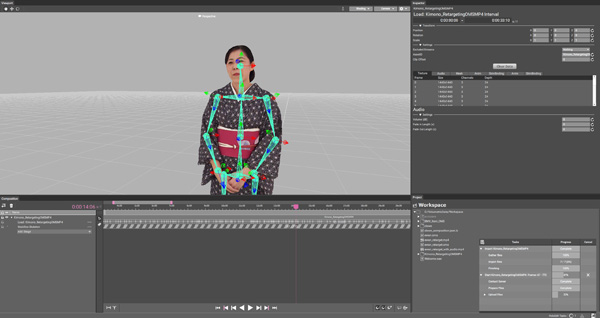 Among several improvements to the user interface is a visual feedback display for the composition panel, added to improve clarity in complex compositions. The task manager has also been improved to display the status of background tasks, such as imports, exports and uploads. A new Manage Workspace tool helps users share their workspaces, and clean up unused data to manage disk space.
Arcturus HoloSuite is a software-as-a-service (SaaS) post-production platform, available now on subscription. arcturus.studio