Most high school students today have grown up shooting and uploading smartphone videos to social media platforms and meanwhile, technological advancements are widening access to media production tools and expertise. So naturally, many young students become interested in learning about professional media production.
Digital Media Director Guy Shelton at Knoxville Catholic High School in Tennessee devotes his time to guiding the school's aspiring media professionals, teaching them the tools and techniques of the industry. His method includes introducing students to the basic equipment such as routers, converters and other gear, as much as honing important life skills like interpersonal communication, teamwork and responsibility.
The Knoxville Catholic High School media production program, originally a small broadcasting program called the Irish Media Network (IMN, named after the school mascot) for football and basketball matches, has grown to include filmmaking courses, live events and news. It features completely student-run creative content, and every job from camera operator to editor to director is run by IMN students.
Getting Ready for the Real World
It includes an introductory media production course that gives students a basic understanding of the work. By the end of the course they know how to white balance a camera, adjust the iris, execute tripod controls, troubleshoot wiring issues and handle the essential tasks. After that, two honours tracks – digital media and newscasting, and mobile production – are available for students who want to refine their skills further. Up to 100 students participate in the program per year, 10 percent of whom continue to study broadcast, graphic design, video production or photography after graduation.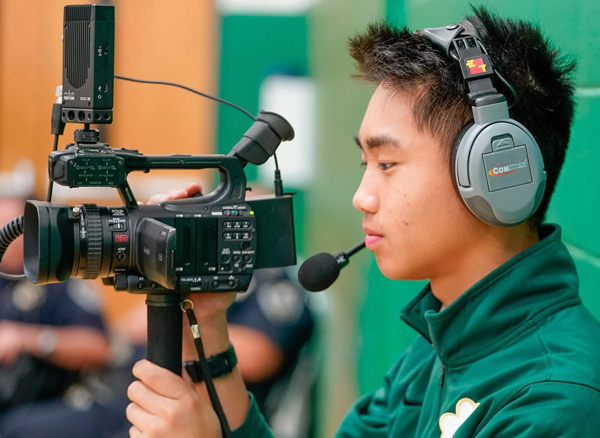 Preparing students for real-world production environments requires frequent hands-on exposure to the core equipment. The school's kit, which includes wide-ranging hardware from conversion devices to routers and switchers, is maintained in an on-campus control room that doubles as an office. The school theatre and gym are connected to the control room via fibre, while its newscast studio is next door, linked via baseband coaxial BNC.
AJA FiDO and KUMO
As a core part of the control room, AJA FiDO converters convert 3G-SDI camera feeds from the gym and theatre to fibre, and back to 3G-SDI into the control room. The signals are then fed through an AJA KUMO 6464 router and switcher before being live streamed or archived.
"Without FiDO, we wouldn't have a control room, as we need to cover distance," Guy noted. FiDO transports 12G/3G/HD/SD-SDI over distances up to 10km, using standard single-mode fibre, and supports video formats up to 4K/UltraHD. AJA's straightforward ease-of-use is also important to Guy because, beyond operating gear to gain field experience, he helps students learn how to articulate and chase their goals, and advocate for themselves.
He said, "KUMO 6464 is a great tool for our students to learn, and it's been a huge time saver. Instead of spending an hour wiring and rewiring the rack as we prep for each production, I can set up salvos using KUMO's web-based UI and get the various venue productions up and running by clicking a button, or switch between feeds as needed."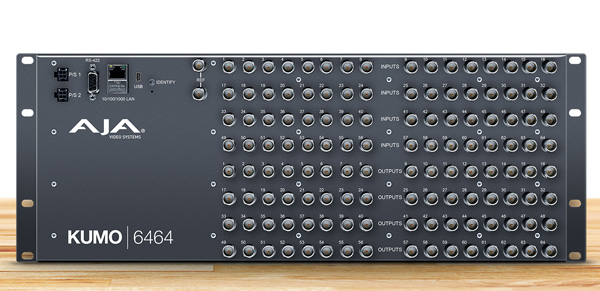 The salvos are user-generated configurations that recall multiple sources to specific destinations, in order to simplify switching operations. Salvos are stored in the KUMO router and can be recalled via the web UI or the dedicated salvos buttons. Eight Salvos can be configured and stored in each router.
Clicking into Place
He finds one of the most rewarding aspects of his job is watching a concept finally click for a student. "Once we teach students to get past the buttons and lights, they start to dive in and realise how easy it can be. Seeing them fit the pieces together makes my job worth all the work," he said. "Intuitive devices are often a key part of that journey, which is why I continue to use AJA gear.
"It's also incredibly resilient, even when being handled by high school students, which is huge for us. FiDO for instance, has indicator lights that cue us into any connection issues. If a student hasn't plugged it in right, we know right away and can tell whether it's a fibre or BNC connector issue, right on the unit." Mini-Config software, made for use with the USB-enabled Mini-Converters, has a graphical interface with details about the current input and output formats, where users can control their parameters.
Emerging Developments
To keep the program up to date, Guy is always researching and exploring emerging developments, on the understanding that one day they will be important to his training. His students play an integral role in the decision-making process. "Since the program's motto is 'for students by students,' they are actively involved in researching kit, and we talk openly about equipment we're considering adding to the pipeline," he said.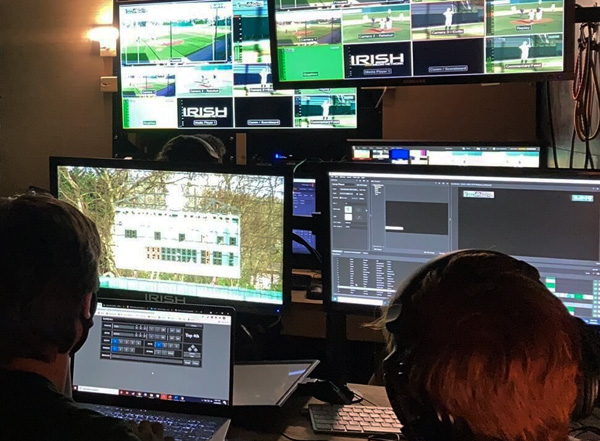 "For example, a few of my students wanted to implement backboard cameras in the gym, so we explored the options, weighed the costs and benefits, and then determined how we could run cabling down the rafters and to the FiDOs."
Density, noise and electricity are often part of evaluating new gear for the pipeline, as is selecting items that can scale with the program. "KUMO 6464 gives me 64 inputs and 64 outputs, which means that even though we currently only have 46 sources and 44 destinations, we can expand that number in the future if we build another studio," Guy said.
"We also love the converter rackmount. Rather than take up seven electrical outlets for seven converters, I house them in the rackmount, plug in the unit and only have to use one outlet." The rackmounts have a built-in 110/220V power supply with 12 connectors to deliver 5V power directly to the Mini-Converters without needing individual power supplies for each device. www.aja.com