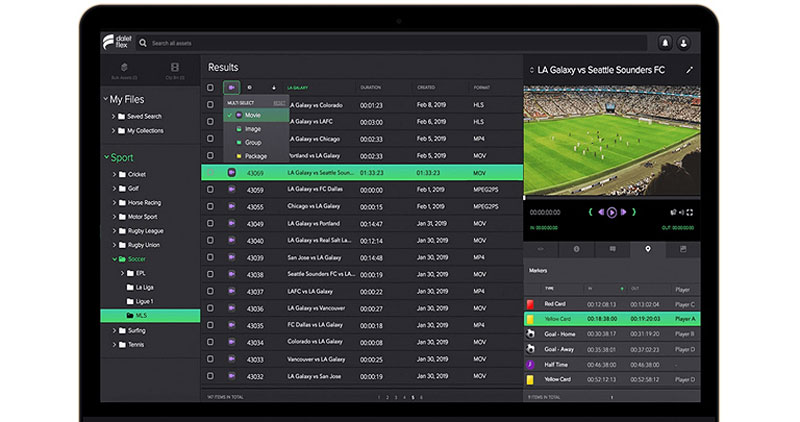 Dalet Flex media logistics platform for media and sports organisations and brands now has several updates to its functionality for content preparation, packaging and delivery to audiences across traditional, digital and social platforms.
"As the media ecosystem evolves, it becomes more challenging for many businesses to navigate," said Mathieu Zarouk, Director Product Strategy, Media Workflows, Dalet. "At the centre of it, Dalet Flex serves as a single source of truth that helps users manage complex workflows and service license agreements (SLAs) that may involve multiple media packages going to many different destinations.
We continue to align our products with current trends and developments, and in response to industry and users' needs regarding mobility, flexibility and agility. Our own developments focus on helping users to run their multimedia content supply chains efficiently, with high availability, resilience, quality and security."
The underlying Dalet Flex architecture, natively supporting multiple clouds, increases mobility for distributed workgroups and makes it easier to adopt new media formats, processes and viewing platforms as they emerge. Its SaaS and subscription-based business models mean users can expand their operations on the fly, with more visibility and control concerning costs and budgets.
Production
More specifically, the new updates to Flex relate to the platform's production capabilities, search functionality and resource allocation.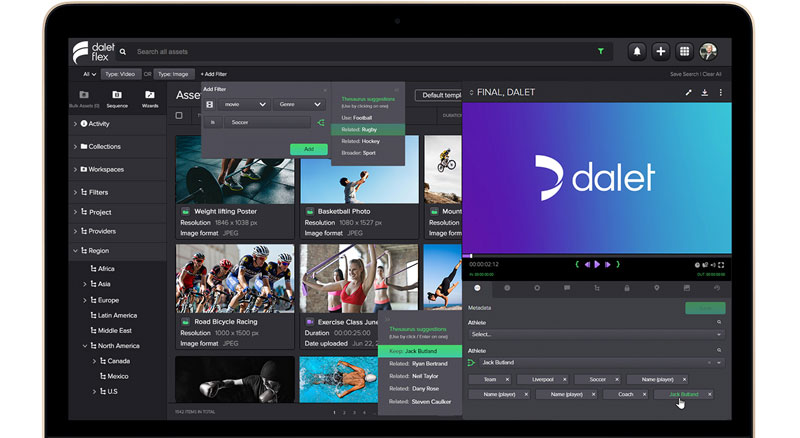 Dalet Flex works as a single source of truth for complex content workflow management
FlexXTEND for Adobe Premiere Pro, the panel that Dalet Flex integrates into the Premiere Pro interface for editors, has updates that make the search capabilities of the Flex media asset management system, FlexMAM, available to editors. Users can also set up their Premiere Pro sequence through FlexXTEND to render on a remote Media Encoder, which avoids the need to move media and keeps the local system free for continued use.
As a storyboarding technique, content creators can assemble sequences in Dalet Flex and share them with other Dalet Flex users, or send them directly to Premiere Pro or Avid Media Composer for further editing.
Search
Controlled Vocabulary adds efficiency to content categories, and makes content more searchable and easier to share. It ensures consistency in asset naming and indexing, which simplifies the cataloging of content for users, while permissions management allows only selected users to add to a tag collection, which keeps metadata orderly. Combined with new thesaurus support and taxonomy improvements, users can now locate the content they need, faster.
Additional search operations -- for example, "Contains," "Start with" or "End with" -- and improvements to the UI make it easier for users to build and visualise very specific search queries. Users can now refine permissions so that their searches are visible to other users or groups, to improve collaboration.
Resource Allocation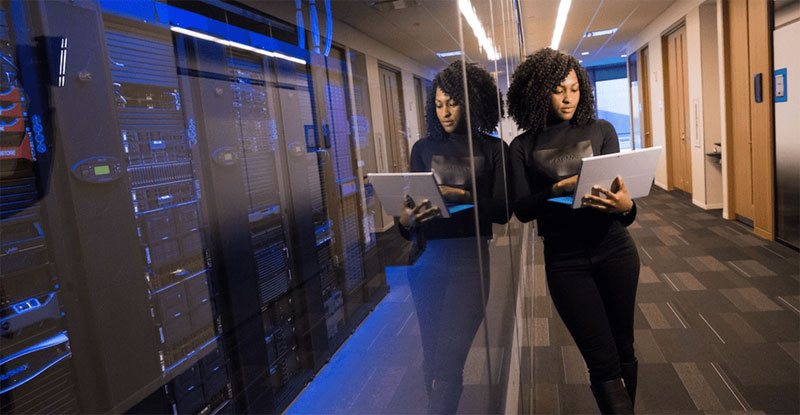 Dalet Flex quotas allow administrators to define concurrency limits on actions and workflows in order to fine-tune processes for efficiency. To optimise costs and efficiency, productions can also dynamically resize their infrastructure to automatically support bursts in resource needs, due to Kubernetes support for media processing services on cloud infrastructure.
In 2022, Dalet plans to add new reporting tools to Flex for billing and cloud consumption costs, and support for additional languages within FlexMAM. A new mobile app for searching and managing content is now in development, as well as further multi-tenanted SaaS options. www.dalet.com