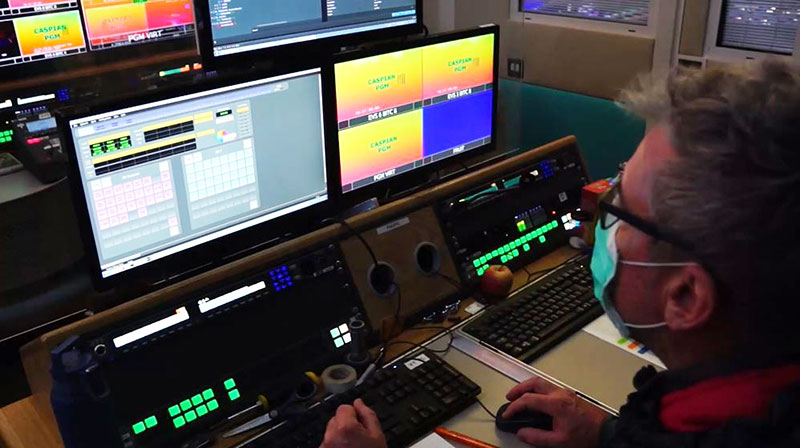 EVS Neuron Network Attached Processor now incorporates two new product lines and several new software capabilities, aiming to increase efficiency in IP-based media productions.
Built on an IP backbone with SDI connectivity as an option, Neuron is one of the main components of EVS' Media Infrastructure systems. Neuron is recognised as a kind of 'modular glue' for IP infrastructures and can perform many real-time processing tasks that broadcasters need in their SDI, IP or hybrid production environment.
The MediaInfra systems draw together broadcast control, monitoring, conversion and real-time processing for SDI, IP and hybrid broadcast infrastructures. Composed of EVS Cerebrum, Neuron and Synapse systems for broadcasters, network operators and service providers, the systems are designed to make broadcast environments more flexible, easier to maintain and reliable.
Neuron COMPRESS – JPEG XS Encoding and Decoding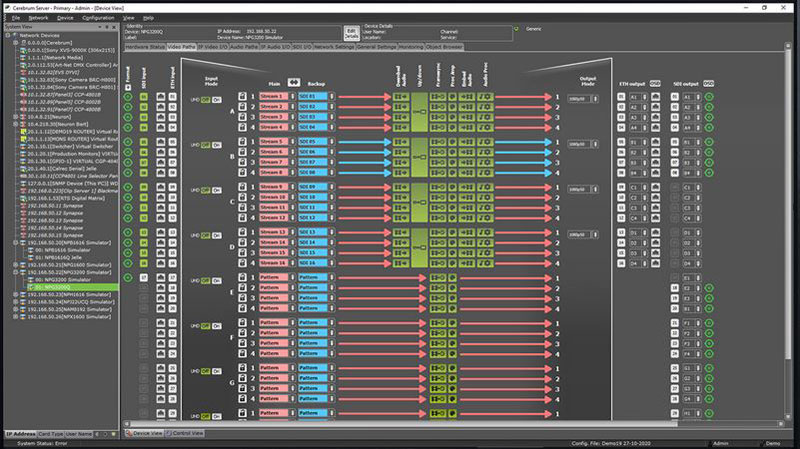 Neuron COMPRESS is a new codec with new JPEG XS encoding and decoding functionality yielding visually lossless quality at very low latency with a typical compression ratio of 10:1 to help broadcasters reduce bandwidth usage within IP-based infrastructures. Like the other Neuron products, COMPRESS is a high-density system, making up to 32 UHD or 64 FHD encoders/decoders available in one rack unit.
Jean Pierre Nouws, Solution Manager at EVS said, "By adding JPEG XS compression to the EVS Neuron product suite, EVS is able to push standards forward in terms of network performance and flexibility in various IP environments. It supports deployment of remote production workflows, allowing low latency transport of high-resolution signals for sharing between multiple sites, while preserving the quality of the video."
Neuron PROTECT – Intelligent Backup Switching
Neuron PROTECT protects broadcast networks from single points of failure, using intelligent, redundant, isolated (or automatic) change overs. These communicate with each other, meaning that if one fails, the other continues to output content on the network, giving full redundancy in most scenarios.

Available within EVS' Neuron real-time IP media processor, the PROTECT line uses modern encapsulation standards like ST2022 and ST2110. The products are capable of handling up to 16 channels of full HD or 4 channels of UHD video and transporting these over two redundant 100Gb/s Ethernet connections. Optionally, Neuron PROTECT can be upgraded with an SDI I/O module that adds 40 physical SDI HD-BNC connectors, allowing straightforward integration of existing SDI operations in an IP environment and acting as bridge or gateway. PROTECT can be used as a multi-channel A/V-over-IP transceiver, A/V probe, Up-down-cross converter, automatic change over (ACO) and firewall.
"With Neuron PROTECT, broadcasters have the redundancy assurance they were accustomed to in the traditional SDI domain, but that has been missing since the migration to IP," said Jean Pierre. "It works as a new, intelligent backup switching method to protect systems from unreliable or even hostile sources."
Along with these new product lines, EVS has developed new functionality for Neuron. For audio processing, MADI compatibility is available as an option, adding to Neuron's ability to work with 64 channels per IP audio stream. As well as dynamic conversion, Neuron now features LUT-based SDR<>HDR conversion. Also, the RGB colour correction in all the colour correctors within Neuron has also been extended with YCrCb and Hue adjustment settings. evs.com