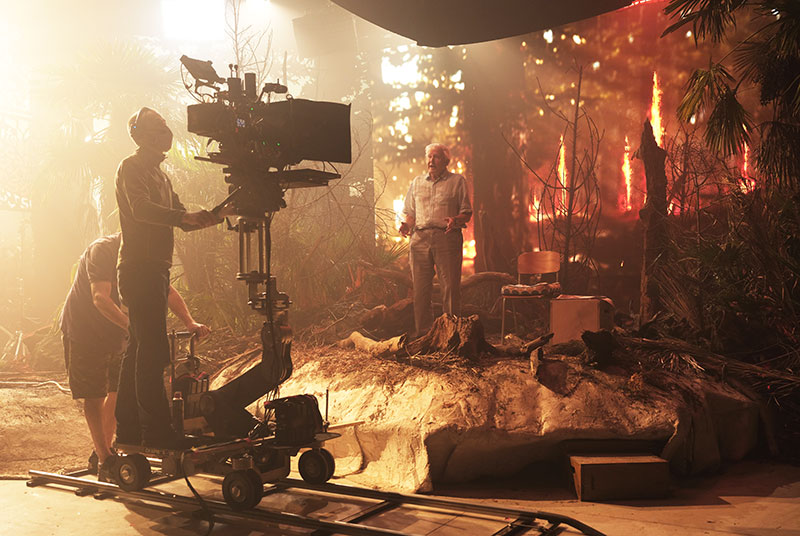 Bild Studios in London specialises in visual engineering and creative design for live productions, combining technical expertise with creative direction. Founded by live content producers Rowan Pitts and David Bajt, Bild now has a team of 14 that collectively has decades of live experience.
After a successful pilot project in mid-2020, Bild has more recently ventured into film and TV by launching a virtual production facility called MARS Volume. Emphasising technical precision, the facility has so far carried out virtual production services for a diverse range of projects, and aims to give companies and productions of all sizes and budgets much greater scope for creativity.
"Up until now, Bild Studios worked mainly in live media services -- that is, specifying content workflows and designing systems for large-scale opening ceremonies, concerts, corporate events and broadcasts," said Rowan. "MARS Volume is essentially a sub-brand of Bild Studios and was specifically created to make virtual production as accessible as possible. One of the biggest obstacles for productions right now is the cost associated with virtual production shoots. Because MARS is permanently set up and has a dedicated in-house team, we have been able to make it much more cost-effective and, therefore, relevant to a broader range of projects."
MARS Volume
Typical projects span from higher budget TV commercials to some of the lower budget feature film projects. The facility runs on Brompton Technology Tessera LED processing within an AOTO LED volume. "This equipment combined with our team's expertise in Unreal Engine rendering, Notch real-time 3D graphics software and disguise servers, operate as a very high quality set-up. That, as well as our knowledge in the engineering for tracking systems, server hardware and AV infrastructure, has earned MARS recognition within the industry in a short time."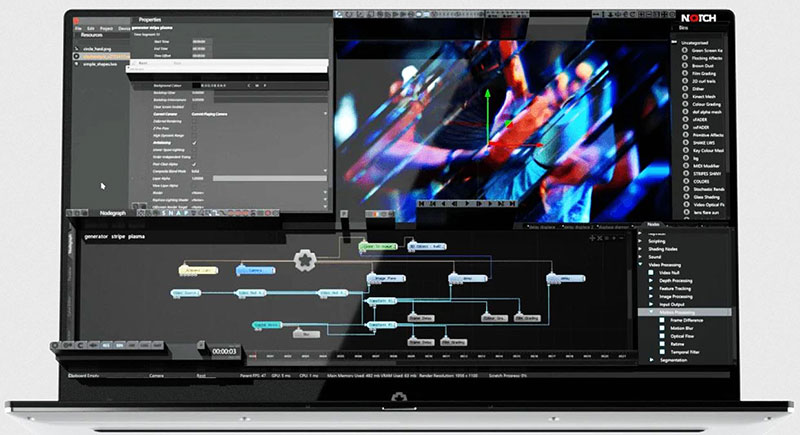 Notch node-based real-time 3D graphics software
Bild formed delivery partnerships with LA-based Lux Machina, who are well-known feature film, TV and live virtual production specialists, and worked with them on bigger-scale productions at Warner Brothers V Stage and Apple Studios film and TV production company. Those collaborations helped the Bild team gain the necessary expertise in real-time in-camera VFX production. Bringing this experience back to their own facility at MARS, they can deliver the same quality of service and system design, but to a much broader market.
Dinosaurs and David Attenborough
When the BBC got in touch with MARS last year about using its virtual production set for BBC One's film 'Dinosaurs: The Final Day' with Sir David Attenborough, the team was excited.
"After working together on the brief for several months, the BBC team came into the studio in October last year," Rowan said. "We started with a couple of test shoots, and then we had Sir David in the LED volume for about three days, surrounded by desolate environments, real and virtual, showing minute-by-minute what happened when an asteroid hit the Earth."
Making the most of immersive filming with a VIP presenter, the team built a large-scale, prehistoric foreground resembling a real jungle. With David Attenborough sitting among the staging and props surrounded by the virtual background projected to the screens, the viewer is unaware of where the foreground gives way to the LED.
The facility at MARS comprises a 25.5m by 5m LED volume designed to optimise scale and price, powered by three Brompton Tessera SX40 4K LED processors and several Tessera XD 10G data distribution units.
Brompton Processing
The decision to use Brompton Tessera processing was simple, as the team had used the company's Tessera processors for many years when they worked at disguise, the live production software and media server hardware developer. AOTO LED display products' RM series were chosen due to their performance, simple structure and reliability.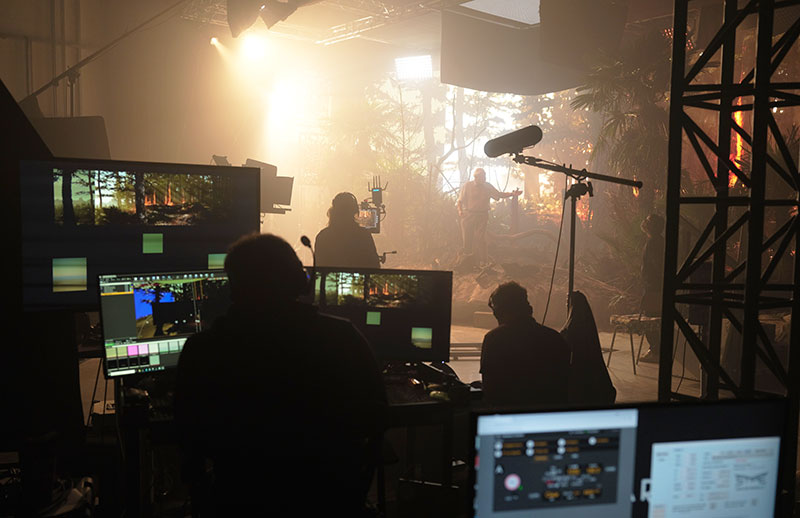 Tessera SX40 is a high capacity processor with a software interface and support for full 4K screens at 60Hz with 12 bits per colour output. It supports a zero-latency up/down scaler that matches the source to the screen. Tessera has processing features addressing HDR and Dynamic Calibration, Ultra Low Latency, high frame rates, frame re-mapping and other functionality.
The SX40 processors work with the XD data distribution units, which function as demultiplexers that send a single graphics input to multiple outputs inside the LED volume, all controlled by the MARS team in terms of timing, sync and signal splitting. By daisy-chaining several XD units together to extend the signal, different screens in different locations can all be connected to a single 10G trunk cable.
"The high resolution AOTO LED panels powered by Tessera SX40 bring most types of video content to life," Rowan said. "For MARS Volume, precise onscreen colour adjustment and control was a key requirement. Tessera is excellent for bringing a full spectrum of colours out on the screen and giving us the control required for challenging shoots.
"Even though virtual production has been around for a few years now, a lot of education is still needed to demonstrate what's possible and what isn't. Working with companies that produce reliable, quality equipment such as Brompton Technology, is a large part of delivering what clients want. We are positive we will see a lot more productions filmed at MARS as the year unfolds, and will continue to develop the techniques within our Virtual Production workflow." www.bromptontech.com