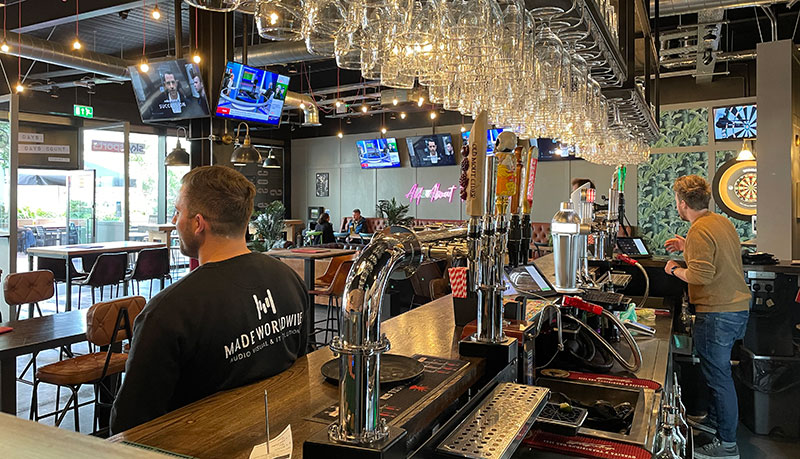 Matches Sports Bar, located in Ashford south of London, opened in the summer of 2021 as a live sports and entertainment venue with a capacity of 250 people. Above all, Matches owner Jon Shephard wanted his bar to be recognised for high quality audio-visual entertainment, appealing to a wide range of sports enthusiasts.
Simple Sound
He focussed from the start on designing and installing a flexible, easy-to-use sound system to deliver audio through the venue. The bar comprises large and small spaces for public and private events, and therefore, audio zoning has been a critical factor to allow control across the large central bar area, as well as smaller private and semi-private spaces.
The audio team developed a comprehensive networked audio system based on a set of Dante-connected, multi-channel amplifiers that prevents the audio from various televised events and shows from conflicting with each other.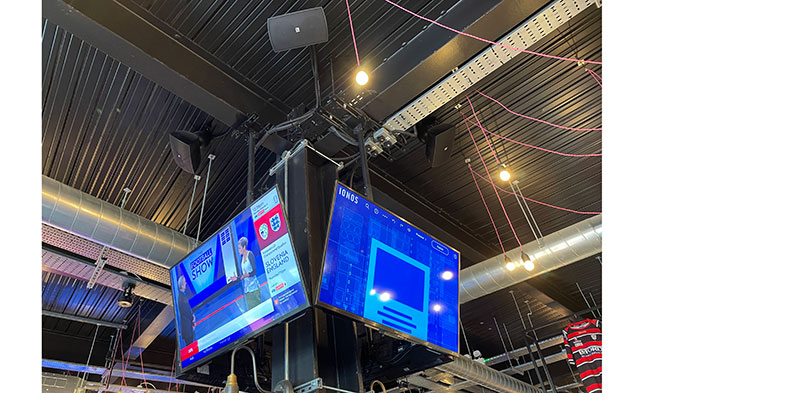 For the main bar, the idea is to immerse patrons in a full AV experience with the excitement of live sports at game time. But following the matches, Jon wants to turn up the music and keep the party going with impressive sound and coverage. For the smaller spaces away from the main bar, Matches employees need on-going audio system control to make sure the customers there are part of the excitement but at a lower level, and able to enjoy their own conversations.

A team from MADE Worldwide AV, from Wye, England, designed and installed the sound system for Matches. Ashley Bond, Audio Visual & IT Specialist at MADE, was the project's lead designer and point person. Ashley said that they needed to cover all areas of the bar with a straightforward system to support a combination of multiple channels and zones for the areas, as well as allow for future expansion.
Power Sharing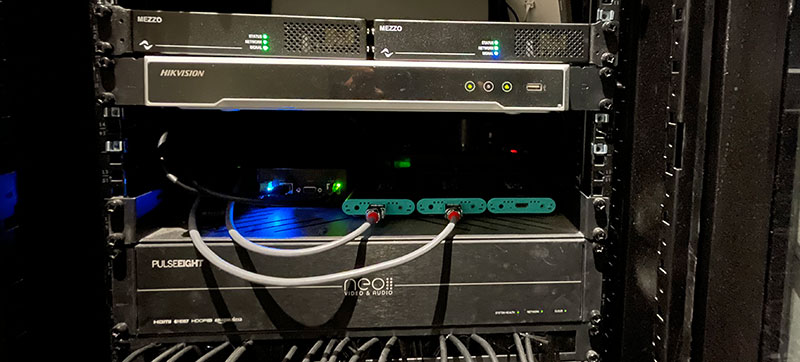 "We used a set of Dante native Powersoft Mezzo 604AD amps because of their flexibility and power. We're pushing a lot of power to several zones," said Ashley. "With the Dante network, we can mix channels between amps and Power Share on different channels." Power Sharing enables part of the power of each amplifier channel to be shared across all output channels – that is, used asymmetrically and diverted to where it is needed the most.
Because of the onboard Dante audio networking, the installers at Matches can place Power Share amplifiers away from source locations, closer to loudspeakers, for example. This gives them a good level of flexibility. Power Share engages automatically and does not require prior configuration, although the correct load configuration must be connected to the amplifier. It is a standard feature of all Powersoft DSP (digital signal processing) and Dante native amplifiers and does not need to be activated or require special firmware.
Central Switch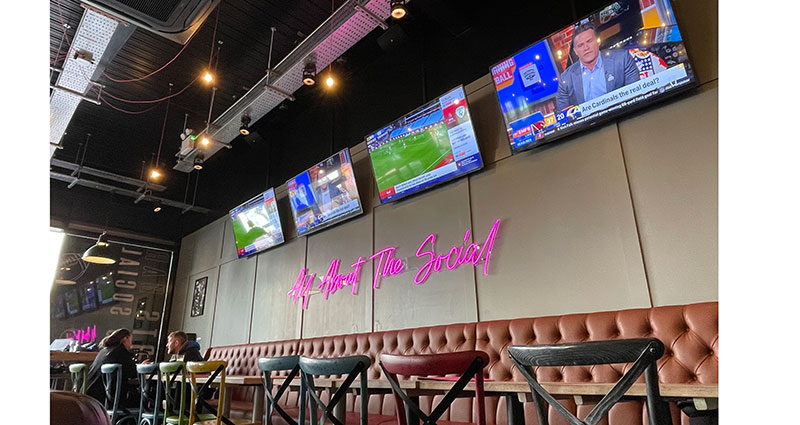 The amplifiers, like all audio components at Matches, run back to a central Aruba 24p full PoE switch. According to Ashley, the system's audio path moves from a Sky Q satellite box to the analogue inputs of the first Mezzo Dante connected amplifier. The Dante output channels of the amp are then sent to the second amp, allowing control of all levels and zones via routing inside the amplifier's built-in DSP. Dante Controller was used to configure all patching and routing.

The Dante platform is a complete AV-over-IP system used to transport audio, video and control data over standard 1GB ethernet networks. Supported in more than 3,000 Dante-enabled products from more than 500 manufacturers, Dante replaces point-to-point analogue and digital connections with software-based routing, sending AV channels anywhere on the network with precise digital fidelity.

At Matches, two Dante-enabled, 4-channel Powersoft Mezzo 604AD 600 watt amplifiers power the entire system. The system is controlled by a single 4.3-inch, wall-mounted Powersoft WM touch screen. The Mezzo amplifiers manage the audio throughout Matches, including in the corridors and washrooms. The system drives a combination of AUDAC loudspeakers, ATEO wall-mounted speakers, CIRA ceiling speakers, and BASO10 and NOBA8 subwoofers.
Keeping it Simple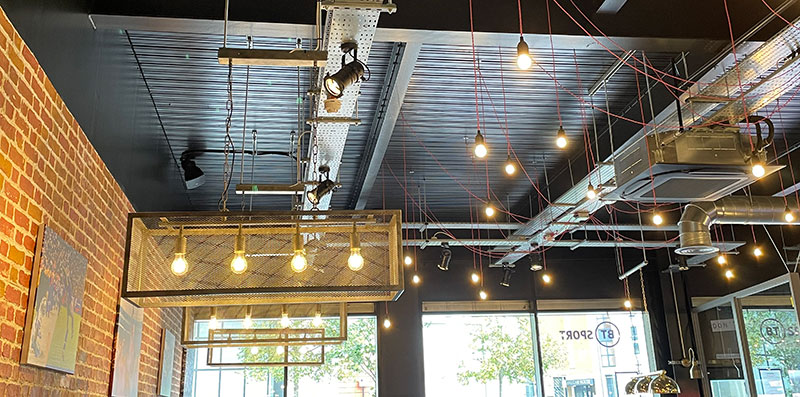 Jon is also happy with the system's ease of use. "Any of our staff can log onto the system's control panel behind the bar, and change the audio set-up in a couple of clicks. The initial training from MADE took just half an hour," he said. "Also, by using Powersoft's Dynamic Music Distribution system, we were able to keep our design simple all the way through, from designing the project to handing it over to the client."
A typical music distribution system relies on multiple devices to route sources, and to access its functions. In contrast, Dante integrates all functionality and features into one device that includes a routing matrix, a network switch and digital sound processing, resulting in a lighter, more efficient operation. Any digital or analogue source that is connected to an amplifier is automatically recognised as mono, stereo, or multichannel, and shared between the different zones. www.audinate.com