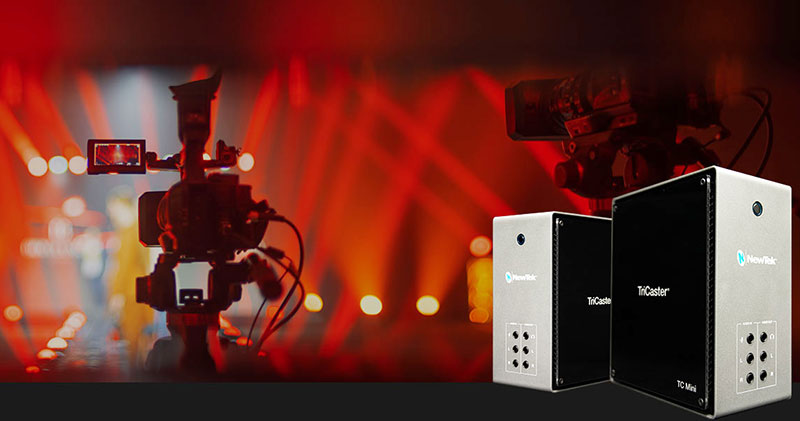 NewTek's TriCaster Mini X is a new desktop model in the company's TriCaster series of video production systems. The Mini X is the first in the lineup to include Live Link, a new feature that can be used to pull web page elements into a production without relying on third party applications. Such elements can range from graphics or images to videos from an organisation's internal training platforms. In effect, the entire internet becomes a source for productions.
The TriCaster Mini X's desktop size potentially turns any space into a multi-source production studio. It includes access to eight external sources with four integrated HDMI inputs. It also supports modern resolutions up to 4Kp30, and HTML rendering directly in the switcher. Users have access to HTML 5 motion graphics, web pages and web-based video playback without having to use a separate computer.
TriCaster Mini X brings the possibilities of professional live video production to all those with stories to produce, regardless of their level of experience. It has straightforward facilities for video switching, media playback, virtual sets, social media integration, adding graphics, recording, streaming and other tasks without major investments in infrastructure.
Video producers and content creators can enhance the looks and quality of their productions with the TriCaster Mini X, while using their existing fleet of devices. In most cases, cameras, microphones and off-the-shelf HDMI devices can be connected directly to the Mini X without having to purchase new equipment or seek outside expertise.
Based on the NDI networking protocol, the Mini X is capable of working with IP video and software defined visual techniques. This characteristic makes it a flexible device that can be simplified or expanded as necessary, and can adapt to workflows that meet production needs as they change and evolve. www.newtek.com