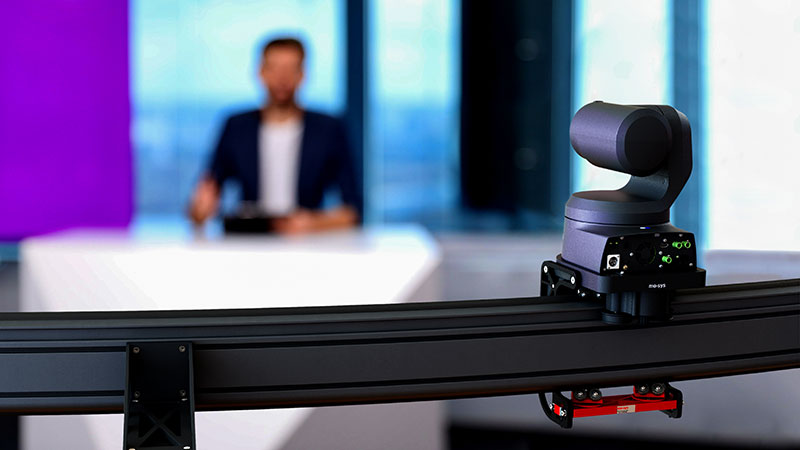 Mos-Sys MoRail
Mo-Sys Engineering has launched two new products at IBC exhibition in Amsterdam for broadcast producers using virtual sets and graphics. The first, MoRail is a motorised rail used to introduce creative camera movement when using PTZ and ENG cameras in newsrooms, and the other is Mo-Sys bMR, available as a broadcast mixed reality service that combines an LED content server with a MOS controlled on-air graphics system powered by Unreal Engine.
Mo-Sys MoRail
The motorised Mo-Sys MoRail makes it possible to set up creative camera movement when using pan-tilt-zoom (PTZ) and ENG cameras in newsroom environments.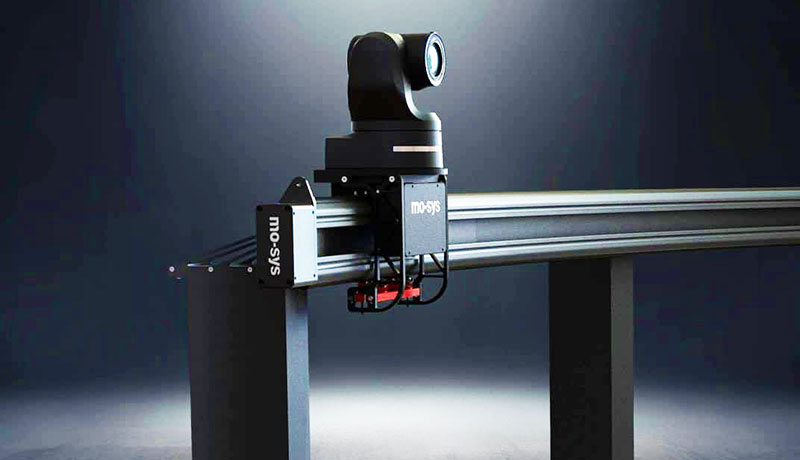 Designed for use in traditional newsroom studios, on green screen stages, and for LED volume-based broadcast applications and corporate presentations, MoRail supports PTZ and ENG camera systems weighing up to 15kg. It gives producers alternatives to the regular static shots that PTZ and studio ENG system cameras are typically limited to, by allowing repeatable creative movement with controlled parallax. The perspective change achieved immerses viewers into the studio without complex, expensive track-based dolly systems.
Suitable for regular studios or virtual studios with tracked Unreal Engine graphics, production teams can program repeatable PTZ movement to traverse, loop and orbit presenters. The rails are available in 3m lengths, either straight or with a 30-degree curve taken from a 4m fixed radius circle. Up to two lengths can be joined together to extend creative options.
Included in the MoRail package is a Mo-Sys controller that allows rail height and camera position to be set alongside the pan, tilt, zoom, focus and iris settings. Motorised, height-adjustable legs move the camera plane between 1,025 and 1,725mm in height. The motion is accurate, programmable or live, and smooth, and the presence of parallax movement makes virtual environments feel more realistic and engaging.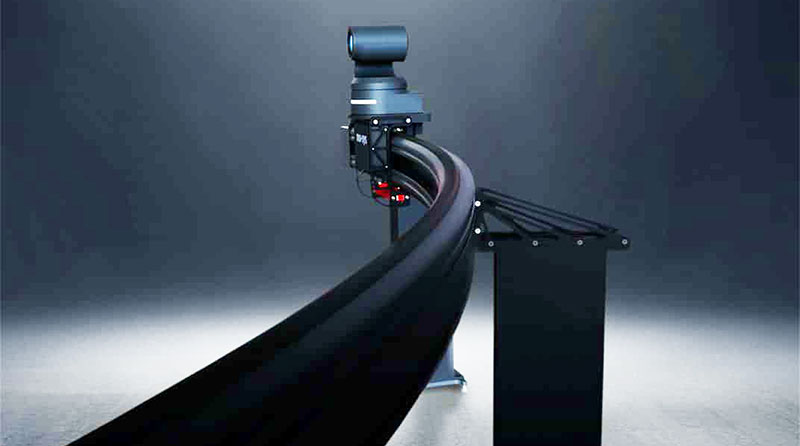 Broadcast Mixed Reality
Mo-Sys bMR, which stands for broadcast mixed reality, is a new service that combines an LED content server with a MOS controlled on-air graphics system driven by Unreal graphics. It has been designed for broadcasters who want to transition to an LED based virtual studio, and targets sports, news and current affairs programming.
During development, Mo-Sys partnered with on-air graphics specialist Erizos Studios, combining Erizos' expertise in broadcast graphics and MOS based news and sports workflows, with Mo-Sys' experience in LED virtual studios and precision camera tracking.
Broadcasters that currently work with virtual studio software licenses for green screen can use Mo-Sys bMR to transition from their existing virtual studio and on-air graphics system to bMR. But this change can be handled in two stages so that either the virtual studio or the on-air graphics are upgraded first.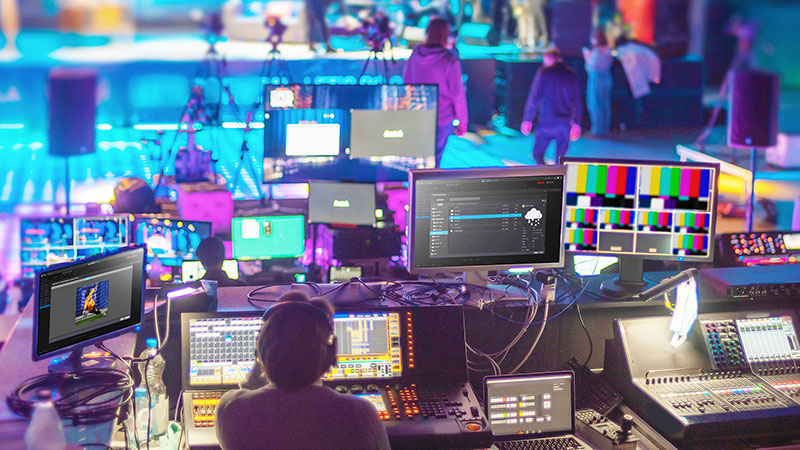 Mo-Sys bMR
Mo-Sys bMR's on-air graphics system is designed with three ways of displaying templated data-fed graphics – standard 2D keyed graphics, keyed 3D graphics or 3D Unreal element graphics that exist in a scene. The system conforms to MOS protocol and can be controlled by the common newsroom computer systems (NRCS) such as Octopus, ENPS and others. It is accessed through a web browser, using a fully redundant server/client architecture, and is worked with on-premises instead of from the cloud.
As long as the facility is equipped with sufficient render nodes, the Mo-Sys VP Pro XR cinematic content server bMR uses can drive LED virtual studios of most any size, shape or pixel pitch – the base system is able to drive an LED studio with up to 8 million pixels.
Orchestrated Switching and Custom UIs
The system supports multi-camera switching up to UHD 4K resolution, and orchestrates switching between cameras in a way that updates the LED wall correctly. Set extensions with simultaneous AR elements are also possible, while the delay between the Unreal graphics perspective displayed on the LED wall, and the camera's actual position, is kept very low.
This kind of switching has been a persistent problem for virtual productions. Although the camera outputs can be switched in a single frame, the virtual scene displayed on the LED volume can take 5 to 6 frames to update. By using VP Pro XR software with a regular Black Magic Design video switcher, a suitable delay is inserted between the operator's camera switching while the LED volume updates with the correct perspective view of the live camera.
Given that several different elements need to be aligned for an effective result, the Mo-Sys bMR service includes creating custom user interfaces for controlling the LED studio virtual scene to help make the operational load simpler. Furthermore, custom bMR interfaces can also be designed for the on-air graphics, in order to simplify connecting data sources to graphic templates, and driving multiple graphic elements in use simultaneously. www.mo-sys.com