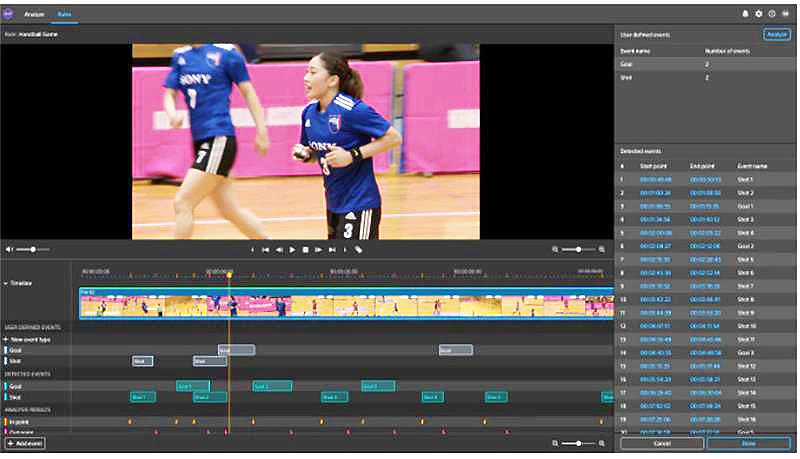 Sony has launched a series of new products and services at IBC 2022 that align with current trends and practices in the content industry related to cloud-based and live production, and also mark a new direction for Sony. The company aims to support remote producers, sustainability, wider use of IP connectivity and modularity as a business strategy across their products.
Creators' Cloud is a new system of cloud tools, services and integration points, available from a secure, scalable platform focussed on content acquisition, creation, sharing and distribution, from any network to any device. Creators' Cloud includes Sony's existing suite of cloud-based products such as Ci or C3 Portal, along with new tools like M2 Live, a scalable cloud-based live processing service for OTT content distribution, and A2 Production, an AI automated production system for setting up efficient workflows and content enrichment. These are described in more more detail below.
The system will be built from a user's point of view, that is, using Single Sign On access to common storage, and billing through common authentication. Any content creator – freelancers, OTT, production companies or broadcasters – will be able to tailor the tools and platforms to their needs, optimising how they use them and avoiding redundancy through the inherent elasticity of cloud systems.
Direct Cloud Connectivity
Creators' Cloud will allow various types of cameras to connect directly, upload and store content in the cloud. From there, different video formats, looks and versions can then be produced to match pre-existing requirements.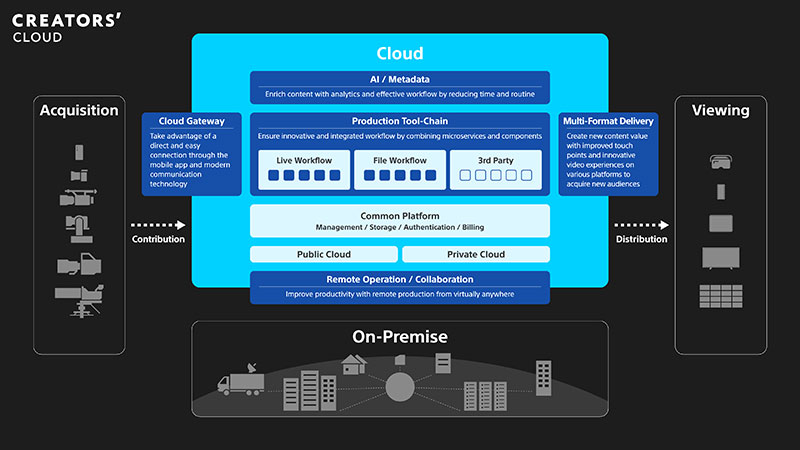 Essentially a cloud gateway, it enables direct content to the cloud connection using tools like C3 Portal to transfer files or the live feed wirelessly from a camera through mobile applications, 5G/LTE and WiFi, with network communication devices such as 5G smartphones. The purpose is to assist team members anytime, anywhere, to collaborate on productions almost instantly and without purchasing or learning new equipment. C3 Portal is now compatible with the shoulder camcorders PXW-Z750, PXW-Z450 and PXW-Z400. The connections with the cameras that are already compatible – the PXW-Z280 and FX9 – will be strengthened.
Producing in the Cloud
Another part of the Creators' Cloud is Sony's Production Tool-Chain, based on a microservices architecture. It supports simultaneous live and file-based remote video production, remote operations and collaboration, and continuous workflow development with AI-driven metadata.
A new production system, A2 Production, is an AI automated expansion of Sony's existing Media Analytics Portal. By pooling different AI capabilities from Sony and other companies and integrating them, production workflows can be specialised for file editing, managing and distributing. For example, by using the metadata generated at image capture, highlights can be automatically generated for sports, and the production preparation process can be automated.
Management and Collaboration – Ci Media Cloud
Ci Media Cloud is a media management and collaboration service that teams use to access and collaborate on files still in production, and on finished media content. The most recent 7 September release features improvements and updates to collaboration, security and online subscription plans. For example, when collaborating, users can place pins on images and video frames to indicate specific areas, removing ambiguity in file comments.
The watermarking feature, used to consistently display content with a dynamic, visual watermark, now extends beyond MediaBox share links. New Ci Pro and Team Workspace subscription plans will be available as well, starting in October. Online subscription plans will supply nearly 40x more storage to support smaller teams and individual creators, and the new Team plan includes unlimited users.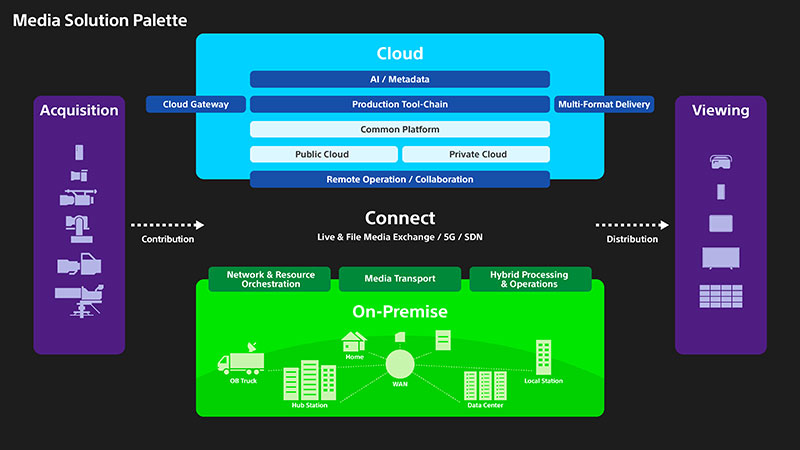 OTT Content Distribution
The goal of multi format delivery is to enhance the value of content by delivering it in the best format for each of its distribution channels. This process usually results in more opportunities to monetise that content.
Sony's new service called M2 Live, standing for Multipoint to Multipoint Live, is scalable, cloud based live processing for OTT content distribution. It does not rely on ground resources for unilateral productions, which need distinct feeds separate from the clean (multi-lateral) World Feed, and are established by the broadcast licensees for exclusive use. Pure cloud-based software makes it possible to apply an OPEX approach to much of the workflow. M2 Live's focus is on small event production that need high value presentation but where operations have to be kept simple.
M2 Live and A2 Production can be used in combination to stream complex, sophisticated programs to social media channels. To help operators in live production, where the image composition changes rapidly, M2 Live has a 'scene'-based user interface holding the required compositions, preconfigured in advance, and saved as unique scenes. Each scene can be recalled instantly through the interface.
Alongside this, A2 Production has an AI Rule Engine Maker in its interface for selecting and configuring AI ​​engines for use in generating automatic highlights for sports.
M2 Live also serves as an OTT streaming tool for localisation of any main programs. Taking the multi-lateral clean feed from a sports event for instance, localisation can take the form of extra graphics or logos, unilateral camera inputs, local language commentary and replays.
3rd Party Integrations
The Tally/Return function allows communication with an on-site operator. For data transmission from the camera in the field to the cloud, a remote connection is created through the Sony QoS protocol, accessible through an application on Sony cameras or smartphones.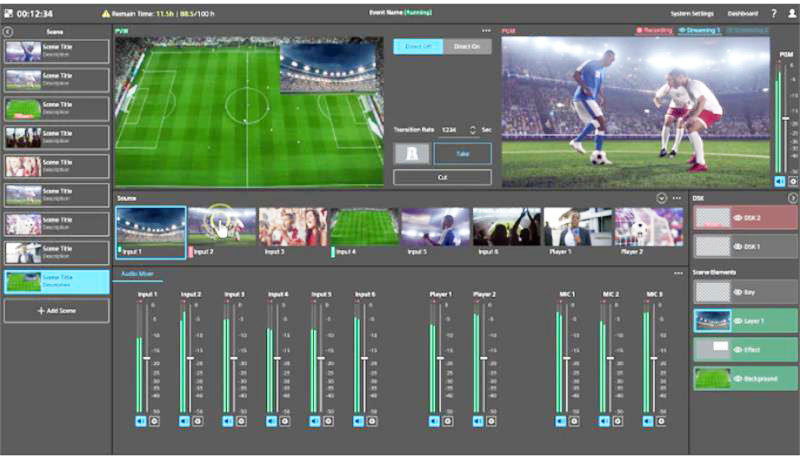 Sony is planning to expand the collaboration options for Creators' Cloud with 3rd party partners, from acquisition to distribution. As an example, in August 2022, Sony and Teradek announced an upcoming integration which will enable on-set productions to directly upload from Teradek's encoder products to Ci Media Cloud. The same file upload linkage to C3 Portal is also under development. Sony demonstrated these camera-to-cloud workflows with Teradek at IBC 2022.
Networked Live
Sony and Nevion have been working together on several new services and products based on universal connectivity needed to support workflows that facilitate distributed and remote production. Resource sharing between geographically distant locations makes high quality live production and processing possible from anywhere, at scale.
The idea is that, because people and resources will be better distributed, production will become more efficient and consistent, and make businesses more sustainable in the long term. Referred to as Networked Live, the new services will introduce federated orchestration to IP based networks, improve media transport, and further develop hybrid processing and operations. https://pro.sony/en_GB/live-production/networked-live
Adding federated orchestration to Nevion's VideoIPath networking system allows users to control and distribute their systems and resources when setting up remote operations. They can avoid the risk of a single point of failure and combine sub systems into bigger systems. These abilities add scalability to the management of your operations, a key aspect of optimising production resources and network signal transport.

VideoIPath will soon be integrated with AWS Media Services, initially with AWS MediaConnect and MediaLive services in order to focus on ground-to-cloud connectivity and integration. Users will be able to connect a video source from the ground to a MediaConnect instance in the AWS Cloud and distribute it to other MediaConnect instances in other regions, or back to the ground – effectively turning the AWS Cloud into a transport network.
Sony is developing a software update for the extension adapters HDCE-TX30 and HDCE- TX50 for its IP cameras. They will be able to support compressed streaming format JPEG XS, compatible with SMPTE standard ST2110-22. At IBC, Sony showed a new low latency codec that is capable of preserving nearly all of the image quality while needing much less bandwidth.
Hybrid Processing and Operations
The new Modular Live System MLS-X1, one of the key new components of Networked Live, is a modular, scalable and reconfigurable Live Production Processor and Switcher.
Whether located on-premises or in the cloud, working onsite with the system or remotely, MLS-X1 operators can integrate and control processors at multiple locations from a single user interface.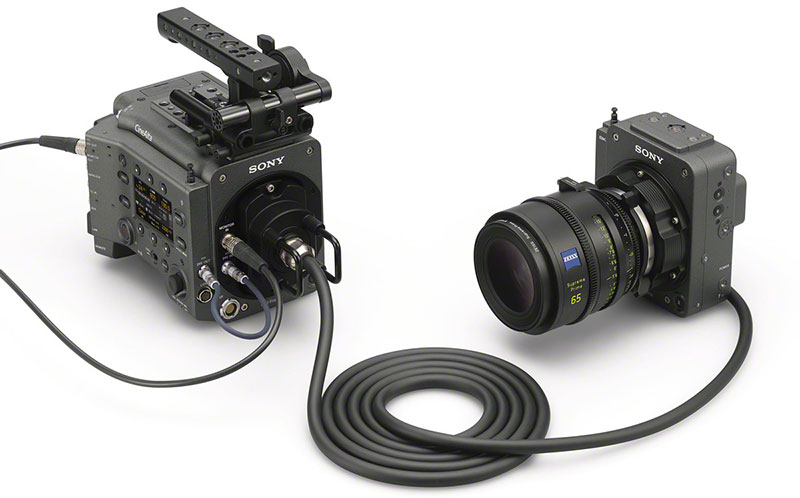 Each MLS-X1 unit is connected by a network, and its physical structure can be changed dynamically by scaling up or down as production needs change. Due to the modular concept, logical switchers can be configured and interconnected using one or more MLS-X1 units, as needed, instead of trying to prepare in advance for further capacity or functionality.
Redundant systems – essential for live production – can be selected on the fly from different modes. MLS-X1 can also handle multiple simultaneous productions, produced with one or multiple panels and crews.
The MLS-X1 builds on existing Sony switchers. Its architecture adds a GPU-based effects and graphics module to the processing structure of the XVS-G1, for more flexible video processing. Hardware acceleration supports the ideal of real-time UHD and HDR video processing with ultra-low latency. A recent addition to Sony's range supports 4K/HD multiformat production, with up to 6 M/E, 4 channels of DME and 6 keyers per M/E in UHD. A HDR Converter is included with the Format Converter, and native HDR support is available as a system format.
Connected Cameras – ILME- FR7 and VENICE Extension System 2
Several of Sony's cameras now have more direct connectivity to control rooms, making possible to add capabilities that allow users to do more with content at the point of acquisition, and helping to develop remote operations. New remote control and cinematic features are added to expand the creative possibilities for studio, live production and filmmaking settings.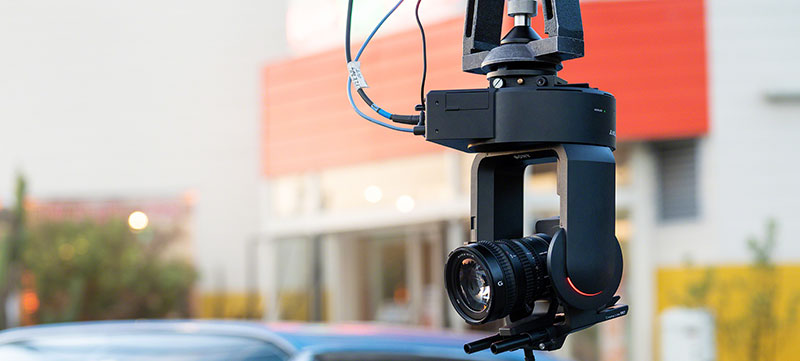 The Sony Cinema Line, for instance, now includes the ILME- FR7 PTZ camera to its with an E-mount interchangeable lens, a full-frame image sensor and built-in pan/tilt/zoom (PTZ) functionality. Its zoom and wide shooting angle help to overcome location and space limitations, and it has the same look, operability, connectivity and multi camera workflow as Sony's other cinema cameras.
The VENICE 2 motion picture camera system is updated as well, and includes the release of the VENICE Extension System 2, which is a tethered system that allows the camera body to detach from the image sensor block without affecting the image quality, and can be operated with either a 3m or 12m cable – without a repeater.
To assist VFX shoots, Extension System 2 is designed with a tilt/roll sensor on the camera head that detects motion. It records this information in the metadata and outputs the data through the camera's SDI. It is compatible with both the VENICE and the VENICE 2, including the 8K sensor of the VENICE 2, and also has four assignable buttons, which are useful for handheld configurations. pro.sony