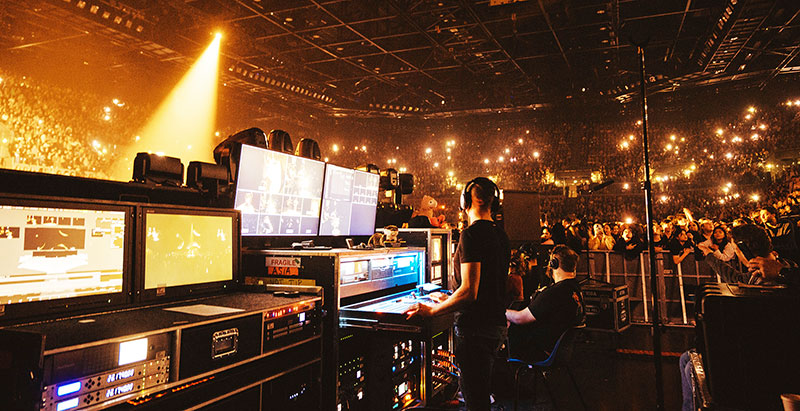 Video production specialists Vis-a-Vis, led by video director Stuart Merser, undertook the year-long Billie Eilish: Happier Than Ever tour spanning 43 dates that included a live performance at Coachella Valley Music and Arts Festival in April 2022. For that show, as well as the on-stage visuals, Vis-a-Vis also streamed Billie Eilish's headline set to the festival's YouTube channels.
On-set Camera Rigs
While venues differ each night, the core production set-up remains essentially the same and includes six Blackmagic URSA Broadcast G2 cameras with SMPTE fibre chains connected for video, power and intercom. Several smaller camera systems complement this, including a Blackmagic Design Micro Studio Camera 4K with a detached fibre back, rigged on a Polecam broadcast jib system. This jib arrangement was Stuart's invention, necessary because the Micro Studio 4K is not big enough to rig a traditional fibre back.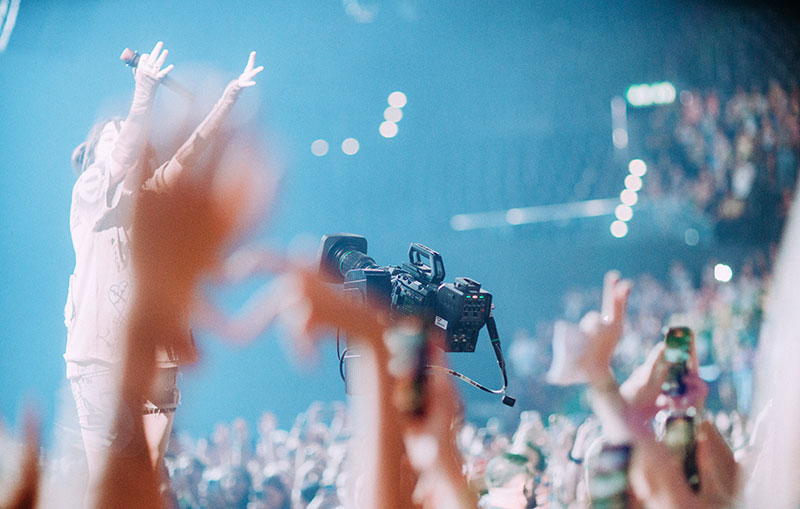 "All of the cameras around the stage are on Blackcam B60 railcam systems, each comprising a dolly, a telescopic Tower Lift for making rapid perspective changes and a Remote Head," Stuart said. "Storytelling is vital and so, by extension, is the need for consistency. Those positions are all remotely operated from dedicated stations equipped with Blackmagic Design SmartView 4K and SmartScope Duo 4K preview monitors, which the operators use to view their transmissions and returns."
Live Production
The main production desk is built on the Blackmagic ATEM Constellation 8K live production switcher with an ATEM 2 M/E Advanced Panel for hardware control. The camera operators used the ATEM Camera Control for camera shading, while monitoring via the preview monitors in their remote stations. Signal management is based on a Smart Videohub 12G 40x40 router with multiple HyperDeck Studio HD Mini recorders.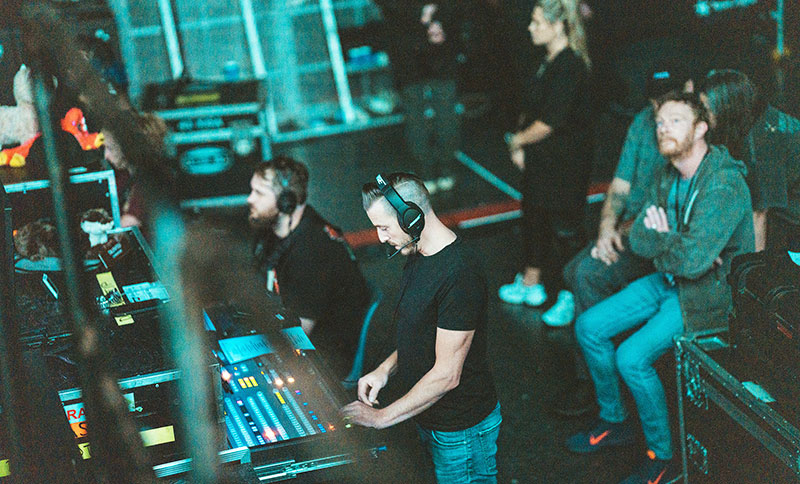 The engineering rack featured a corresponding Studio Fibre Converter, where all signals from the six G2s are routed via the Smart Videohub into the switcher, and a Teranex AV standards converter for up, down and cross conversions.

As part of the tour video package, Stuart specified the use of 5mm LED panels from PRG. "Instead of projecting this concert in the usual way, using projectors and a soft screen surface, I preferred to use LED screens," Stuart said. "We had 16x9 side screens on either side of the stage, with portrait screens on stage and a central LED wall, which means we can feed live IMAG video to every surface."
Going to Coachella
When it came to planning for Coachella, much of the tour's video elements were adapted to the festival stage. According to Stuart, that included incorporating disguise xR and Notch Blocks to create exciting, dynamic backdrops for Billie to perform against.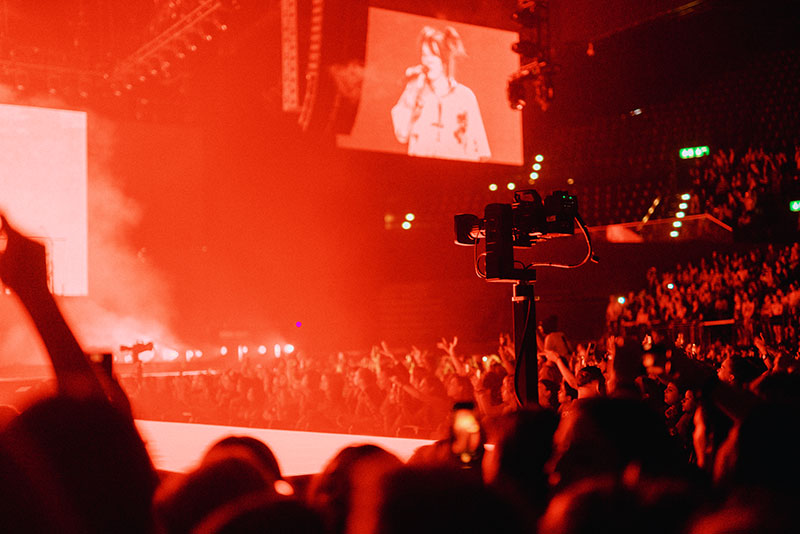 The disguise xR workflow is built entirely around real-time 3D visualisation as a constant part of the on-stage experience. It combines real-time 3D visualisation software with disguise's high performance servers, capable of delivering challenging projects like the Coachella show at scale.
xR employs camera tracking with real-time rendering, creating a virtual environment that is not only visible on a screen, but is also live on set and in the shots, directly in-camera. This means producers can see the final look of a show as they develop and fine-tune it. The Notch Blocks, rather like software pre-sets, are looks ranging from blurs and distorts to fluid and particle FX that Stuart could apply to the live IMAG video appearing on the screens.
Live Stream
Vis-a-Vis also had to cater for special guest appearances and a live stream on YouTube. To do this, two extra URSA Broadcast G2 cameras and a dedicated production desk for the stream were incorporated. "I had the second desk running an ATEM Production Studio 4K put in next to me, which meant I could throw in wide shots on a special cut for the live YouTube stream. I brought in extra camera operators to make sure all cameras were manned, and then directed both the show and the live stream myself," said Stuart.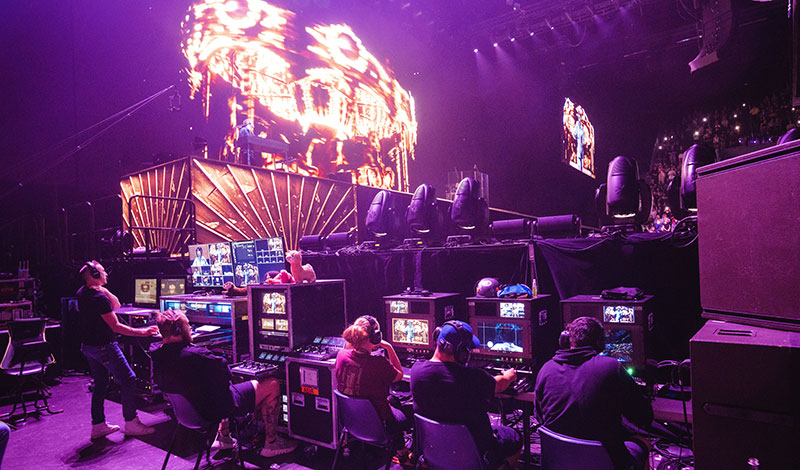 He commented that many artists, including Billie, go straight to their Instagram after the show finishes. "More often than not, if I get any feedback, it's from a clip they've watched on social media," he said. "Because fans are filming the screens and sharing that content to social media, it is now more vital than ever that what we produce is the best possible quality, regardless of how or where fans will consume it." www.blackmagicdesign.com