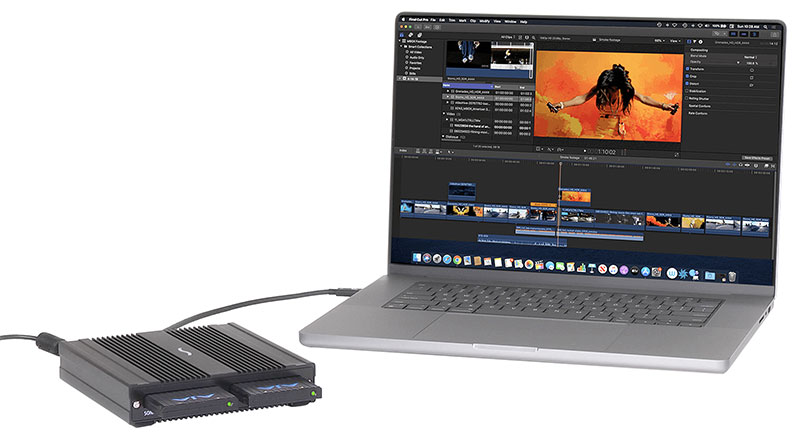 Sonnet Technologies' SF3 Series – AJA PAK Media Pro Card Reader is built with dual card slots and a dual-port 40Gbps Thunderbolt interface, and ingests files captured to AJA PAK Media SSD cards, which were developed for use in the most recent AJA Ki Pro Ultra 12G, Ki Pro Ultra and Ki Pro Ultra Plus 4K/UltraHD/2K/HD file-based recorders and players. The Sonnet card reader is compatible with all Thunderbolt 4 computers; all M1, M2, M1 Pro, M1 Max, and M1 Ultra Mac computers; and all Thunderbolt 3 Mac and Windows computers.
AJA President Nick Rashby said, "As project timelines across the production chain continue to tighten, the ability to quickly ingest files originating from AJA Ki Pro Ultra 12G and other Ki Pro Ultra recorders is critical to staying on schedule. The Sonnet SF3 Series – AJA PAK Media Pro Card Reader's dual-slot design with Thunderbolt connectivity gives professionals more flexibility and speed in the field."
The Card Reader ingests footage from all PAK Media cards up to their maximum supported speeds. Designed for all types of workflows, Sonnet SF3 Series card readers are built with rugged aluminum enclosures and dual 40Gbps Thunderbolt ports, so that users can stack and connect as many as six readers in a daisy chain to their computers through a single cable and ingest footage from four, six, or more cards simultaneously.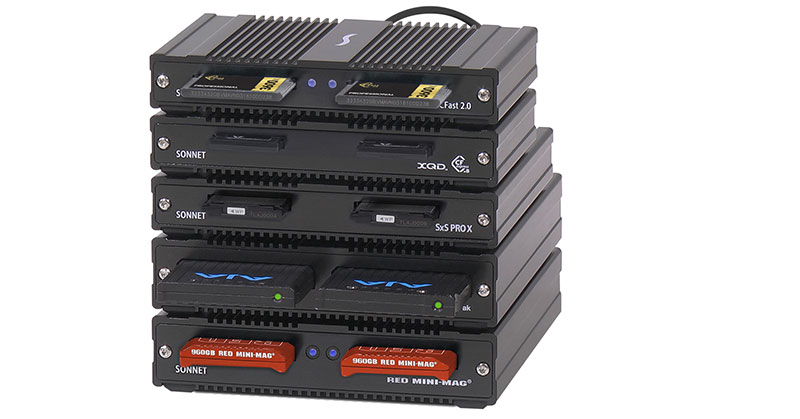 AJA Ki Pro Ultra 12G recorders enable up to four channels of simultaneous 1080p at 60 fps recording (or 4K at 60 fps recording in single-channel mode) while using codecs up to Apple ProRes 4444 XQ or Avid DNxHR HQX. One SF3 Series – AJA PAK Media Pro Card Reader can ingest files simultaneously from two cards at up to 1,030 MB/s, cutting ingest times in half compared to single-slot readers.
Because Sonnet PAK Media card readers have dual Thunderbolt ports to support daisy chain connections, users can connect three readers to their computer to exploit the 2,800 MB/s of PCIe bandwidth Thunderbolt supplies and ingest six PAK Media cards.
The Sonnet SF3 Series – AJA PAK Media Pro Card Reader is the only dual-slot PAK Media card reader available. Professionals working with multiple types of media or in a small workspace can stack multiple SF3 Series – AJA PAK Media, SxS PRO X, CFexpress / XQD, RED MINI-MAG, and CFast 2.0 readers in the same footprint and connect them all to a computer through a single Thunderbolt cable.
Support for simultaneous multi-card ingest allows users to complete the process without swapping cards and in much less time compared to single-slot readers, and then return the cards to use for recording. For applications that require gear to be mounted in equipment racks, Sonnet SF3 Series readers include threaded mounting holes to support installation in a standard rack shelf, enabling side-by-side mounting of two readers in 1U of rack space.
The SF3 Series – AJA PAK Media Pro Card Reader is available now. www.sonnettech.com