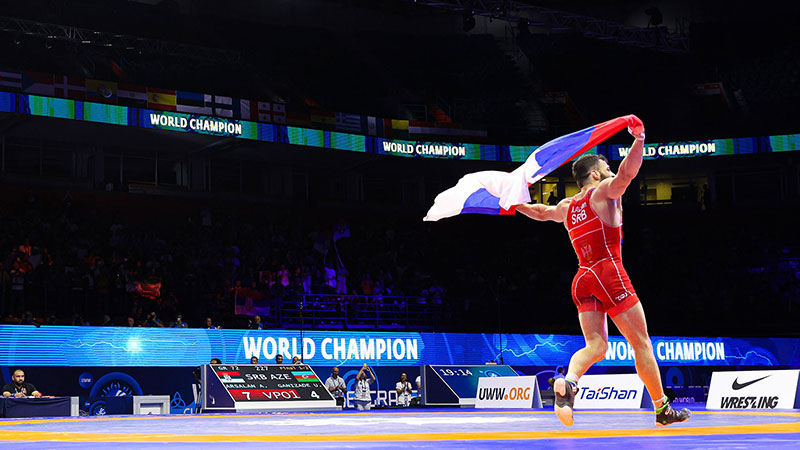 United World Wrestling (UWW) is the international governing body for the sport of amateur wrestling. Based in Corsier-sur-Vevey, Switzerland, the organisation oversees wrestling at the Olympic Games.
For a number of years, United World Wrestling TV (UWW TV) has produced and delivered coverage of its major events via satellite to rights holders, including broadcasters in Iran, Japan, Turkey, Russia and the United States – wherever there are fans following the sport. UWW TV collaborates with production company Hit The Roof on host coverage, typically bringing a small UWW crew to site for its big events around the world.
In 2021, Head of UWW TV Dominique Curchod and UWW Digital Project Manager Florian Bakour initiated a digital transformation plan for its audiovisual production, management and distribution operation.
A key part of the plan was the digitisation of UWW TV archives. For many years, productions were recorded and stored on a combination of hard drives and videotape. This meant that footage was only available for access at the end of a wrestling competition. It also made it impossible for the team to fulfil archive access requests from rights holders at short notice, and required a team of operators to carry out the requests manually.
Fast, Flexible, Live
UWW TV needed a fast, flexible way to share live content with rights holders across different formats, and avoid relying on post-production delivery. Live ingest and fast access would also open up the possibility of crew members working remotely from an event, with video editors ready to tailor dynamic content for highlights packages and clips on social media.
A special focus for UWW's Communication and Marketing department is on-site sport presentation, which has become an important feature in wrestling competitions in recent years to help keep wrestling fans engaged before and during matches.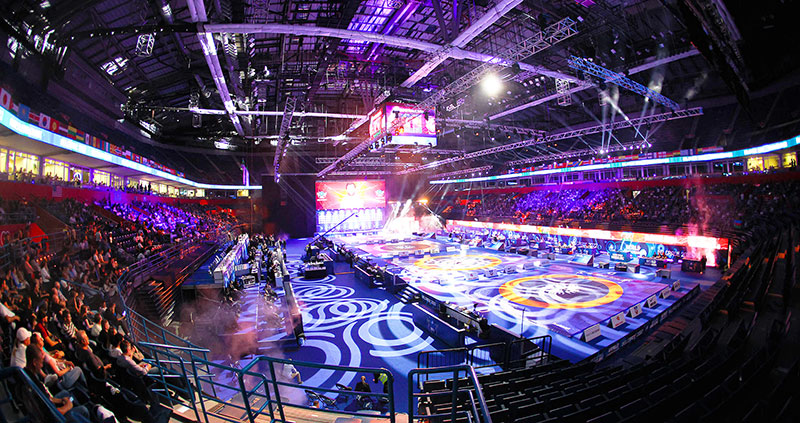 The team needed an effective workflow that delivers compelling video content to LED display screens at all of their venues. In particular, Florian Bakour was aware of the need for consistency. "The workflow needs to be effective match after match, across the major UWW competitions," he said. "Wrestling is an intense sport that needs to be highlighted and enhanced through sport presentation."
While the main objective of UWW's digisation was giving operators fast access to content in different formats for UWW rights holders, the organisation was also looking for the associated advantages of live ingest. These included remote production flexibility, with metadata tagging at speed, and a central repository to quickly find content with archive monetisation potential. The UWW team would also be able to create and publish highlights on social media, as well produce and deliver compelling highlight content to LED screens for live presentation.
Looking for options, UWW approached EVS. The team now uses the cloud-based EVS MediaHub platform to quickly create and deliver attractive content to the main screen.
Virtualising the IBC
EVS MediaHub is also used to publish and distribute nonlinear, live and near-live content to digital and broadcast rights rights holders online, and includes media production functionality accessed through a web GUI. Clips can be downloaded directly, or after transcoding. Users can playback, browse and trim content from anywhere and have an option to publish directly on social media. Alternatively, professional video web editing tools can be integrated.
Search filters and related content recommendations are also available via the interface, and users are notified when new clips become available that conform their search filters. Administration tools allow further content to be uploaded from a laptop or mobile device, with monitoring and user profile configuration.
In effect, content owners like UWW have the resources needed to set up and operate a virtual IBC and monetise their content, and still maintain the quality, reliability and usability of onsite deployments. Meanwhile, because the MediaHub content exchange platform operates as SaaS, content users and rights holders can also make their own remote production workflows more efficient.  
UWW TV Worldwide Events
"We first talked about EVS MediaHub in December 2021," said Florian. "We used it for the first time at the European Championships in Budapest in March 2022. The event was a success. The training and support that EVS supplied was excellent and much appreciated."
The team moved out to the 2022 Asian Championships in Ulaanbaatar, Mongolia, in April. "This was definitely more difficult because of internet connection challenges," Florian said. "But we were still successful because of MediaHub."
UWW TV and the UWW media team coninued using MediaHub throughout 2022 to produce, manage and distribute content live via internet through its cloud platform from Senior World Championships, Senior European, Senior Asian, and three World Cups. For the first time across each of these events, the team could use the EVS platform to share live and near-live content with rights holders, and video editors could work remotely to produce highlight content.
Metadata and Tagging
Regarding the archival material, an important MediaHub feature for UWW TV is its ability to add metadata and tags to video content. Material can be recorded onto MediaHub and then quickly searched and clips shared with rights holders. Once an event is finished, all media becomes available in the archive.
"In the past if a broadcaster wanted to use 15 seconds from the archive we had to hire people to manually check hard drives and watch hours of video and then edit that video, because nothing was tagged and nothing was cut," said Florian. "Now we just go on MediaHub and use the metadata to find a competition or a final or key moment. It's much easier."
Recording live and making content available near-live for everyone working both on-site and remotely also saves on production time. For a major event, Florian estimates they can save a full week of production. "Furthermore, MediaHub allows us to share different video formats including MXF, supported by eight audio channels, which has improved our workflow. Our crews working remotely can export in MP4, which gives us them ability to share in this file format on social media," he said.
Positive Impact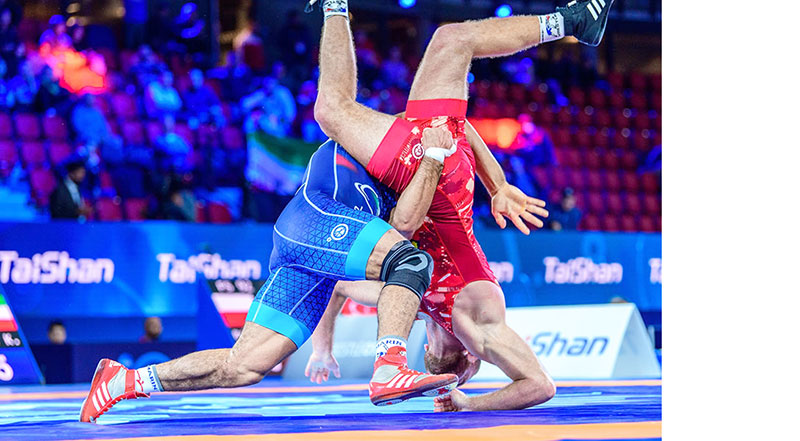 He believes that the introduction of EVS MediaHub has had a positive impact on the wrestling federation itself and the UWW brand, in two principle ways. "The first is on-site at events. We're now able to highlight the best moments of the competition on the venue's LED display screens, creating a new, attractive atmosphere for the fans.
"The second impact is on social media and the website. Now that our editors can access the best of the TV production live during an event, we can share the best moments and emotions of the event as soon as possible – such as winning the final and the podium ceremonies."
UWW is now able to monetize TV production content with the highest quality available through the MediaHub secured cloud. Rights holders gain access to the best content as soon as possible during an event – even remotely. Equally important, metadata and keywords are enabling rights holders, for the first time, to filter, find and buy rights to use wrestling archives. evs.com