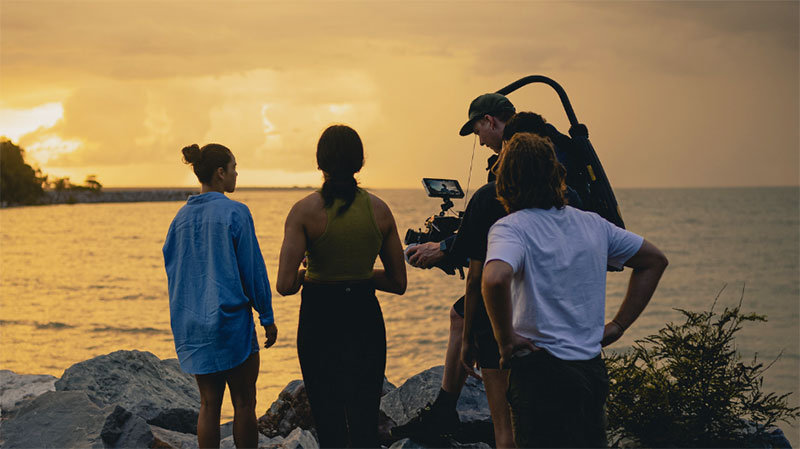 The Cygnett Women's National Basketball League (WNBL) hosted its second Indigenous Round from 11 to 19 February, prompting the league to celebrate with a series of player profiles produced in partnership with Adobe and creative agency Hopeful Monsters.

Further goals of the campaign were increasing the representation of WNBL's Indigenous athletes and inspiring the next generation of basketball players, achieved through interview content with three First Nations players from three different teams and regions. The stars are Abby Cubillo of Adelaide Lightning, Shaneice Swain from the UC Canberra Capitals and Nes'aya Parker-Williams, a player with Townsville Fire. A production team filmed the player profiles on Larrakia Country with the basketball community that supported Abby Cubillo to become the first Northern Territories player to compete in the WNBL.

The profile pieces integrate behind-the-scenes footage of the Darwin coaching clinics and surprise appearances, with interviews between the players and Indigenous graphic artist, Desirai Saunders. Desirai spoke to the three athletes about their backgrounds, inspirations and passions to develop illustrations of them that reflect their heritage and the role they take as trailblazers.
Illustrated Athletes
Desirai also spoke to Digital Media World about how she approached this project and the tools she used. "I used Adobe Fresco on iPad Air," she said. Desirai started the WNBL project with a conversation with each of the women. "It was important for me to learn about each player and who she is, what motivates her and what she is passionate about. This enabled me to create their character portraits better than just making drawings based on their photos. That wouldn't have given any depth or meaning to the illustrations, so having these conversations helped me to create better," Desirai said.
"The artworks were also dsigned to capture who they are at this moment of their career. I could pick up certain quirks and interests from talking with the players and include them in the artwork. But most importantly, I wanted to hear about their connection to culture and family. Visualising those details helped me to build the background elements of their character portraits."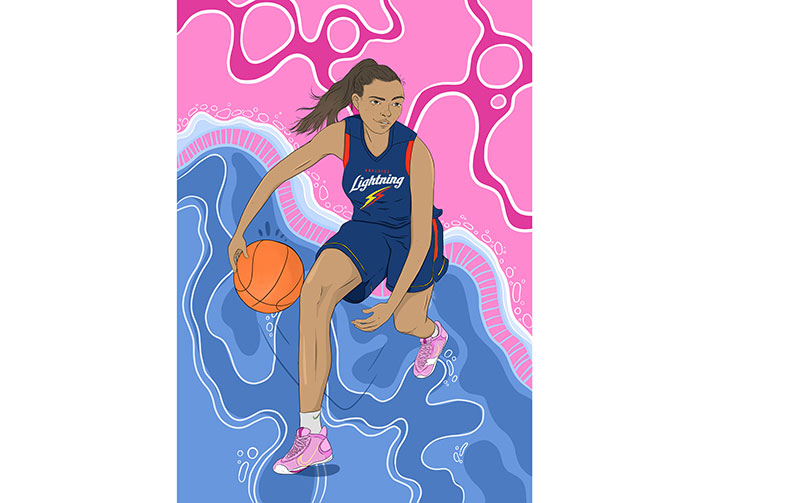 Abby Cubillo
Self-taught Artist
A self-taught artist, Desirai remarked that YouTube tutorials combined with the user-friendliness of Adobe Fresco has made it possible for her to pick up skills quickly. "Up until recently, I've always been a pen artist and not a painter, and I think that style transferred over when I switched to a digital medium. I still prefer a minimal style for shading, but I love using line work to outline detail, compared to mixing textures.
"Fresco is incredibly easy to use, which is not only helpful when learning new skills, but I also prefer to work with applications like Adobe Fresco. When I use Fresco on an iPad, it's just like drawing in a sketchbook. There's a good selection of brushes that come with the base application, with the option to purchase more if you need them," said Desirai.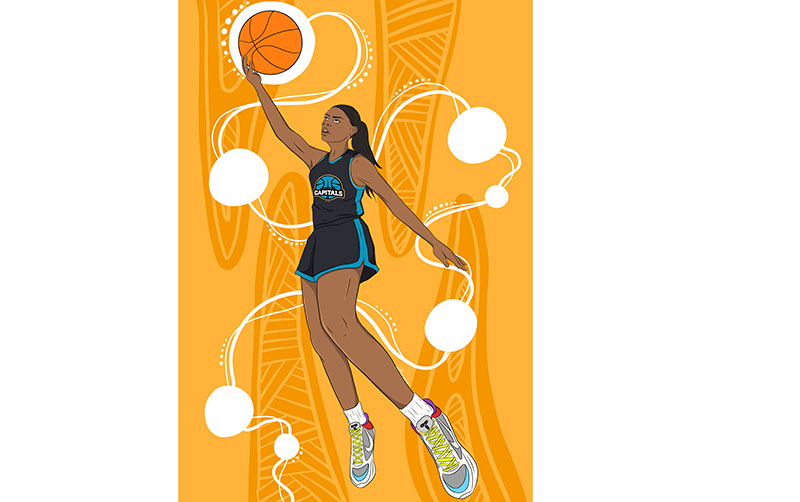 Shaneice Swain
"I enjoy teaching myself how to use new software and experimenting with different platforms for my art. You don't need to spend a fortune learning new skills anymore because so much free information is available. You just need time and a willingness to learn."
Preserving Style
She has developed her own distinctive style that shines through in the WNBL project. "I have certain pens and brushes that I like to work with. I prefer a smooth texture and use fun, vibrant colours. I used to use a darker colour palette, but in the past year or so, I have really enjoyed seeing what bright colours work well together."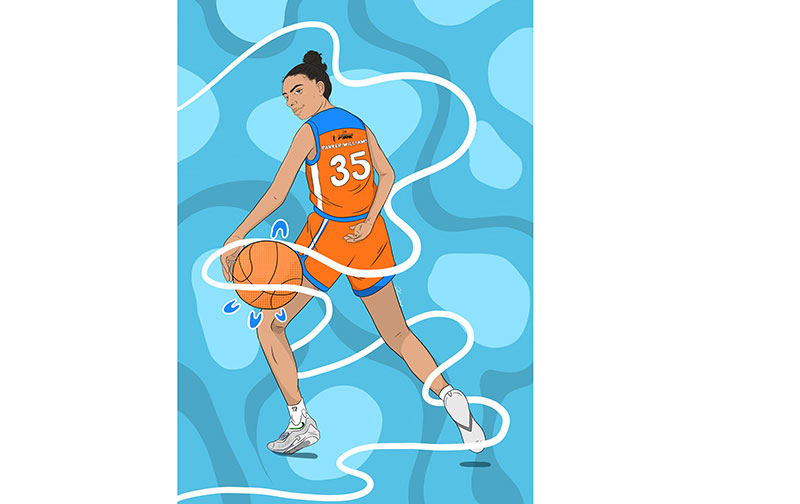 Nes'aya Parker-Williams
Desirai's goal now is to learn how to animate in order to create short stories and share her art in new ways, noting that technology and how viewers consume information is shifting predominantly toward short videos now. "I would like to begin experimenting with animation and how I deliver my art. I would especially love to learn how to animate in 2D, like Studio Ghibli. I've started to learn the basics of After Effects, and I'm currently researching applications that would be best to learn for the style I want to create," she said.
"I've also been building my skills in creating background environments and learning how to paint digitally instead of the minimal style I currently use. It's a long-term goal that will take time, but I am excited about the challenge."
WNBL Streaming and Broadcast
As part of the league's educational initiatives for Indigenous Round, the three player profiles and final pieces of art were posted via the WNBL's digital platforms throughout Indigenous Round. The social media posts reached more than 250,000 fans which saw a 49.5% increase on engagement in comparison to @thewnbl's average posts in 2023. Adobe further amplified the creative campaign via its global channels during Women's History Month in March.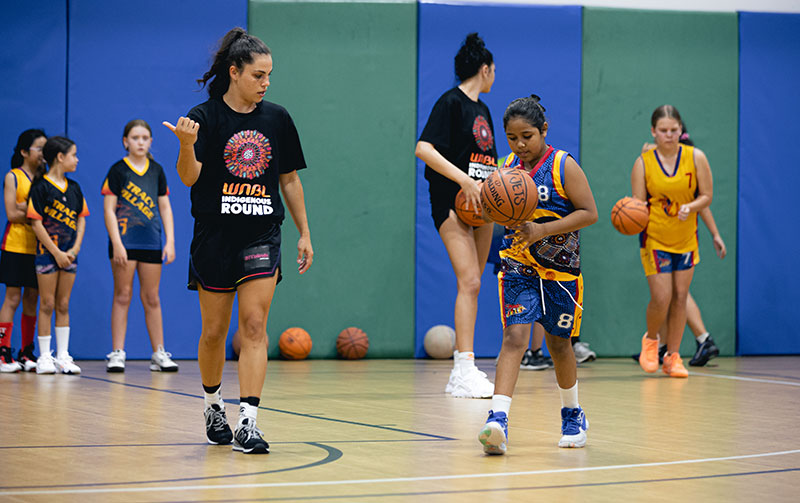 Head of WNBL Christy Collier-Hill said, "Increasing the visibility of the Cygnett WNBL's First Nations players and the basketball pathways available in communities is important. Working with Adobe to elevate the storytelling component of our Indigenous Round helped to deliver premium content that amplifies the stories of Abby, Shaneice and Nes'aya, hopefully inspiring new players to tune in and follow the pathways to the WNBL."
The WNBL Finals commenced on 8 March. Due to new partnerships with broadcasters ESPN, beIN Sport and Unbeaten, the Finals action could be streamed in over 100 countries. In Australia, all Finals games were available to fans on ESPN, with select games also available to stream on 9Now. www.adobe.com