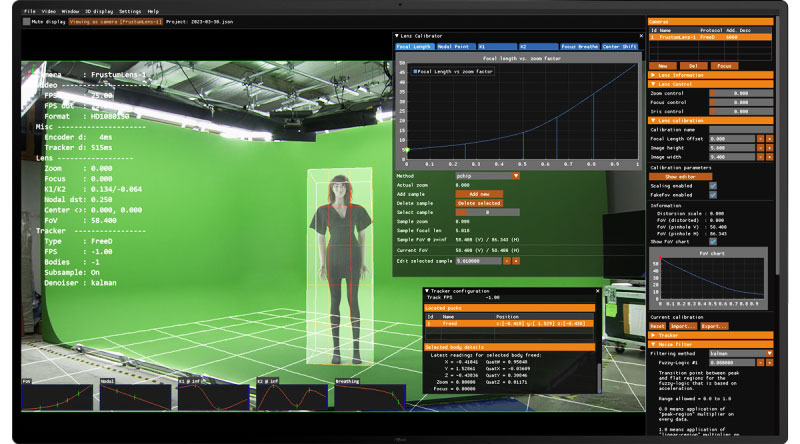 At NAB 2023, Zero Density previewed a new on-air graphics system called ZD | OAG that supplies broadcasters with the software tools and hardware needed to make use of Unreal Engine for productions ranging from news programming to entertainment. Featuring the new generation Ada NVIDIA GPU and Zero Density graphics software, the ZD | OAG (Zero Density On-Air Graphics) package can be used to create immersive broadcast stories with photoreal UltraHD visual elements.

Zero Density CEO, Ofir Benovici said, "Photoreal graphics should not be limited to virtual studios. With support for real-time external data feeds, automation systems and integration with NRCS systems through MOS protocol, ZD | OAG takes the guesswork out of setting up an on-air graphics workflow. Users can approach ZD | OAG as a standalone product or use it with other Zero Density tools depending on what the project requires."

Developed to meet the particular demands of broadcast production, including continuous 24/7 operation, ZD | OAG's custom graphics tools are built on top of Unreal Engine and enable users to take advantage of animation control, text effects, automation and other features to create good-looking, expressive visuals. In effect, Zero Density specialises Unreal Engine's software for broadcast. A complete Unreal Engine-based system, ZD | OAG can be used for news, entertainment, live sports, elections, game shows and other productions.
The software and hardware bundle includes Zero Density's web-based universal control UI, RealityHub, with which broadcasters can control real-time graphics, robotic cameras, lighting, feeds and so on – all in one place. Its versatility allows it to integrate with newsroom and automation systems and interfaces for external data feeds, making available all the tools broadcasters need to effectively manage graphics workflows.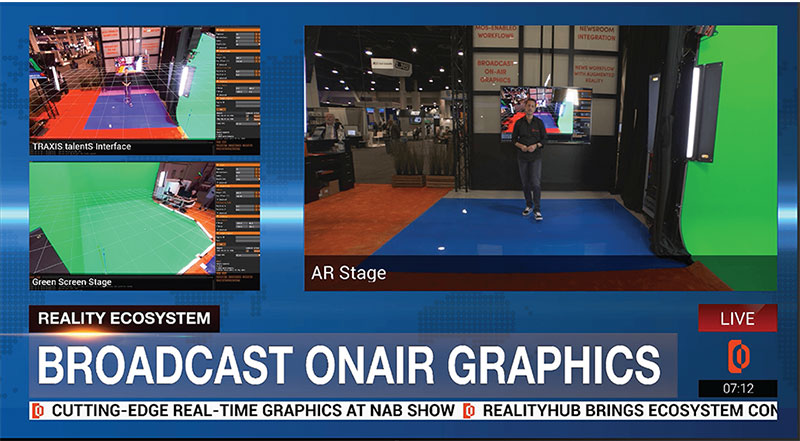 ZD | OAG will be available through a subscription program, through which users access the software and lease the hardware from Zero Density, a more cost-effective option than making large upfront payments for hardware and software licenses. It is also more flexible compared to the perpetual license scheme. Users will always have access to the latest version of the product or service as well as technical support, regardless of location. Following the NAB Show preview, ZD | OAG is planned for release later in 2023.
Camera and Talent Tracking for Virtual Sets
Zero Density has also launched several new developments in camera tracking systems, released under the company's Traxis brand. These include the new Traxis Camera Tracker – a unified hub for broadcasters to track cameras and manage their camera and lens data – as well as a major update to the Traxis Talent Tracker, which tracks (or follows) multiple people on set at the same time without having to fit the talent with trackable devices.

Built for both LED sets and green screen cycloramas, these new systems mean broadcasters can spend less time on achieving photorealistic looks and put more effort into creativity. The update to the Traxis Talent Tracker, which uses AI to identify individuals within a 3D environment, means that multiple people can now be tracked. This ability makes it easier to generate accurate reflections, refractions and virtual shadows in real time for multiple people – a useful option for productions with several presenters or guests.

Traxis Camera Tracker achieves fast, accurate lens calibration without installing large numbers of calibration points in order to produce a photoreal result. It is powered directly from the on-set camera and sends data through triax or fibre-optic camera cables so that no extra cabling is required.
The tracker maintains accuracy across different scenarios – when tracking close-ups, following fast camera moves and working with crane rigs. Because it calibrates the virtual studio ahead of production, once calibrated, the studio won't need to be recalibrated before any new production regardless of its complexity, reducing downtime.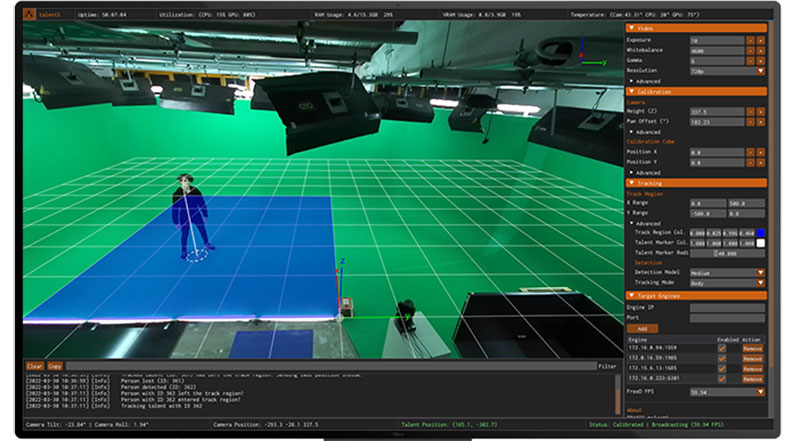 Central Hub
In order to manage the different camera and lens tracking feeds, the Traxis Camera Tracker software platform can also be used as a central hub. As well as calibrate lenses, the platform will monitor all camera feeds in the studio, even if each uses its own protocol. Users can check systems are working by overlaying a 3D ground plane and marker objects on the SDI camera feeds.
The new factors help to create a photorealistic blend of real and virtual worlds. Once the lens is calibrated, the data is ready to use with any 3D render engine. No further rendering is required in the studio
In a future update, the talent and object tracking will be added to the platform. The creative team will be able to choose the best combination of systems for each real-time project without having to switch platforms for different vendors or devices.
"There is no single tracking system that answers all the requirements of production. With the new products in our Traxis brand, we wanted to empower broadcasters to choose the best fit, without worrying about complex setups," said Ofir Benovici. "The Traxis Camera Tracker and Talent Tracker systems comprise an all-in-one system for accurate tracking and realistic Unreal Engine graphics, fully calibrated to the chosen lens." www.zerodensity.tv