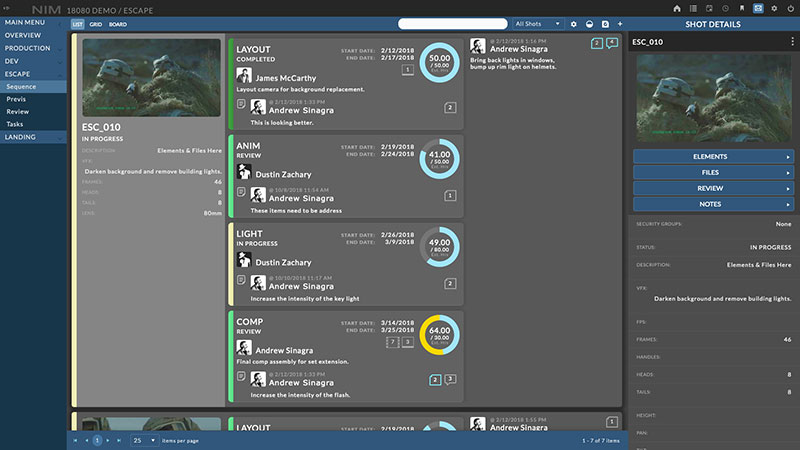 NIM 6.0 is a major update to the NIM creative studio management platform, developed to help studios negotiate and track projects and follow how closely they are keeping to budget, all in one place. With further updates made to the bidding system, studios can now make proposals very quickly, for projects ranging from fast turnaround jobs up to blockbuster movies, without losing sight of their profitability.
"No one starts a creative studio to spend all their time in spreadsheets," said Andrew Sinagra, co-founder of NIM Labs. "NIM 6.0 brings order to the bidding process, reducing most tasks to a couple of clicks. For example, producers can gauge profit margins, automate line items and segment their drafts very quickly, even when they're pitching a 1,000+ shot production."
Management from Inside Out
Digital Media World talked with Andrew about NIM Labs, how and why NIM was developed, and the new version 6.0. As well as NIM's co-founder, Andrew is himself a creative director at the design studio Ntropic. A few years after opening Ntropic, he and his team built NIM to give studios a complete overview of their performance, from finances to production, and allow them to accurately measure the health of their organisations at any time.
"Working in the industry on a daily basis gives us an insider's perspective into how production is continually evolving," he said. "We see the changing needs of both clients and employees from the studio side and respond with new developments and workflows to promote the way people want to work and interact."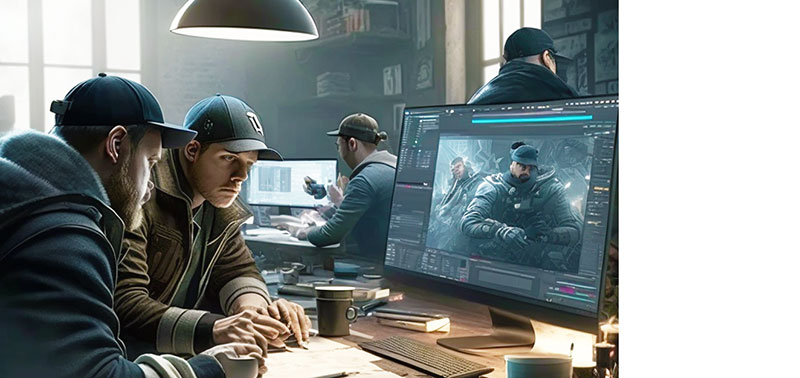 Although Andrew now focusses mainly on NIM, he maintains contact with every department at Ntropic's studio including artists and producers, as well as HR, finance and the executive management team. "It's the back-and-forth communication that continuously gives us insights for our roadmap – and this isn't just limited to Ntropic," he said. "We have a close line of communication with our NIM client base. It's the combination of their voices that helps steer development."
NIM 6.0 builds on this foundation, gathering the collective insights into tools that help studios stay on track.
Bids from Both Sides
While bidding has traditionally been a burden for most studios, it's also necessary. Efforts toward new business not only prevent funding gaps – when the amounts that are needed to support the ongoing operations and development of a business, are lacking – but also make sure new material is there to keep artists active and talent on board. To help, NIM's bidding tools have been redesigned for speed and efficiency. Producers can create complex bids fast and always find the necessary information.
Because NIM Labs' goals when designing the 6.0 bidding system focussed on client needs and the sentiments they were hearing across the industry, budgets loomed large. "Budgets are continually shrinking, and cost savings always need to be found. But identifying likely options for economising can be tricky and time-consuming," Andrew said.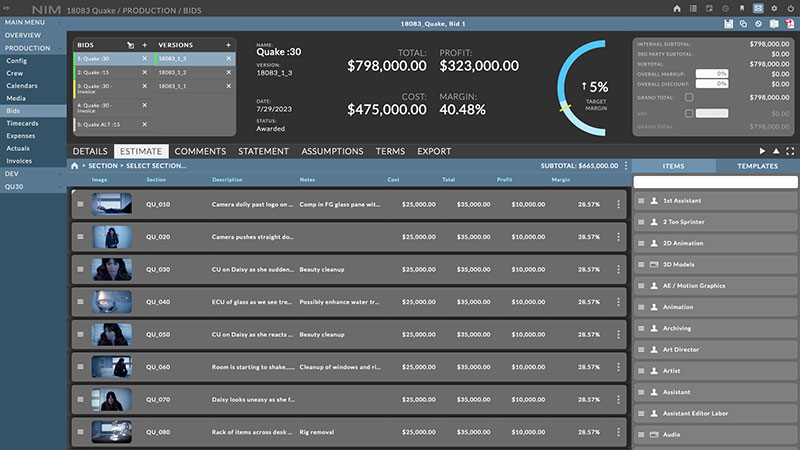 "We wanted to allow studios to dissect bids in multiple ways to reduce costs, and find savings as efficiently possible. Many times, studios apply a global discount on a bid without actually tracking where that discount is being applied. Profit-centre margins start to suffer, while a more targeted approach would better visualise studio performance. By including navigational tools within our bids, and displaying cross-sectional margins, we believe NIM is now capable of generating the information a studio needs to make informed decisions when budgeting projects.
Bidding Breakdown
In NIM 6.0, bids are no longer limited by scale – the system can work just as fast on 100 line items – which are the smallest priceable services within a bid – as it does on 10,000. Each section will also include profit margin information. This means teams can see if they are promising too much, or if they have the capacity to extend their services when they want to make their offer more appealing.
Shot breakdowns may be categorised and automatically populated with new or existing information drawn from previous projects, helping producers save time by mixing and matching elements. Andrew commented that automation is the backbone of production, in many ways. "Automation leads to efficiency when looking across the entire studio workflow, especially when users can remove mundane tasks that people don't want to do," he said.
"We are always looking for new ways to expand and simplify the process of automation, arming clients with the tools they need to control their own productions. That way, applications can communicate and share the data without a human hand, and NIM can present that to users in a consolidated way that makes their lives easier."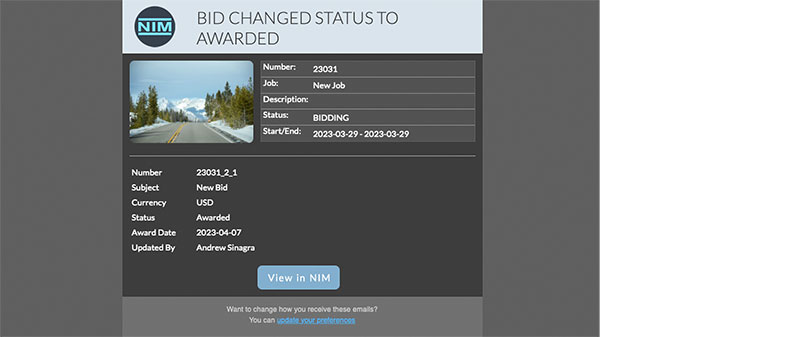 Email notification
Recovering Time
Budgets and bidding aside, many of NIM's clients have remarked that global resource management is a key issue when operating the studio of today. Management in this case is not purely about scheduling and utilisation, however. "It is about communication management and consolidating communication channels so there is no loss of information. This type of optimisation not only streamlines production but also recovers a precious resource – time. Time can easily be lost, looking for the right piece of information or in meetings that do not need to be had," said Andrew.
To that end, NIM 6.0 can now be used to navigate long contact lists more easily. Producers can link contacts to a particular company or, for freelancers, to multiple companies. Contacts can also be organised by keywords or groups, making it simpler to locate specialised directors, the right sort of music studio or any other specific kind of help.
NIM's contact functionality extends to previous clients. With notes and associated data attached, producers can assess a relationship, see a breakdown of past jobs, track the profitability of a studio's clients and view details such as the previous rates that have been charged to a person. These, combined with NIM's other business intelligence tools, give studios more options to make decisions informed by data.
Hooks and Triggers
Notifications tools in NIM for internal communications are updated to allow more control over who receives notifications and when, making them more relevant. For instance, teams can now trigger notifications to specific team members just by updating the status of a project, so the right people always stay informed.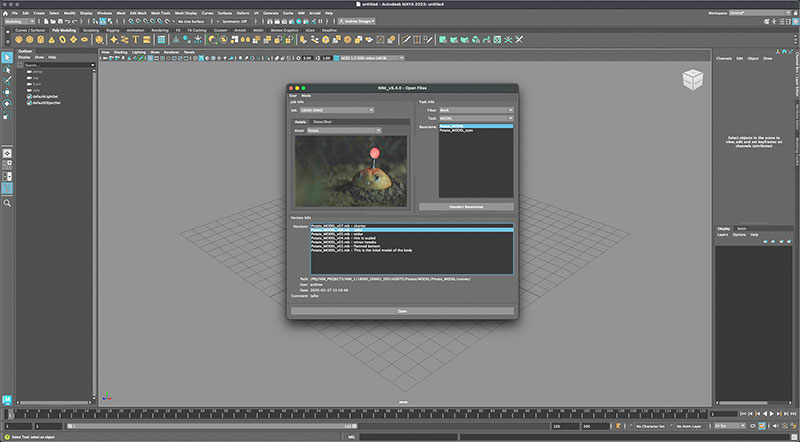 NIM Event Hooks
End users can tap into internal triggers like these, called Event Hooks. "These are built into the NIM platform to help users launch their own scripts and code when they want to perform actions that are customised to their studio," Andrew said.
"They also enable a deep level of integration not only with internal pipelines and processes, but also with the automatic push-and-pull of data between 3rd party platforms. By expanding NIM's reach through Event Hooks, it comes closer to serving as a real studio hub, integrating all facets of a client's business." nim-labs.com