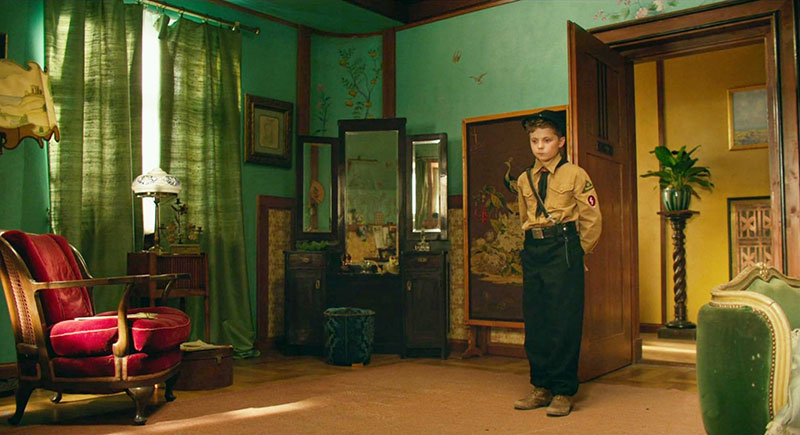 Jojo Rabbit
Digital imaging technicians, or DITs, connect on-set and post-production processes for digital film productions. Ahead of the shoot, they take time to understand the cameras, colour and creative intent of the project as far as possible, and design the workflows used on set to achieve the director's and cinematographer's vision, making sure each step unfolds as required.
DIT Eli Berg is a freelance DIT with experience in projects ranging from Academy Award-winning movie 'Jojo Rabbit' to the TV series 'Minx' and a long list of commercials in between. He customises his equipment and technical approach to each project, meanwhile depending on a few favourite pieces of gear that keep his workflows flowing.
Changing Roles
Like many DITs, he found his way to that role by starting out in another job. When he first moved to Los Angeles, he found work as a 1st AC (Assistant Camera) but quickly shifted to 2nd AC, which suited him better with its technical, hands-on focus. "Then I met DP Mihai Malaimare Jr, who needed a DIT for an MTV Video Music Awards commercial. He told me what camera he was going to use, so I learned it as fast as I could, built up a DIT cart out of a 2nd AC cart, and developed my skills from there," Eli said.
"I've been working with Mihai and other DPs as a freelance DIT for the past 15 years. I love the collaborative nature of it, and how it allows for creativity without the initial stress. Our stresses come on the back end. DITs are a tool for DPs to maintain control of the image, so we want to make sure the footage is captured correctly and in the right specifications."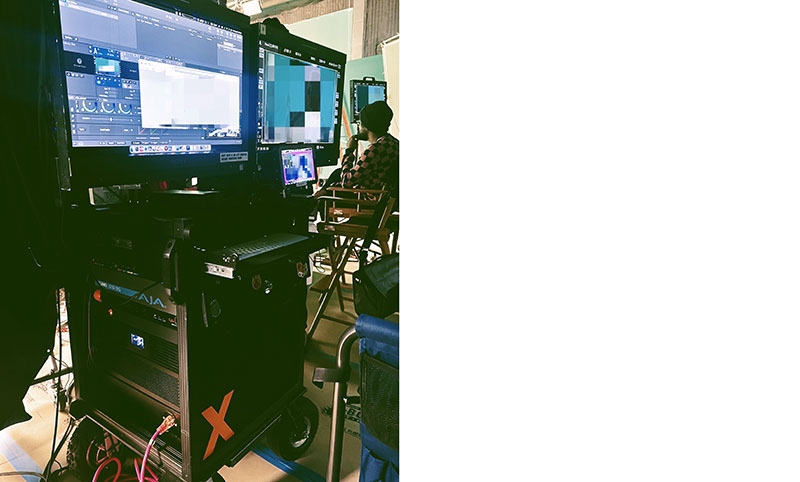 Eli tends to choose projects based on the DPs and his relationship with them, knowing that they will need to spend a lot of time together. For instance, he worked on 'Minx' Season 1 because of the DP Jason Oldak, who he has known for a long time. "He did something special with the look that was interesting and retro, since it was a period comedy, making it a fun experience. I also recently finished a movie with Mihai – our entire camera crew was really tight by the end. Our working dynamic is carefree but also very professional, because ultimately, we want to get the best quality images."
Customisable Routing
He contrasted the luxury of working on bigger, slower moving features that don't shoot hours of footage per day – which is nice – with his commercial projects. "The commercials build up footage much faster, so I'm usually downloading and transcoding on my own, and don't have a loader or utility. That makes AJA's KUMO 3223-12G SDI router especially useful for my work because it has so much functionality built in, whether I'm doing it all on my own for a project, or I need to route signals to multiple destinations.
KUMO routes video signals from multiple input sources such as cameras and computers, to display devices like monitors and projectors. The KUMO 3232-12G model increases the capacity for medium sized configurations, but keeps a 2RU profile while supporting 12G-6G-, 3G- and 1.5G-SDI from 32x 12G-SDI inputs and 32x 12G-SDI outputs. Because it can handle ganged dual and quad port routing control, users can group together multiple inputs and outputs for dual link, quad link 4K, or even 8K, workflows. As well as high resolutions, HFR and HDR colour formats are supported.
Because Eli's responsibility is to make sure the DP and camera crew are completely focused on the creative aspects of a production, he customises his cart to be ready for any situation on the ground. "I know how to deal with problems on set, but when a piece of gear isn't working properly it stresses me out. It limits what I can contribute creatively, because I'm stuck pulling apart my cart to figure out why an IP address isn't working, or troubleshooting another problem.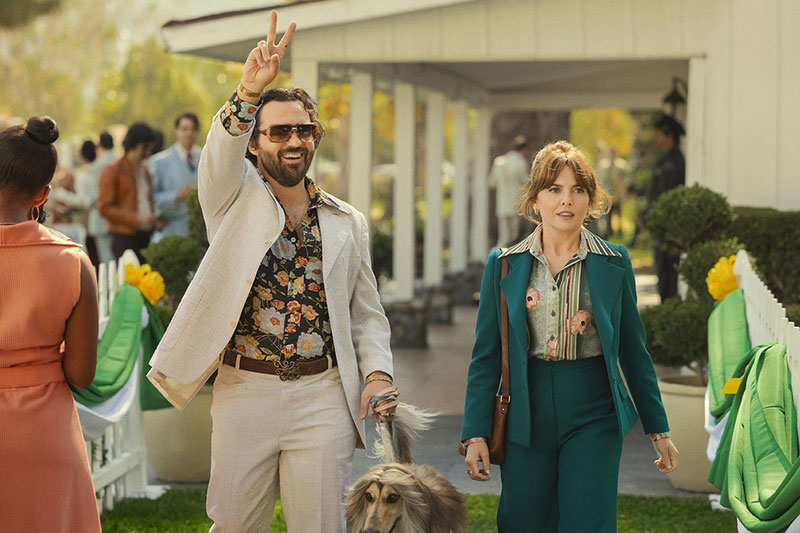 Minx
"I make a point of prioritising gear that's consistent and that I know will work every time. The KUMO 3232-12G is like that – I don't have to worry about it failing on me. Also, regardless of the project scope, I always have to do video routing and so I have made it a cart staple.
Follow the Colour
A DIT's cart is a complex environment where every routing connection is put in place for a specific purpose. "The workflow varies but typically, I'm working with a camera connected to an AJA ColorBox." By using ColorBox for on-set look management and colour grading, he can continuously confirm that the content captured on-set will match the expectations and requirements of the DP and other members of the production.
It's also possible to set up workflows to load multiple looks, make adjustments as necessary and save reference images of up to 4K for dailies and post. Colour pipeline integrations can be made with Pomfort, Assimilate or QTAKE live grading software, and used for native control of ColorBox in real time.
"We attach the ColorBox directly to the camera because the DP wants to monitor the live grade on the onboard camera monitor. That image is also fed to my cart, usually in 4K, or more recently 6K, and straight into the KUMO. From there, we can send it directly to monitors since it's already live graded. It then goes back into our KUMO and into my monitors for recording, and into my computer via an input card and then back out of my computer into KUMO again, so I can share the image from my live grading application."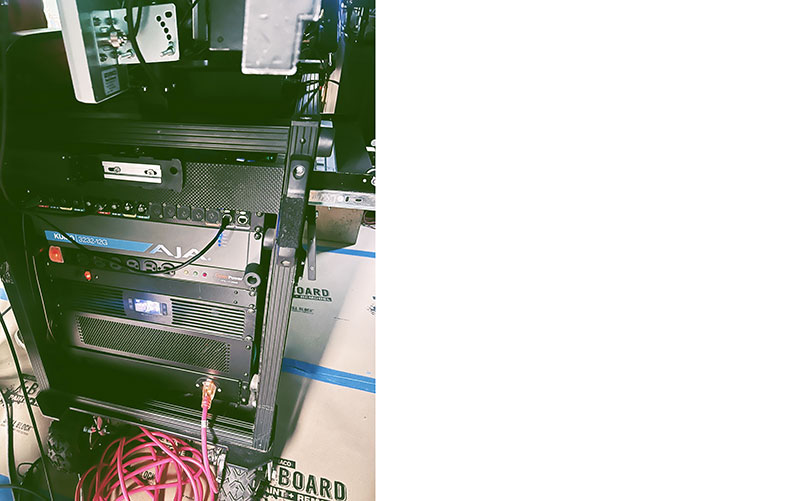 Linchpin
Another monitor feed from the cart also goes through the KUMO and out to Eli's waveform monitor. Meanwhile, he calls KUMO the 'linchpin' of the entire process – rock solid and relatively simple to set up with salvos. Salvo set-ups are used to route signals through a predefined set of crosspoints, connecting specific sources to destinations as a single command. A salvo is created by setting up the list of desired routes and saving it in the KUMO router's Web UI.
When Eli first started working with the KUMO, it made a huge upgrade from the hardware he was using earlier on, a 12x12 router that lacked sufficient inputs. "I had to patch things together with splitters but now, having one piece of gear that does it all is so much better," he said.
"It also happens to be one of the most important pieces of the cart. You can't use a LUT box without routing the image to it, so the router is the first stage of everything. I like the options it affords, and that it's always up to date. I've already upgraded all my cables to 12G-SDI, so now I'm ready to monitor in 4K."
Trending Now
HDR monitoring as well is becoming more necessary for movies now because that is the format used for streaming them. He noted that you don't have to monitor in HDR to finish in that format, but it will help the process. "It helps you make sure there are no surprises in post," he said. "This is why a router with lots of inputs is beneficial – not only for 4K/HDR monitoring, but also to give the creatives more options. My last few jobs have had four or more cameras. For 'Minx', I received the live grade image in 6K in the cart, and it went into KUMO 3232-12G and directly to the monitors."

Keeping up with trends and changes like these is essential for a DIT today. Eli remarked that AI is quite an interesting development for him. He said, "It's a super-hot topic all of a sudden. For people like me who aren't necessarily following AI, it seems to have made such a big, unexpected jump forward and it's crazy that it's arriving in creative fields so quickly. I think it's another tool that we'll be using on our carts at some point very soon."
Eli is also optimistic about the near future, having fallen into a productive rhythm where he'll handle one movie or a long form narrative project per year, then fill the remaining time with commercial work. "I really like that lifestyle," he said. "As the DIT, as mentioned, I can choose my projects based on the DPs and the relationships we have. The whole process should be fun. There's no reason to be unhappy. We're telling amazing stories and I'd like to think the joy I have on set helps the whole department." www.aja.com