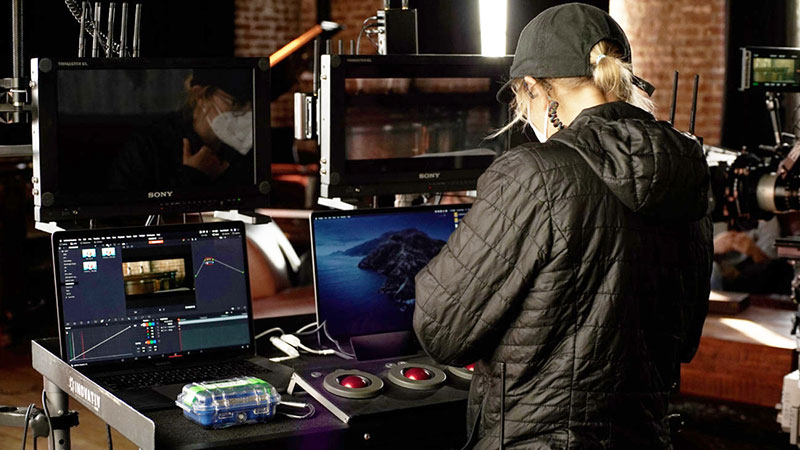 A DIT on set
Jamie Metzger has been a DIT (digital imaging technician) for 13 years, but has been working on production sets since film was the standard, just before the RED One launched. His background in computer science soon led to a passion for camera data. "I became a second assistant camera (AC), then first AC. With time, I gravitated naturally to the DIT side of things. Now, I bounce between long-form feature, episodic and commercial projects depending on the cinematographer I'm working with."
He finds it impossible to describe an 'average' day at work. "No day is the same. I'm not made to work in an office, so I love that aspect of being a DIT. Providing video picture is my priority on any project. I need to be able to get a picture up from any camera, as fast as possible. Even if the camera is pointing to the sky or a grey wall, it gives the on-set team comfort to know the picture is there, and that they won't have to wait on it."
The Production Environment
His work starts with looking at the shoot environment – such as the location or stage – and then considering the best equipment and workflow for the job at hand and how he'll accomplish it. From there, he can start to focus on achieving the right exposure and camera settings, and colour-matching the cameras.
But his actual workflow will always vary, based on the project. For example, he just live graded a 4K HDR film project that needed both 4K HDR and HD SDR monitoring, which has challenged him in new ways. "Although on-set monitoring has come a long way," he said, "there are still logistical kinks to work out in terms of display weight.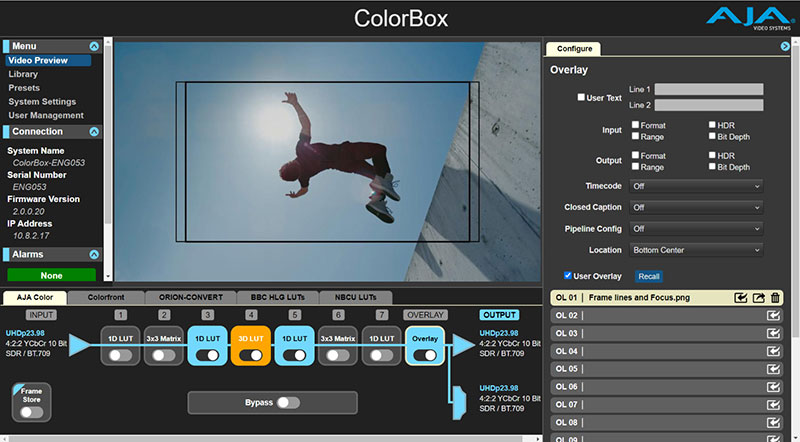 "Right now, you see a lot of DIT carts housing 65-pound (30kg) monitors designed for a post suite. Staying on top of monitoring and data technology becomes a job in and of itself. We have monitoring tools that we've grown accustomed to, but now, the tools and techniques are in a state of purgatory. Every DIT is waiting for the next 5+ year monitor, so we can settle into 4K/HDR monitoring."
Time is also always a battle. Running tests and keeping up with the most current hardware and software takes time, especially since new types of monitoring continuously come to market. Jamie has to understand the new tools, and also be able to teach people around him about them. He said, "Those conversations are often welcome during lunch breaks or at wrap, but are more difficult to start on set. It's all about finding the right time to give advice on the tech."
4K HDR Workflow
"Going back to the long-form film project where I was live grading a 4K HDR signal, the new workflow brought a lot of uncertainties. We were going to be working with and modifying an LUT, so I had the head of post with me as we worked through the look development. We had a 4K HDR and an HD SDR cart."
For the 4K HDR cart, they ran 4K BNC cables from ARRI ALEXA 35 cameras straight to two AJA ColorBox devices controlled by Pomfort Live Grade Studio for live dynamic grading. The output was fed through the ColorBox units into two Sony HX310 4K HDR monitors. We live graded LogC4 from the camera with a colour transform supplied by the client with SDR and HDR options." The HDR LUTs had 300, 600 and 1000 NIT roll-offs, which Jamie enjoyed checking out on the set. Technically, a HR image doesn't have any roll-off, so these need to be designed into the LUT or applied by a colourist.
Pipelines – Tools and Transforms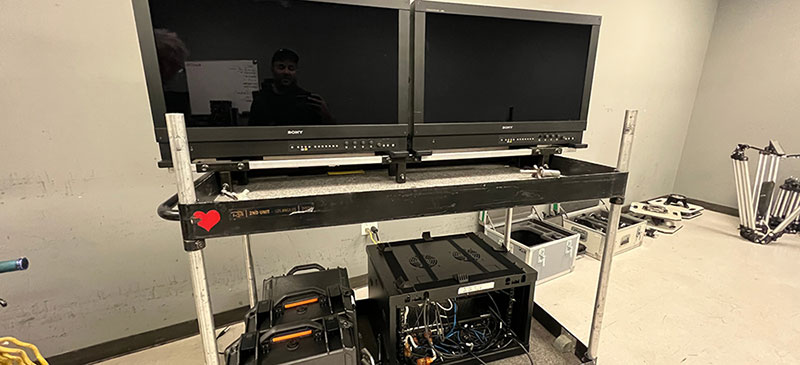 ColorBox brought HDR/4K functions to the workflow, with 12G/SDI connectivity. In a detailed set-up like this, it's important that ColorBox works in-line – it fits into the workflow in real time without adding latency. ColorBox can be used not only to convert SDR signals to HDR, and HDR to other delivery formats – it has diverse pipeline options that make DITs and production crews more agile. The pipelines include the tools and transforms needed to manage HDR workflows.
The AJA Color Pipeline, for instance, has real-time dynamic processing nodes with controls for colour space, video quality and dynamic range conversion – capabilities normally associated with software colour grading tools. These nodes are controlled by 3rd party tools like Pomfort Livegrade, Assimilate Live Looks or QTAKE Video Assist.
This pipeline includes two 3x3 matrices, four 1D LUTs and a 33pt 3D LUT, which is useful because 3D LUTs allow full volumetric non-linear colour adjustment, and a 33pt 3D LUT is a requirement for HDR workflows.
The Colorfront colour processing pipeline is another option, with built-in SDR, HLG and PQ transforms and a focus on maintaining perceptual integrity. The ColorBox HDR/WCG capabilities use the video and colour space processing algorithms within the Colorfront Engine.
4K HDR Live Grading and Monitoring
As it is still more cumbersome than HD SDR grading, Jamie finds that 4K HDR live grading is still developing and coming into its own. But it brings certain advantages to a production. "It does let you catch more issues ahead of time. In 4K, for instance, judging focus is much better.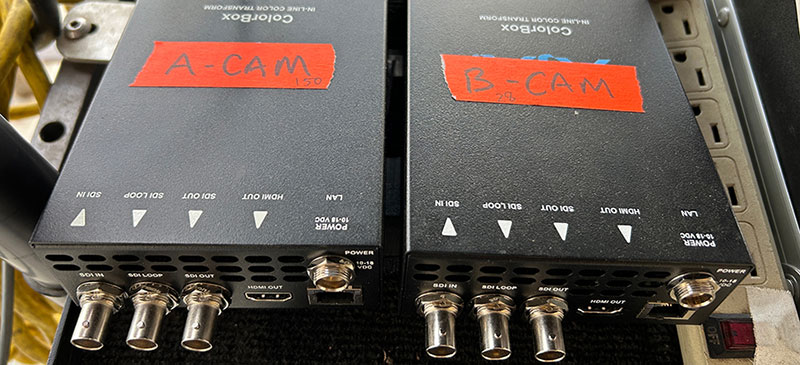 "With an HD monitor, you might see some peaking, but a 4K monitor allows you to get in close and see things you couldn't with a HD monitor. On my last shoot, a shot looked sharp in HD, but when I reviewed it on the 4K monitor, it wasn't. Costume patterns and textures also appear with less moiré in 4K because the pixels on-camera are recording with extra sharpness.
"Meanwhile, HDR can improve your exposure. If you're shooting inside a bar, the windows in SDR can look blown out, and as a DIT, that's the last thing you want. With HDR, the higher dynamic range and nit values would allow you to see more details outside, through the windows, and any necessary fixes are much simpler than with SDR."
Preserving Looks with Metadata
When Jamie is on a long-form project, live grading is only one aspect of his job. Adding a LUT may help to make the footage look more natural and be used to apply the project's basic look, but he might also be required to take the colour correction in a slightly different direction, meanwhile gathering and managing reference stills.
The ColorBox captures an accurate LOG image, even in 4K, that he can use to create references, live grade, and make camera and exposure adjustments. These references retain the original and live grade metadata, which can be sent to the post team who use the information to recreate the on-set colour correction in their finishing software. Between the stills and the metadata, the artists can quickly adjust images as the production continues.
Solid Beta
Earlier on when ColorBox was released in beta form, Jamie previewed it and worked with DITs to supply some feedback. "I knew it was solid," he said. "AJA did a very good job with the initial ColorBox build. It just works, allowing me to live grade 4K HDR signals, and also works with any HDR monitors I use.
"My DIT cart is usually DC-powered, and it's great to be able to power my ColorBoxes via my DC battery and make sure that they are both up and running at the start of the day. ColorBox also makes setup with Live Grade Pro straightforward – there are no surprises. It may sound simple, but when setting up your equipment, every roadblock can be frustrating, and I count on the ColorBoxes to just work. http://www.aja.com