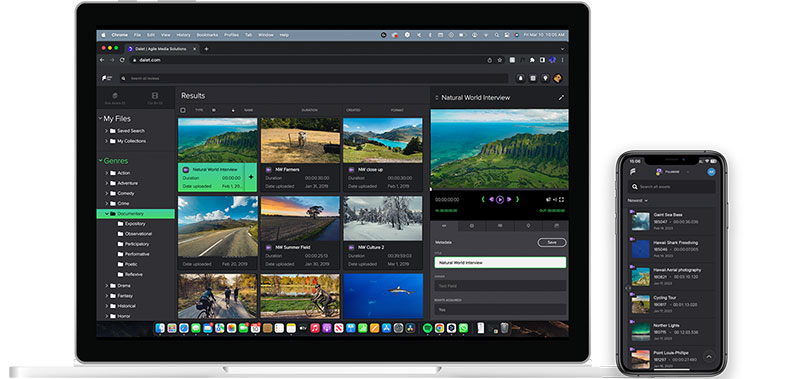 Dalet's new competitive upgrade program to the Dalet Flex cloud-native platform accelerates digital transformation for organizations that depend on volumes of media, but are held back by outdated, siloed processes, products and systems. Dalet Flex emphasises operational efficiency and resilience but, in contrast, when organisations are working within rigid systems that are limited in scope, it becomes harder to respond to new customer expectations, improve their product or take advantage of new techniques and developments.
The Dalet upgrade program works in a similar way to an existing installation upgrade except that instead of upgrading to the existing software, they are upgrading to something completely different – that is, Dalet Flex. Handling workflows from ingest to distribution, the Dalet Flex platform is supported by comprehensive professional services including cloud operations and security, all maintained on one subscription with worldwide 24/7 coverage.
Services, Incentives and Support
Primarily aimed at new customers, no premiums or extra payments are involved. Upgrade program participants have access to a package of migration and implementation services that help them efficiently and quickly move their data and workflows from their legacy system to the cloud-native Dalet Flex environment, with 360 support services.
Aware that any kind of platform migration is a challenge, financial incentives are available for transitioning from legacy solutions to Dalet Flex, beyond the resulting operational cost savings. These incentives include a discounted subscription for the first year, and free access to the Learning Hub training for one year to manage the change and speed up adoption. A complimentary media workflow consultation assesses a company's media workflow strengths and weaknesses, and draws up a blueprint for transition. For more information, please visit here.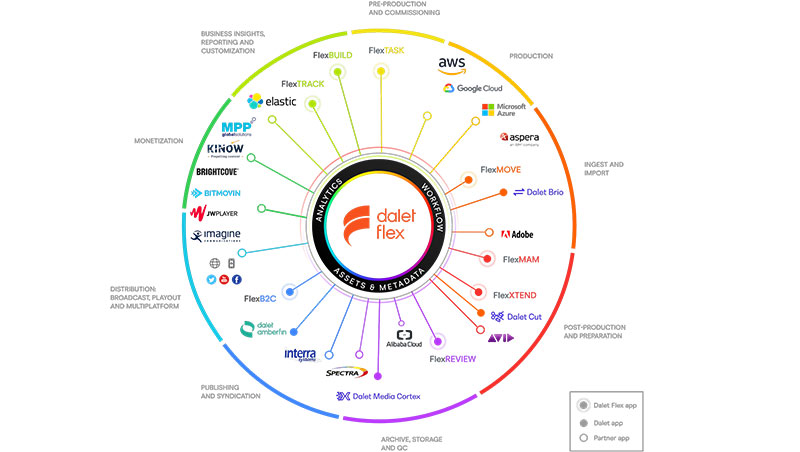 Dalet Flex consists of Dalet's own apps, Flex-specific apps and external apps.
Agility and Making the Leap
Dalet considers that lack of media workflow agility, efficiency and support have put organisations under pressure to evolve and adapt to new requirements, forcing them to spend time and money on dealing with existing technology issues. Dalet CEO Carl Farrel commented that traditional systems are unable to adapt, scale, connect or move quickly enough to respond to the current rate of change in the industry.
Dalet's connected approach scales and evolves alongside businesses, and their low-risk upgrade program includes the key elements required to make the leap to cloud-based operations. Engineers can spend more time working on value-generating products and services, and reduce costs by cutting back on time needed to manage complexity, ultimately becoming more resilient.
Legacy Workflows Revisited
Dalet has identified three main legacy workflows that M&E companies can update with Dalet Flex. To improve Archive Management, for example, users can migrate on-premises archives to the cloud to increase accessibility and lower costs, and use Flex to manage archives with media asset management that includes metadata capabilities and tools to help find and retrieve content. Archives can be connected to all other operations and improve efficiency across the media's lifecycle.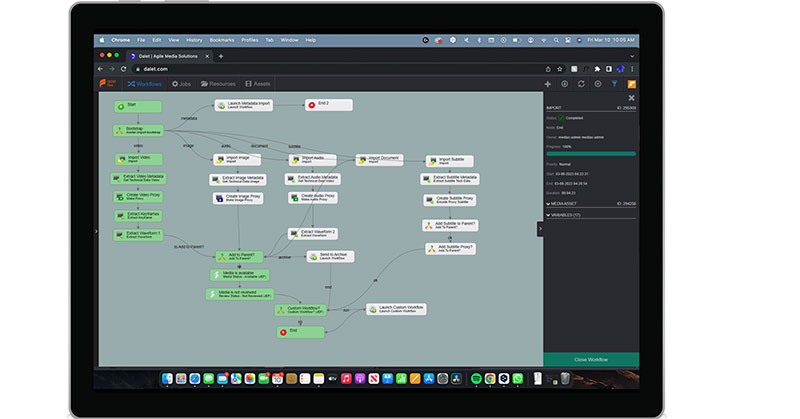 Connecting workflows
Setting up Production Asset Management with Dalet Flex allows managing and tracking assets and projects through their lifecycle from acquisition to editorial to distribution. It's also possible to connect editors' NLE to other workflows, accessing the organisation's entire library and driving the media supply chain. Taking advantage of management workflow automation is another way to improve efficiency and increase revenue potential.
Integrated Editing through Dalet Flex means editors can access, prepare, create and distribute content faster with a browser-based editor fully integrated into the rest of the system. This editor connects to the team's usual NLE for the final edit and post production. By handing-off the edit directly to Adobe Premiere Pro with the Dalet Xtend panel, users can reach the media library from the edit suite, connecting the editorial workflow directly to the media supply chain.
The Dalet competitive upgrade program is for organisations that want to migrate away from expensive legacy equipment and shift to a modern, cloud-native platform that can improve operations with collaboration, security and business intelligence. Dalet's consultative approach optimises configuration and workflows, with implementation services – training, migration and so on – as described above, onboarding options and 24/7 multi-tiered support. www.dalet.com