Nomad Scales Up Asset Archive and Retrieval with CatDV
Operating since 1995, Nomad Editing is a creative editorial company with integrated CG, visual effects, graphics and sound design for commercials, Internet advertising and feature films. The company's artists now work from offices in New York and London as well as its main studio in Santa Monica.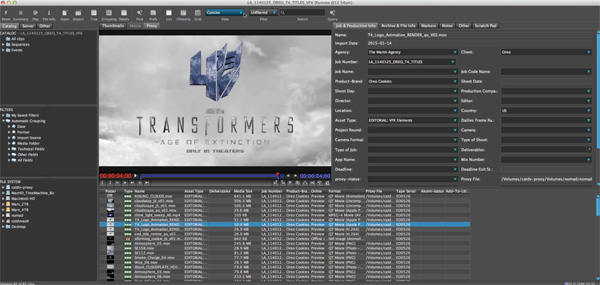 The technical producer at Nomad Editing, Matthew Poletto, said that maintaining an accessible library of functioning assets is central to the way they work with advertising agencies and their clients. "The creative teams we collaborate with constantly want to review and possibly reuse old materials, as well as view work-in-progress. Using CatDV software with Akomi, we keep control over a massive archive of advertising assets and run a MAM service across a large number local, national and international locations and across different time zones," he said.
Keeping Up with Nomad
"Advertising clients tend to reference previous projects and rushes regularly, for different creative and practical reasons. Back when the company first started, the pace of work was slower and the need to find assets was less pressing. Finding materials on videotapes, hard-drives and consolidated onto DVDs, by referring to data in a spreadsheet, was slow but possible. As Nomad grew we invested in an LTO-tape machine for archiving and, for a while, that also worked fairly well for asset retrieval because we could access file names and restore in a reasonable amount of time."
However, the situation changed as Nomad began to grow, add clients and open the new studios in New York and London. The size of original RAW media it was starting to handle, mainly from new digital cinematography cameras, began to increase as well. "At the same time, day to day use of the Internet and mobile telephone communications accustomed clients to faster responses to their requests – they expected to see their media much more quickly," he said. "Our existing LTO-tape system was overwhelmed and finding media at times required guessing, which can leave a poor impression on clients."

Nomad started to consider investing in an intelligent media asset system that was scalable and could carry out various management tasks apart from retrieval.
Scaling Up
Matthew was introduced to CatDV in 2011 by software developer North Shore Automation and LA reseller Key Code Media. He said, "Compared to other MAM systems, the cost of CatDV was relatively low. The alternatives were either prohibitively expensive or technically over-engineered, or both. We also liked the options the software gave us to integrate CatDV with other vendors' products – such as the LTO-tape archiving system from StorageDNA and North Shore Automation's Akomi, a client-facing asset and sharing system made for CatDV. As well, we could see a clear, affordable path to scale up into a larger enterprise system in the future."
Nomad started out with several licenses of CatDV 7, which is a CatDV Server plus Worker Node running on Mac, integrated to its existing LTO-tape archiving. "This installation changed our media asset management immediately," he said. "In the first year, we archived and made available over two million assets via CatDV."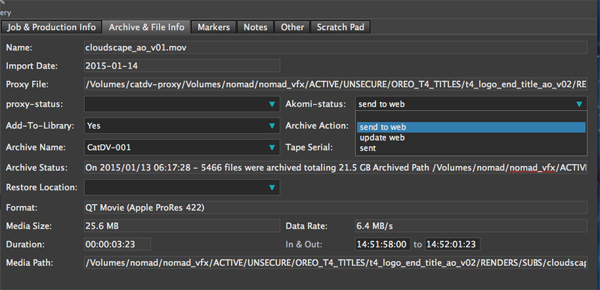 However, because the business was already generating approximately 10TB of assets per month at the LA office alone, the system soon needed to be scaled up. Furthermore, in the meantime Nomad had started sharing projects between its three studios more frequently, and began to consider ways the MAM could support international collaboration, while maintaining security.
Reverse Archive Workflow
"For a small company we generate very large quantities of media," Matthew said. "Along with high-resolution RAW camera rushes, plus 4K DPX, CG and VFX files, we create many different versions and lengths of each commercial, and specific deliverables for different distribution platforms. While all of this media needs to be archived safely to LTO, only a certain proportion needs to be instantly searchable – mainly low-res proxies of the rushes, work-in-progress and final commercials.
"Therefore, CatDV's ability to integrate with other systems became an advantage. In this way, Square Box, North Shore and Storage DNA looked at our present and future requirements, worked together and developed a 'reverse archive' workflow."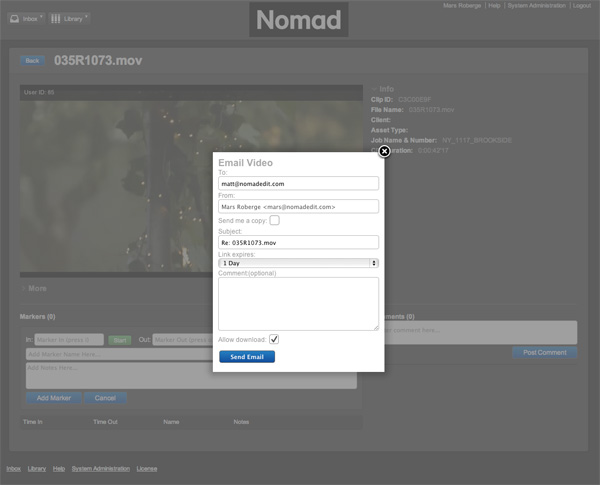 This name arose because, in most media management workflows, assets in the MAM system are sent to archive after a project is complete. However, to handle the volume at Nomad more efficiently, their assets for a project are archived to DNA Evolution first and, through middleware developed by North Shore, only the required media – proxies of rushes and completed jobs – plus associated metadata, are parsed or restructured to CatDV.
"By allowing intelligent communication between CatDV and DNA Evolution, and by enabling DNA Evolution to tell CatDV what has been archived, we have reversed the archiving workflow," said Matthew. "None of the interaction is manual, it's all automated so that whatever is published into CatDV is simultaneously published and secured in Akomi and becomes instantly available for client review from any location. In this workflow, all the different parts of the workflow– Akomi, CatDV and the LTO archive - communicate together, and the user still controls the assets at any stage.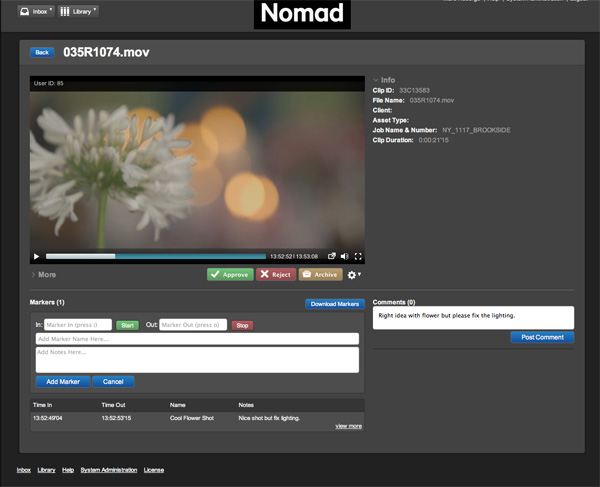 Asset Search and Review
Regarding archive restore, because assets are bundled together into catalogues during archiving, when clips are viewed in CatDV, the location of the DPX and VFX files in the LTO archive is evident. With the SAS-to-fibre connection for moving data, they can achieve a transfer speed of 600Mb/s from LTO into CatDV, and assets can be retrieved quickly.
Using CatDV with the Akomi interface has proven appealing to Nomad's agency clients. Less technical users can search for footage, create in and out markers on clips, write descriptions, print screengrabs, create playlists and share all of those items with several recipients at once. The processing power is delivered through CatDV Worker Node. To reassure clients concerned with security, review tasks like these are done on a private, in-house system rather than the cloud.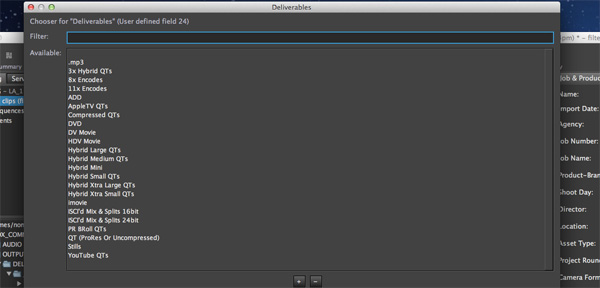 The collaboration between the three different offices is handled with folders in Akomi – work completed in Los Angeles can be dropped into an Akomi folder and published to several recipients for viewing and annotation using CatDV Worker Node.

"The traditional procedure of uploading work-in-progress to the cloud has been slow for us, and possibly insecure," said Matthew. "With CatDV and Akomi, the most up to date versions of assets are published in a few seconds and all members of a team have a chance to remain current. In particular we like the new integration of Advanced CatDV Panels with Adobe Premiere. This means that, from within Premiere, an editor can search and pull any media in from the CatDV MAM - it is convenient, neat functionality for client-attend sessions as well." www.squarebox.com