Pomfort SealVerify Manages Media Checksum and Seal Verification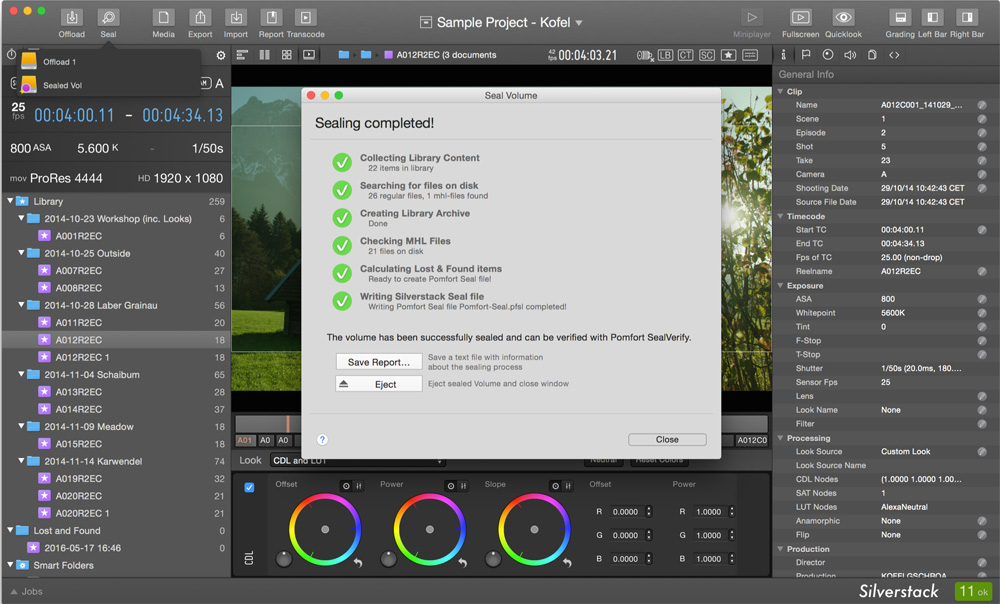 Pomfort SealVerify is free checksum and seal verification software for Windows and Mac that production teams can use to secure the completeness and consistency of copied media data at any time or location, in one step. Its verification processes are based on the commonly used MHL checksum standard, and have been tuned especially for the copy workflows initialized by Pomfort's data management software Silverstack 5.2.

According to Pomfort, making copies without verification can lead to inaccuracies when transferring data between different production units, and checksum-verification is about the only way to ensure the copy process on the film set. When sealing single folders or entire travel drives with the new Silverstack seal function in version 5.2, you can use SealVerify to check and verify the completeness and consistency of copied material at any stage – from set to post.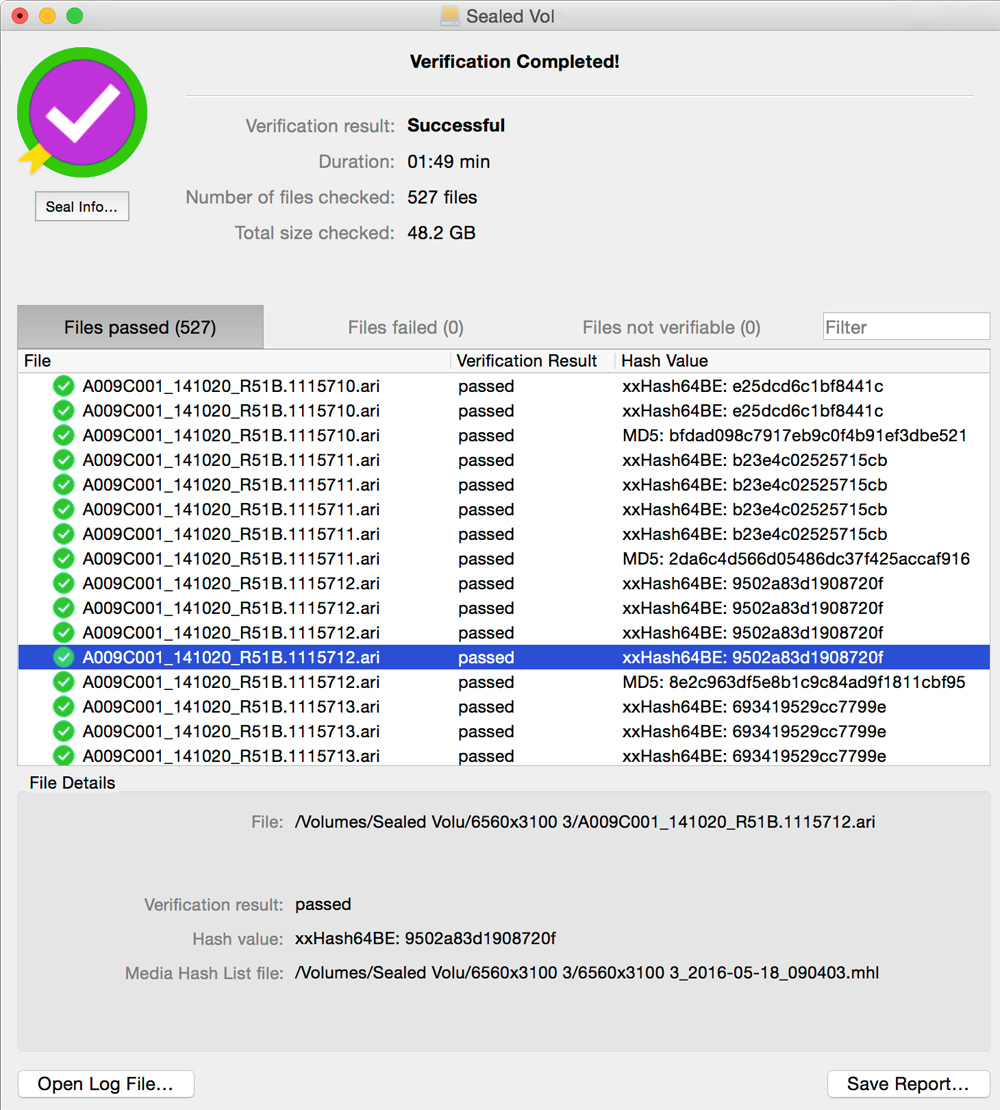 Verification can proceed independently of the number of copy generations and without access to the original source material. It shows details on the condition of the data immediately with clear approval signs after each copy step, to help make decisions about which copies and backups of media assets might be required. An option is included to create verification reports.

Pomfort SealVerify comes as a free, downloadable GUI application for Windows and OS X, based on open source software.

Silverstack 5.2 handles on-set data management functions. The Silverstack XT extension adds to the basic tools with extra formats, distributed workflows and specific post tools. Apart from travel drive sealing, verifiable with SealVerify, Silverstack XT now integrates with Divergent Media's ScopeBox clip analysis application, which has software emulations of the essential video scopes like waveform and vectorscope, plus some new ways to visualize the signal. Through this integration, ScopeBox can be used to measure and analyse the clip assets in the Silverstack XT library, checking media for clipping or giving feedback on colour manipulations.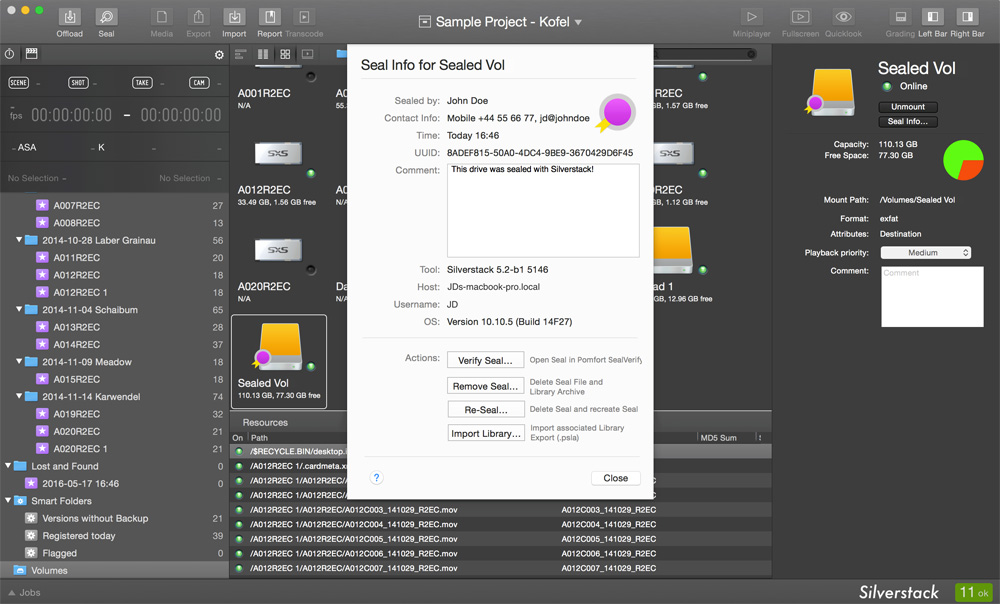 New colour grading functions in Silverstack manipulate looks interactively with typical grade controls. You can create an individual grade for each clip and build up a Look Library to manage looks for a whole project. For dailies, you can now customize transfers of clips to DaVinci Resolve, Assimilate Scratch or AVID Media Composer, including ASC-CDL colour metadata. Look support for transcodes also allows you to make colour metadata a part of exports.

HD-SDI data can be monitored with 10-bit colour depth using a new miniplayer that creates a local visualization of the current output, while you browse the Clip Library and organize media. The Easy Ingest tool registers files in the library without copying, showing you various overlay frame lines indicating the aspect ratio to be used in the final product. pomfort.com
Intel Puts Your Eyes On The Harbour With A Vivid Sydney World First
- Festivalgoers Become Part of the Artwork with Intel Technology
- Intel-sponsored smartphone charging ports at Martin Place and Darling Harbour
Marking its sixth consecutive year as a Vivid Sydney partner, Intel raises the bar once again with Eyes on the Harbour. The world-first installation at Darling Harbour uses Intel's RealSense™ technology to capture the faces of visitors in 3D and project them onto a 25-metre high water screen. Participants will also receive a link to a short movie of their face projected onto the water theatre which can be shared on social media as a memento of their Intel experience at Vivid Sydney.

Eyes on the Harbour will be part of another Vivid Sydney world first, the Laser-Dragon Water-Theatre which features a 13-metre robotic arm, dragon, fountains, powerful lasers and fire-jets to entertain and wow guests. The Laser-Dragon Water-Theatre show will play every half-hour, and in the interim, visitors will be the star of Darling Harbour with Eyes on the Harbour.

Intel Australia National Marketing Director Anna Torres, said she looks forward to the public getting hands-on with the technology that powers Vivid Sydney.

"Intel has elevated its offering to the public year-on-year, bringing festivalgoers mesmerising experiences with art and technology that push the limits of imagination. With our Eyes on the Harbour installation, we're making previously unimagined experiences a reality."

Intel's revolutionary RealSense™ technology will feature throughout this year's program, engaging users in interactive experiences by bringing human senses to smart devices. The ground-breaking technology allows more natural, intuitive and immersive interactions with devices, including gesture control, 3D mapping, augmented reality and immersive chat.

Intel-sponsored screens fitted with free smartphone charging ports and RealSense ™ technology will be installed in Martin Place and Darling Harbour for the public to access during the festival.

In a Vivid Sydney first, the free charging ports will be available at both locations and are sure to be incredibly popular. With the millions of smartphone images and social media updates that flood the internet during the festival, these ports will ensure visitors can capture the spectacular projections and installations on their devices at all times.

Both screens by JCDecaux will be fitted with RealSense ™, allowing the public to experience the technology on a first-hand basis. Visitors can immerse themselves in a range of interactive and colourful worlds and backdrops, putting them inside various Vivid scenes. The screens are live from 31 May – 13 June, from 6pm-11pm each night.

"Intel is excited to partner with Vivid Sydney once again and it's always a highlight to see the public interact enthusiastically with technology and art each year. We have a number of exciting announcements to make in the coming weeks and think this year's festival is going to be the brightest yet," said Torres.

"A number of the Vivid Sydney Lightwalk artists will use our technology to create artistic and technological masterpieces, which will then come to life through the public's engagement. With Intel inside, truly amazing experiences happen outside," she said.

Now in its sixth consecutive year as a Vivid Sydney partner, Intel's footprint will spread across other Vivid Sydney activities, with more announcements to come about their interactive activities during Vivid Sydney.

For more information visit www.vividsydney.com

Hi-res images are available here.

MEDIA CONTACTS
Taylor Campbell, Avviso
M: 0419 526 008
E: This email address is being protected from spambots. You need JavaScript enabled to view it.

ABOUT INTEL
Intel (NASDAQ: INTC) expands the boundaries of technology to make the most amazing experiences possible. Information about Intel and the work of its more than 100,000 can be found at newsroom.intel.com and intel.com.

INTEL AT VIVID SYDNEY
In its sixth consecutive year as Vivid Sydney partner, Intel technology will once again power some of the most exciting and innovative installations at Vivid Sydney. Intel is renowned for its previous Vivid Sydney activations such as collaborations with international superstars like will.i.am and local light artists, including 32 Hundred Lighting and Spinifex. www.vividsydney.com/intel.

VIVID SYDNEY
Vivid Sydney is the world's largest festival of light, music and ideas, which for 23 days - from 27 May to 18 June 2016 - transforms the Harbour City with its colourful creative canvas. Now in its eighth year, and owned and managed by Destination NSW, the NSW Government's tourism and major events agency, Vivid Sydney features large scale light installations and projections (Vivid Light); music performances and collaborations (Vivid Music including Vivid LIVE at the Sydney Opera House); and creative ideas, discussion and debate (Vivid Ideas), all celebrating Sydney as the creative hub of the Asia-Pacific. For more information visit www.vividsydney.com.