Avid NEXIS Software-Defined Storage Boosts Density & Availability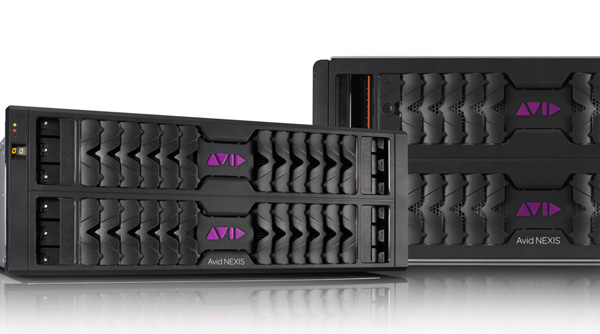 Avid NEXIS software-defined storage platform, specifically designed for storing and managing media, is powered through the Avid MediaCentral Platform to achieve dynamic virtualization, adaptive protection, and collaboration focused on media. NEXIS has now been extended to include new high-density and high-availability systems, Avid NEXIS | E5 and Avid NEXIS High Availability.
Avid NEXIS | E5 is an enterprise-class, hyper-dense storage engine made for real-time editorial collaboration, with an emphasis on scalability, performance and client connections for large-scale broadcast and post-production environments. Avid NEXIS | E5 has 40GbE connectivity and 80–480 TB of storage capacity per engine, and is scalable up to 1.4PB of capacity and 9.6GBps of bandwidth, supporting more than 2,000 Avid DNxHR HD streams or 500 Avid DNxHR 4K streams across over 300 connected clients, occupying only 17U of rackspace.

Avid NEXIS High Availability options increase the reliability and performance of Avid NEXIS E-class storage systems for deployments that are more critical. The Avid NEXIS Redundant Storage Controller, Redundant System Director and Redundant Networking options protect against potential hardware performance issues, and the Media Mirroring option protects an entire Avid NEXIS system against up to five simultaneous disk failures, and even an entire engine failure.
Because of the open nature of the Avid MediaCentral Platform architecture, Avid NEXIS products work with the major media creation applications, including Media Composer, Pro Tools, Apple Final Cut Pro X, Adobe Premiere Pro CC, Grass Valley EDIUS, and many more. Production teams can access a shared pool of virtualized storage resources, which helps to increase their efficiency.
The main advantage recognised in the virtualisation of storage is that users can adjust storage capacity mid-project at any stage in the workflow, on a per-project basis, without disrupting workflows. Responsive tuning allows teams to react quickly to changes, adjusting performance and protection levels to match the needs of a project. Customers can choose familiar components that meet their current requirements, and scale up or down dynamically as their needs change. Furthermore, users can make sure that their organisations' higher-priority workflows have the capacity, performance and data protection levels they need, while throttling back on less critical workflows.
Avid NEXIS | E5, the Redundant Storage Controller option and the Redundant System Director option are available now; the Redundant Networking and Media Mirroring options will be available by the end of 2016. www.avid.com