Quantum's StorNext 5.4 Pushes Workflow Storage to the Cloud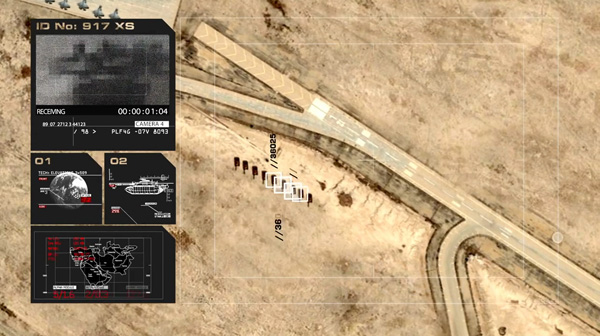 StorNext 5.4, workflow storage for media content management has the ability to integrate existing public cloud storage accounts and 3rd party private cloud object storage - starting with Amazon Web Services, Microsoft Azure, Google Cloud, NetApp StorageGRID, IBM Cleversafe and Scality RING — as archive tiers in a StorNext-managed media environment. Users can also deploy applications embedded within Xcellis workflow storage appliances, also powered by StorNext.

New functionality in StorNext Storage Manager supports automated, policy-based movement of content into and out of users' existing public and private clouds while maintaining its normal visibility and access. As a result, customers can protect existing investments and are better able to reduce the cost and complexity of cloud storage administration.
The combined public and private clouds within a StorNext-managed environment can involve primary disk and tape storage tiers. Users and applications can access media stored in the cloud without the need for extra hardware or software. Versioning may extend across sites and the cloud. Integrated cloud transfer acceleration is available, plus third-party WAN acceleration tools and high-speed connectivity for high-volume data transfers.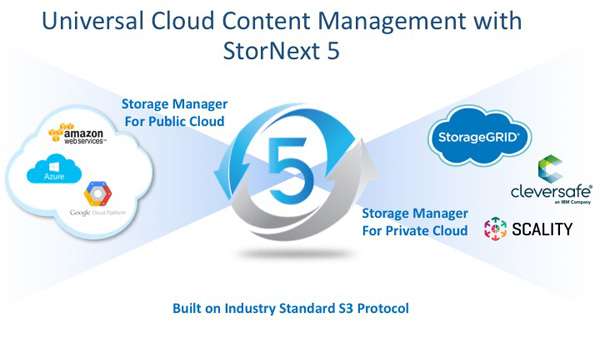 By allowing applications to run inside the Xcellis Workflow Director, Quantum's new Dynamic Application Environment capability in StorNext 5.4, users can take advantage of a converged storage architecture to reduce the time, cost and complexity of deploying and maintaining applications. The DAE supports embedded applications in self-contained virtual machines with a hypervisor dynamically allocating resources as needed to cover storage and application performance.
This approach to application deployment makes dedicated servers and networking resources unnecessary, keeps applications close to content storage and helps users get more from their compute resources. Supporting Windows and Linux VMs, the DAE adds application flexibility and compatibility to a storage environment. Ten media companies so far have certified their applications for deployment on Xcellis or are in the process of doing so - Aspera, CatDV, Cantemo, Elements, Evolphin, FocalPoint Server, GLOOKAST, IPV, Metus and Telestream.
StorNext 5.4 launches new connectivity options for Xcellis workflow storage - quad 16Gb Fibre Channel and dual 40Gb Ethernet - as well as new NAS capabilities such as Network File System v4.0. It is possible to use a broader range of flash-based metadata controllers, including lower-price options for smaller deployments with high-performance requirements.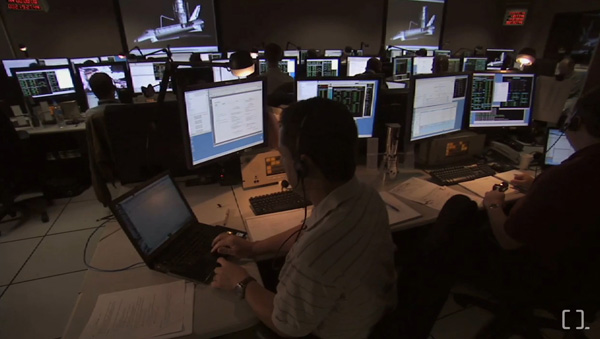 Better monitoring and reporting display status information on the entire tiered-storage environment in real-time. The software's over-the-air upgrades are also now automated.

Quantum has refined its StorNext Connect management tools for StorNext 5.4 with an app-based framework that eases the independent installation, operation and updating of individual components while they are online. An improved Installation App simplifies the initial installation and configuration of Xcellis systems, presenting step-by-step walk-throughs and visual guides that match the new configuration options in StorNext 5.4 and on Xcellis. A new NAS App simplifies and consolidates management of NAS functionality and a Discovery App and a total environment Capacity Reporter App are also being developed.
StorNext 5.4 is currently shipping with all new Xcellis, StorNext M-Series and StorNext Pro systems, as well as Artico archive appliances. It is available at no additional cost for StorNext 5 users under current support contracts. www.quantum.com