Spectra Logic Updates Avid Integrations for Deep Archiving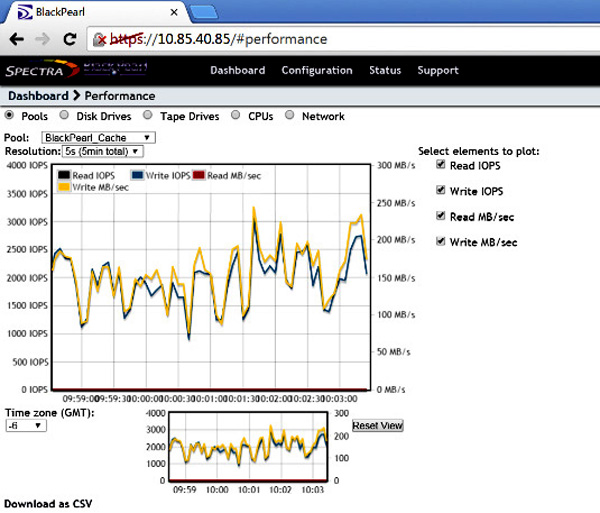 Over the last year, Spectra Logic and Avid have developed a number of direct integrations between Avid asset management software and shared storage, and Spectra's archive storage. These integrations make possible for Avid users to transfer, log and restore high resolution or older files to and from deep storage, using ordinary GUIs and simple workflows. These workflows have recently been updated.
Spectra Deep Storage Browser
Spectra Logic's Deep Storage Browser is a free, open-source Spectra BlackPearl client for Avid users who want to archive assets not managed by Avid | Interplay. Such assets might include source files like 4K or 8K raw content, still images and any other files Avid | Interplay applications cannot work with.
BlackPearl archives assets on affordable, scalable deep storage, writing data to deep storage disk, tape or cloud using the open standard filesystem LTFS. It integrates archives directly into workflows and is based on a hybrid cloud architecture, object storage and LTFS, and will scale at a flat to decreasing cost. Users can access shared content without application dependencies.
It has a graphical interface devoted to the management and transfer of files between Avid shared storage, or any network share, and BlackPearl. This interface is similar to an FTP client for simple, manual archive workflows, with tools to search, select, group, archive and restore by dragging and dropping files between their network shares and BlackPearl.
Now, files can be archived from local or network storage. You can access files archived by any application to BlackPearl, record file transfers with a logging function, and search for files by name on BlackPearl. When restoring, files can be restored to their original or a new location. The Deep Storage Browser is free at developer.spectralogic.com, and runs on Windows, Mac and Linux.
Avid Interplay | PAM Client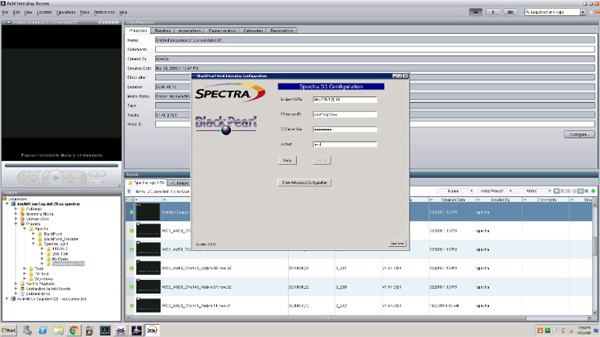 Avid Interplay Production Asset Management (PAM) users can deploy a tier of deep storage tape to their environment through a plug-and-play client certified by both Avid and Spectra. Spectra's BlackPearl directly integrates with Avid Interplay PAM via a plugin installed on the Avid system. Users directly store, search, preview and restore directly within the Interplay Access application. Partial file restore is also fully supported. Interplay's Archive Engine and Provider together act as the transport engine, deleting or moving files between BlackPearl and Avid Shared Storage.
New updates include support for multiple buckets and targets, and for HTTPS communication. Users can organize assets into groups, on a single tape if required. You may also capture Avid asset IDs and asset names in object metadata within BlackPearl.
New Interplay | MAM Integration
As well as its integration with Interplay | PAM, BlackPearl is now directly integrated with Interplay | MAM - again, eleiminating need for middleware and creating a shared archive in the Avid environment. BlackPearl can be used to quickly find assets and speed up media operations when using Interplay | MAM, Avid's scalable, customizable media asset manager for broadcast, news and post. Interplay | MAM manages the content lifecycle, and is used to browse and retrieve media across multiple tiers of storage for reuse or repurposing. It is built with a service-oriented architecture to help integrate it into existing infrastructures - functionality in the existing applications becomes available as reusable services.
Used together, Avid Interplay | MAM and BlackPearl are an end-to-end workflow for media operations, able to manage the lifecycle of content in production, post and broadcast facilities to archive, manage and restore volumes of media content across multiple storage tiers. The combined system supports direct search, for full or partial recall of assets and allows users to archive and restore files as well as partial or full sequenced video files. In other words it carries abilities from both products, and is customizable, scalable and uses open standards to preserve future readability.
A tutorial showing how to import, archive, delete and restore within the Avid Interplay | MAM and BlackPearl system can be found here. www.spectralogic.com