Mosaic Church Launches 4K Workflow with Sony, Facilis and Telestream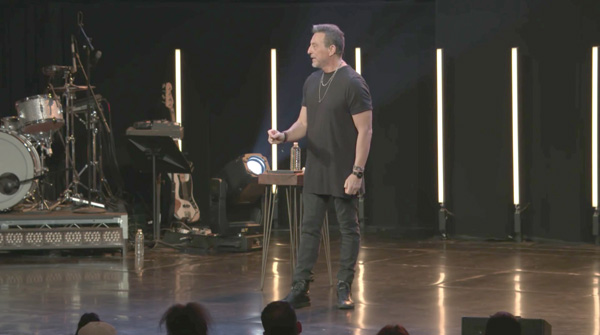 Mosaic church in Southern California and is one of the first houses of worship in the US to adopt a native 4K file-based video workflow for live media content creation. Over 3,000 people attend the church regularly, but to expand the reach of its message further through media outlets such as YouTube, social media and podcasts, Mosaic has built a broadcast facility in central Hollywood equipped for 4K production. "Our goal is to shoot and produce video with the highest image quality we can afford in order to preserve digital media distribution options into the future," said Adam Genzink, the broadcast director at Mosaic.
Among other core components, the move required a robust storage system capable of handling multiple streams of 4K video simultaneously. Mosaic purchased a Facilis TerraBlock 24D shared system with 192 TB of storage and 16GB of Fibre Channel networking capacity from Cutting Edge Audio and Video Group.
Live High-resolution Production
Although Adam has experience in content creation, he is unfamiliar with post production and finds their 4K workflow quite complex. Therefore, as the church's systems integrator, Cutting Edge has continued to help the church manage its high resolution production.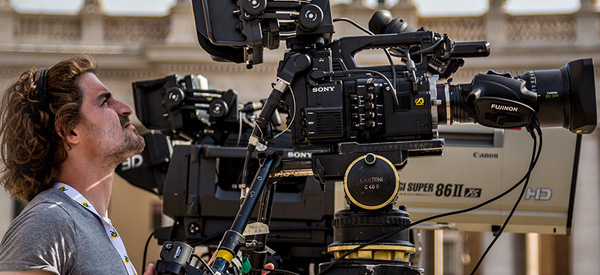 On the capture side, its 4K workflow is based on four Sony Cinealta 4K/HD live production cameras that are used to record the theatrical style of Mosaic's weekend worship services, which attracts the church's largest audiences. The staging includes dramatic lighting, singers, band performances, big-screen graphical displays and a dynamic sermon.
Two Sony PWS-4500 4-channel multiport AV storage devices record the four, isolated raw 4K camera feeds (ISOs), and this acquisition video then is transferred directly to the TerraBlock. The TerraBlock also receives two other 4K video streams - the composite program output and the clean feed - from a Sony MVS-8000X 4K production switcher used during the worship service.
"The TerraBlock is unusual in that it supports both Ethernet and Fibre Channel network connections, making it very versatile from a systems integration standpoint. This high-performance network connectivity makes TerraBlock well suited to handling the multiple, massive data streams associated with 4K video in real-time," said Sig Knapstad, co-founder at Cutting Edge.
Third-party Integrations – Servers, Processing, Editing
TerraBlock is built with a shared file system, data management tools and the capacity to handle processing-intensive tasks such as colour grading and graphical overlays. It also delivers video, audio and data over Fibre Channel and 1, 10, 40 Gigabit/sec Ethernet connections through a custom protocol that largely avoids the overhead processing and latency delays that typically interfere with network storage systems.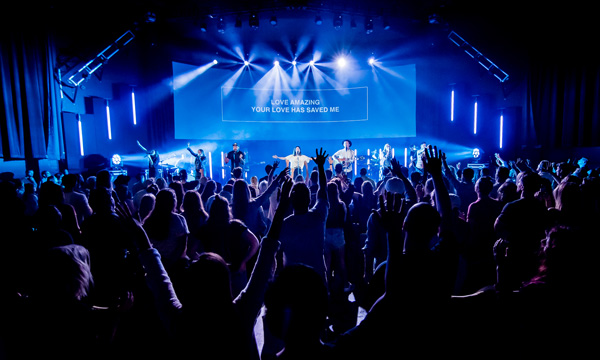 Consequently, apart from the Sony hardware, Facilis TerraBlock also interfaces directly with some other third-party systems in use at Mosaic. One is a Levels Beyond Reach Engine server for media asset management, now being installed. Another is the Vantage Transcode Pro Connect media-processing platform from Telestream. Any media deposited on the TerraBlock automatically drops into a transcoding watch folder.
Vantage automatically picks up files from the watch folder and creates whatever file versions and formats are needed later in the workflow. For example, it generates H.264 low-res proxies for editing and the file formats needed by the Levels Beyond asset management server. Telestream's Vantage Lightspeed servers use GPU-accelerated processing to increase the productivity of the Vantage workflow.
"Both 4K raw files and their respective low-res proxies can reside on the TerraBlock. This gives the editors the option to work with full-res files, low-res proxies or both, because they're editing in Adobe Premiere Pro CC," said Adam. "Premiere has a new workflow making it possible to toggle between raw acquisition footage and low-res proxies on the editing timeline. But anytime they render files out, that footage is always rendered from the raw high-res acquisition media."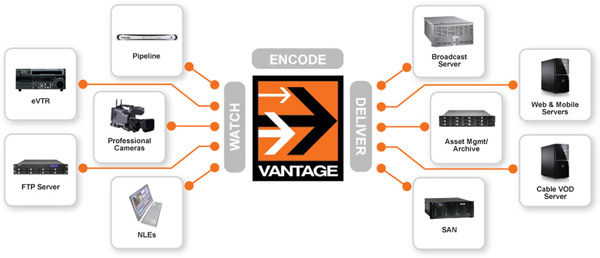 Cloud Alternatives and Automation
In time, Adam said that their infrastructure might be improved with a tighter interface between Adobe Premiere and the Vantage Transcode Pro in order to support more automation. For example, Mosaic's Vantage workflow might eventually include the transcoding of files for digital distribution, which are currently handled manually on the local workstation. Mosaic is evaluating the possibility of distributing to other new platforms as well, such as Roku, Apple TV and Chromecast, in the future.
"While TerraBlock and Premiere are already capable of supporting editing in full 4K resolution now, it's having choices like these that actually made it important for us to shift to a 4K video workflow based on a solid shared storage system," he said.
Mosaic also has plans to scale their storage capacity to include the use of cloud storage for long-term media archives. This means the TerraBlock could then be devoted to only short-term storage of about six to eight weeks' worth of data locally. Media files will move to the cloud when they are no longer needed in online storage. facilis.com