LaCie 2big Dock Thunderbolt 3 Delivers on Speed & Connectivity for Video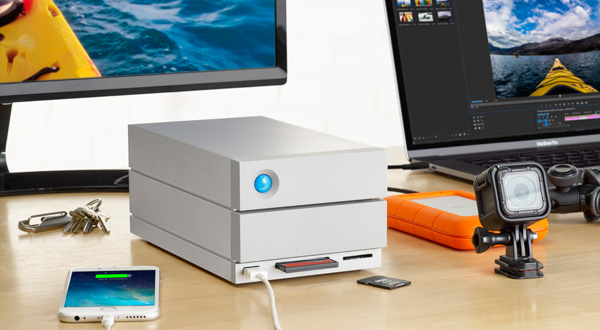 The LaCie 2big 2-bay RAID storage now has Thunderbolt 3 connectivity, increasing transfer speeds and capacity. Especially useful to photographers and videographers, it also works as a docking station with ports connecting it to other devices that laptops may not be equipped with. Through one cable, the 2big Dock can directly connect to a laptop, SD Cards, Compact Flash Cards and other devices, centralising the workflow.
Capacities range from 12TB to 20TB of storage, large enough for up to 650 hours of compressed 4K 30fps footage or 200,000 raw images. With speeds of up to 440MB/s, users can transfer one hour of 4K footage in one minute depending on your RAID specifications. It also reduces lag time when browsing photo libraries in Adobe Lightroom. By working with compressed 4K or HD footage, videographers can edit footage from the dock in Adobe Premiere Pro.
Front-facing SD and CF Card slots allow direct ingest files off memory cards from a drone, DSLR, GoPro and other devices into Adobe Lightroom or Premiere Pro. The USB 3.0 hub charges a phone or connects a shuttle drive or digital camera to offload footage or files. Via DisplayPort, users can connect the LaCie 2big Dock to high-resolution 720p to 1080p or 4K displays.
Dual Thunderbolt 3 ports can power a compatible laptop while simultaneously daisy-chaining up to five extra Thunderbolt or one USB-C drive. USB 3.1 port is universally compatible with USB-C and USB 3.0 computers via the included adapter cable. Thunderbolt 2 compatibility is also possible with an optional adapter.
Its power management and reliability qualities are based on Seagate IronWolf Pro drives and RAID optimization. For cooling, it is built in an aluminum enclosure and thermoregulated fan. It has an a LaCie RAID Manager that monitors system health with audible alarm and email alerts.
The new LaCie 2big Dock will be available in 12TB, 16TB or 20TB capacities through LaCie by mid-2017 and is being shown at the 2017 NAB Show in Las Vegas. www.lacie.com