EditShare's New Single-Node XStream EFS Delivers Scale-out Migration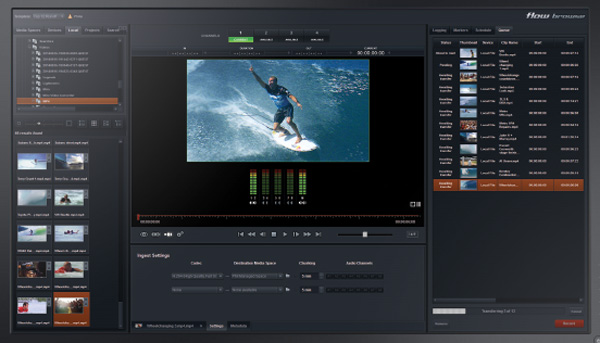 EditShare launched new XStream EFS 200 and XStream EFS 300 storage equipment at NAB. Like other XStream EFS products, these new products are based on the EditShare File System with dynamic performance and a high level of fault tolerance with software for administrative tasks and a straightforward upgrade path.
The new EFS 200 and EFS 300 have the option to start with a simple, scalable single node combined with the Flow Media Asset Management and Ark Media Archive applications. This combination of workflow support, customised capacity and scale-out functionality suits small or emerging media operations and can become a longer-term enterprise grade shared storage platform later on.
The Flow production management software adds an intelligence layer to XStream EFS shared storage, which includes content indexing, search and automation. The open platform also integrates various third-party products such as quality control and file transfer systems, connecting production and post processes.
Ark backs up and archives media and projects incrementally from XStream shared storage. Designed for EditShare's LTO-6 tape libraries or qualified third-party LTO tape libraries, Ark creates tape pools used to copy or migrate media and related files from online to offline storage, verify backed up data and deliver notifications when transfers are complete.
The XStream EFS storage platform is a distributed, scale-out file system combined with a resilient architecture, specifically developed for media-intensive workflows. It supports large-scale workgroups requiring high-bandwidth, high-volume media ingest, transcoding, online collaborative editing and multiplatform distribution of HD, 2K, 4K and beyond.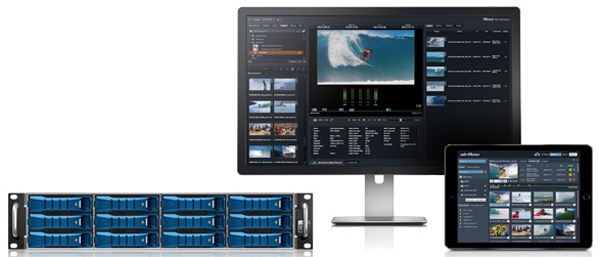 In fact, whether a one-node or multi-node system, any of the XStream EFS models can be expanded to increase capacity and bandwidth. For ease of use and administration, the EFS systems display a single namespace, regardless of the system size. The performance of XStream EFS does not decrease as storage use increases, which differentiates it from typical SAN storage systems. Ongoing performance and reliability are backed by a RAID 6 configuration.

The XStream EFS 200 is a single-node configuration with 12 enterprise-grade HDDs with raw storage capacities of 24, 48, 64, 96 or 128 TB in a 2U form factor. Client workstations connect via a fast, multi-threaded client to achieve a performance over legacy SMB and AFP network protocols. As well as media management capabilities such as project sharing, the XStream EFS 200 ships with five Flow production asset management licenses and an Ark archiving application.

For greater capacity and lower cost per usable TB than is available with XStream EFS 200, EFS 300 has 16 drives with 28, 56, 84, 112 or 140 TB of capacity in a 3U chassis. EFS 300 also has more processor power increasing bandwidth capability and stream counts. Like the EFS 200 series, it raises performance compared to legacy SMB and AFP network protocols and includes project sharing and other management capabilities. EFS 300 ships with 10 Flow production asset management licenses and an Ark archiving application. www.editshare.com