Telelatino Network Keeps Media Moving on Facilis TerraBlock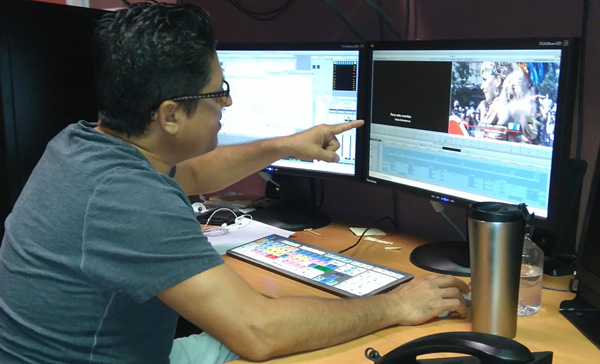 Telelatino Network in Toronto initially launched in 1984 as an Italian and Spanish language channel and since then has expanded to become a general interest service that broadcasts domestic and international programming to cover drama, variety, lifestyle, news and sports interests. TLN now has an English language stream of culturally connected programming, and also develops and produces original TV and digital media productions that it distributes in Canada on its own TV channels, and worldwide on online platforms and to third parties.
TLN's channels include six Spanish language TV channels, three Italian language channels and an English language sports channel. The production team creates shows, promos and some commercials in-house within a large studio and control room. The post-production department is based on Avid Media Composer editing suites connected to Facilis TerraBlock shared storage.
"We've had the Facilis systems for over 10 years. Before that, our Avid systems were all using standalone storage, so sharing projects and media involved spending time copying and physically moving disks," said Gherman Trushin, Chief Engineer at the Telelatino Network. "Our very first TerraBlock system was only 4TB, but that was when we were still producing in SD and working at offline resolutions, so it worked well for us for some time."

When TLN switched to HD six years ago, they purchased another TerraBlock once the editors began consuming the available space much more rapidly and they knew they would need more capacity. Two years ago, they purchased an extra chassis with 24 terabytes of storage for the editing team, which led to addressing the fact that, over the years, a collection of storage systems from different manufacturers had been acquired for various functions at TLN. Running different storage systems in the facility was inconvenient because it meant that operators still had to manually move media between storage chassis on the network. This not only took time, but also used up bandwidth by creating extra traffic.
Following the success of the Facilis systems in post-production, when the time came to replace a discontinued MediaGrid storage system, Gherman and his colleagues decided to standardize on Facilis as their main storage platform for both production and post. Working through local Facilis reseller in Toronto, Dynamix, TLN added a new 192 TB chassis to their existing TerraBlock servers a few months ago. Now, TLN has a large centralized storage network for the whole facility which saves transfer time and has reduced their overall network traffic.
Originally, the connection between shared storage and workstations used 4GB/s Fibre Channel, but with the latest upgrades the facility has now switched to 10gigabit Ethernet for all systems. "All of our edit stations were fitted with 10Gb cards, and the speed increased four times, which was a great leap forward," said Gherman. "The fact that all of our Facilis systems are compatible with either Ethernet or Fibre Channel is very helpful."
Currently, TLN has five Avid suites connected to the TerraBlock, plus two seats running CatDV for archiving of material, and another seat for general purpose administration. Having worked with other storage systems that require considerable familiarity with Linux, Gherman finds this network, based on CatDV integrated with Facilis, easier to handle when creating, deleting or resizing volumes on a TerraBlock server. Both products are tailored to content creation, have aligned permissions models, operate cross-platform and can scale to large numbers of users and assets.
Gherman likes to manage the administration himself. "Our creative staff are quite busy, and they prefer not to touch the hardware and concentrate instead on storytelling," he said. "I'm happy to manage and administrate for the team because it takes only a little effort on my part, and helps me keep a watchful eye on the process to make sure it runs smoothly." facilis.com