Spectra Logic's New Integrations Support Workflow and Archive Storage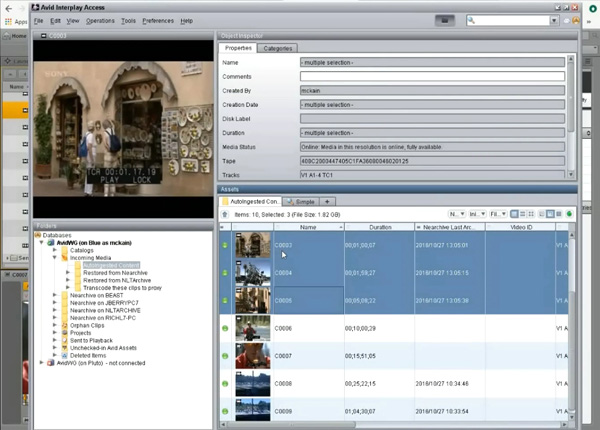 Object Matrix and Spectra Logic have integrated their systems to create holistic storage across multiple storage tiers, while maintaining the security and integrity of the stored content. The joint system combines Object Matrix's digital content governance platform, MatrixStore with the Spectra BlackPearl Converged Storage system.
Object Matrix's MatrixStore gives organisations access to content immediately as required and without delay, mainly through automation. Business continuity functionality is also integrated so that users are able to continue managing content in the case of an outage.
Spectra Logic BlackPearl acts as an object storage gateway to the storage. Through the use of RESTful interfaces, users can manage large amounts of data on several different storage domains including online and nearline disk, LTFS tape and public cloud.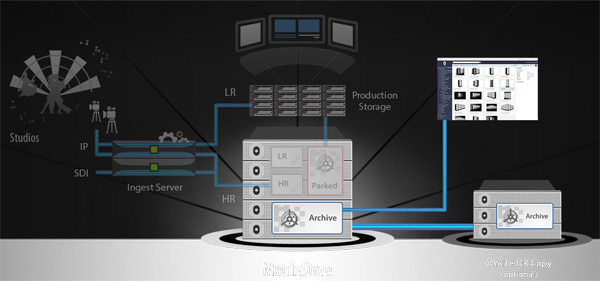 The integrated system uses the MatrixStore and BlackPearl APIs to automate archiving from the MatrixStore Nearline through to BlackPearl. When this archive action occurs, a searchable stub is left behind in MatrixStore. The system will also automatically enforce user-selected storage policies and, depending on requirements, assets can be deleted, restored or copied to another folder. Assets and proxies can be searched, viewed and shared via the MatrixStore Vision browser interface as well.
Both companies believe that, as well as maintaining security and tiering, flexibility and automation are key aspects especially in situations relying on complex media workflows. This integration will be demonstrated at IBC on the Object Matrix and Spectra Logic stands.
NLT Archive and Black Pearl - Avid Interplay Archiving
NL Technology has also integrated Spectra Black Pearl into an interesting Avid workflow - in this example by updating its NLT Archive desktop software for archiving and retrieval of clips, sequences and other media assets for the Avid Interplay Production Asset Manager. The update allows digital assets to be archived using BlackPearl. NL Technology used the .NET/C# SDK to build a certified Spectra S3 client for NLT Archive, resulting in long term storage that is directly integrated with Avid's MediaCentral | UX.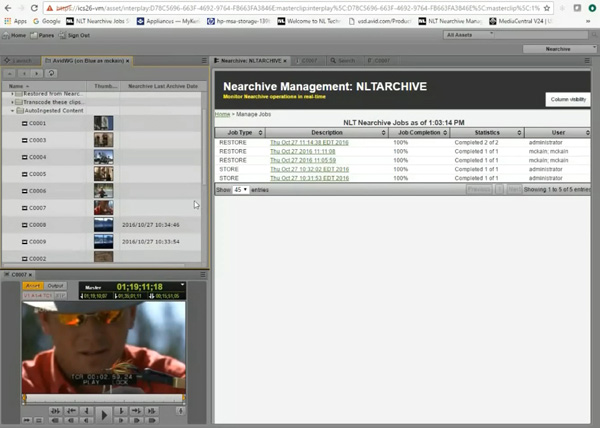 The combined NLT Archive and BlackPearl system sets up an archive workflow specifically for Avid Interplay Production users working with video for broadcast news, film production and reality production. Sequences and master clips can be moved to the BlackPearl system at any point - before, during or after production - while a viewable proxy and associated metadata remain in the Interplay database for later reference.
Using NLT Archive with BlackPearl does not require Avid users to learn new tools. Assets are selected for archive or retrieval using the Avid search and browse tools that are integrated within the MediaCentral Platform. A simple right-click performs the operation.
By combining NLT's migration mechanism, which forms the interface for Interplay Production, with a library management system, content can be moved from online to a near-line position and later restored to Avid's SAN for online re-use. Since clip and sequence metadata are always online within Interplay Production, users can find and decide quite quickly which assets to retrieve from the archive.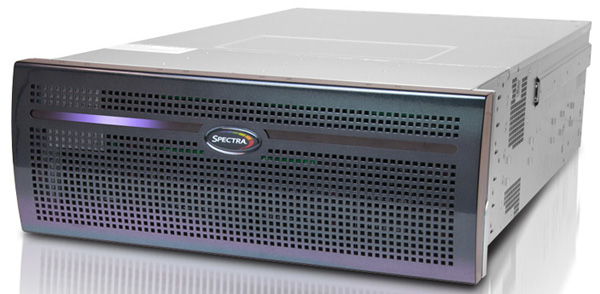 Alongside NLT's archive and retrieval, the Interplay database tracks media files stored in the library, so users can look for archived and online media using a single Avid interface such as Interplay Access or MediaCentral | UX. Users select and right click to restore assets, and NLT's Archive moves the media assets to the Avid SAN, where they appear online automatically.
Users can browse all assets in the archive via NLT Archive's built-in H.264 streaming player. When each master clip is archived, a streamable H.264 proxy file is also generated and associated with a master clip and metadata. Users browsing assets can play back and scrub through any clip, advance frame by frame and share comments with colleagues. As an option, archived content can be made searchable from connected devices via Wi-Fi by users external to the production workgroup www.SpectraLogic.com