Post Op Group Integrates Asset Access and Archive with Spectra Logic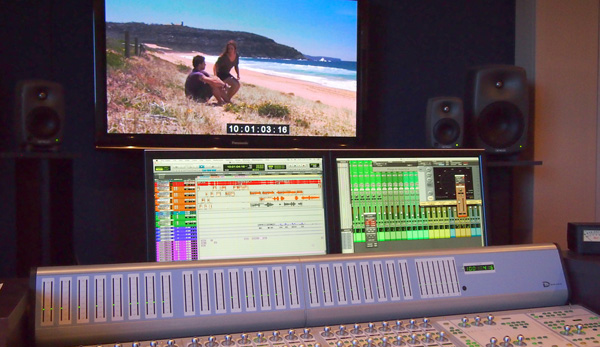 The Post Op Group in Sydney, Australia, supplies equipment, facilities and services to film and television producers. In an integrated environment, the facility supports content production including feature films, dramas, reality programming, documentary, commercials and corporate content. They make services available starting with camera ingest, to online editing and finishing of broadcast deliverables, operating full-specification grading and compositing suites running Avid, Da Vinci Resolve, Smoke, Flame and Lustre software.
The Group has grown steadily over the last 10 years. Their teams gain fast access to assets through a scalable Spectra Logic digital storage system, which integrates directly with their Avid editorial systems and includes a middle tier area for consolidating and organising content prior to archive. When Post Op purchased their initial Spectra T50e Tape Library and two Spectra Verde NAS systems in 2013 to manage digital assets, they were replacing their previous system that had been complex to set up and maintain, and wasn't accessible to non-IT staff for restoring or archiving.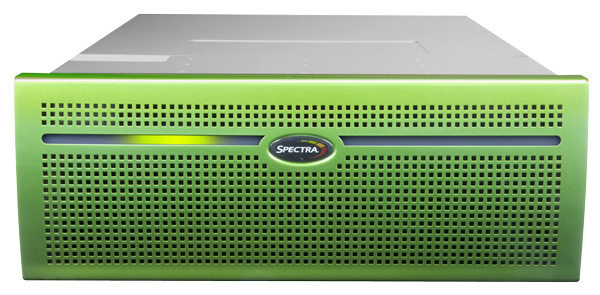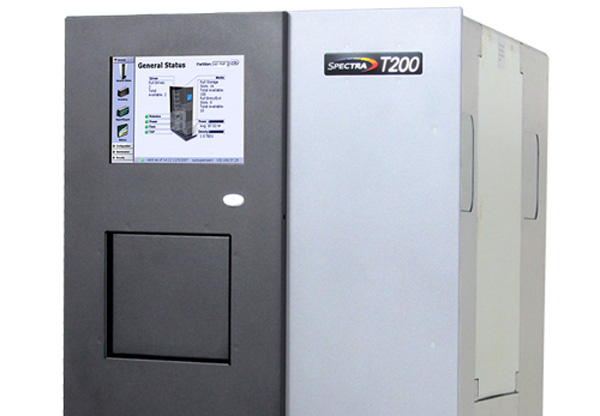 Now four years later, the organization has integrated a Spectra BlackPearl Converged Storage System into its environment as well, mainly for archiving, and upgraded to a Spectra T200 Tape Library. The teams use the BlackPearl system with a BlackPearl Eon Browser to archive finished production projects and associated media to the T200, moving about 1TB to 20TB of data per production to BlackPearl every three to six months. Post Op stores approximately 100TB in total.
The Spectra equipment and process has been relatively easy to set up and access compared to their earlier system. BlackPearl Converged Storage combines NAS and S3-based interfaces with several storage targets into one system designed to work with numerous concurrent workflows. It reduces the need for dedicated third-party data movers by integrating Spectra S3 with certified clients and simpler file movers.
The Spectra Verde NAS is a disk platform made to store mid-tier data, including primary storage offload, data staging, backup and archiving at a low cost per gigabyte with expandable raw storage capacities from 48TB to 7.1PB. BlackPearl Eon Browser is a client application with a graphical UI for storing assets, searching and restoring files quickly. It handles the management and transfer of digital assets between production storage or a network share system and the BlackPearl storage platform with drag-and-drop functionality.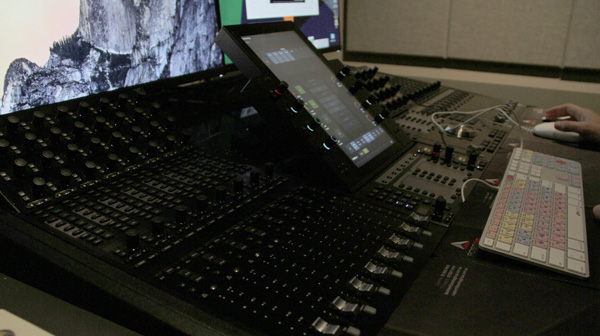 BlackPearl and Verde NAS work together as nearline storage for editorial, creating a space for production content and meanwhile sending finished assets to tape. The BlackPearl also integrates with their disk environment via Verde's network file interface (NFS), which both makes archiving simple and gives Post Op an immediate backup copy on tape for disaster recovery, if required.
The BlackPearl/Verde NAS integration means that this one set-up runs directly from primary storage through to long-term tape archive. Post Op recently added a third Verde NAS to its environment, which currently serves files locally at another offsite location.
BlackPearl NAS – News from IBC 2017
Spectra Logic has added a new mid-tier enterprise-grade data storage system to the BlackPearl line-up, BlackPearl Network Attached Storage. The NAS-based disk platform creates a more affordable storage location for offloading inactive tier one data, landing ingested media, or backup storage. It scales from 48TB to 7.1PB per unit, and can be upgraded to the full BlackPearl Converged Storage System with direct access to several different local and remote storage targets including tape, disk and cloud options. This upgrade path also works as investment protection and a means of handling of changing regulations, cloud initiatives and business demands.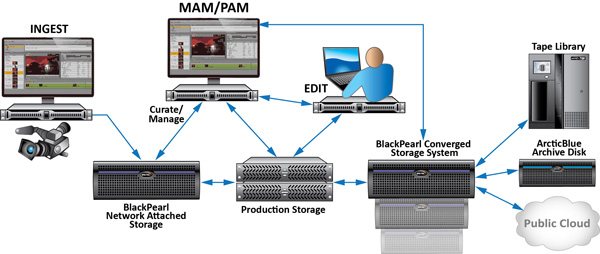 The upgrade and new storage target connections are achieved with Spectra's TranScale architecture, which uses components that are interchangeable between Tape Series libraries. The BlackPearl NAS appears to the network like an ordinary NAS system and will connect locally to numerous tape and archive disks, with replication to alternate private or public cloud sites for redundancy and disaster recovery. Originally designed for incremental growth, TranScale allows users to continue to use existing components in the new libraries and only replace the chassis. www.spectralogic.com