Spectra's Tape Libraries Increase Security, Lower Cost for Data Archives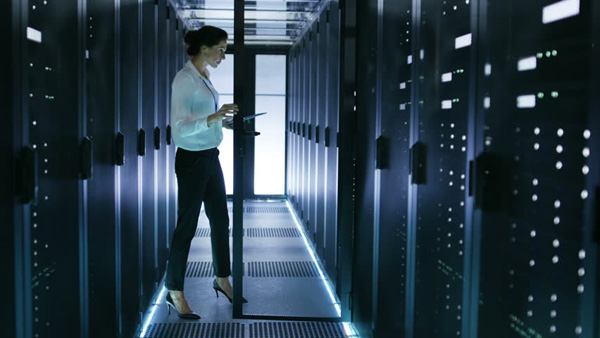 Spectra Logic's two new automated tape library systems continue to make tape a more scalable, practical and affordable choice for long term preservation and archiving of large-scale data. One of these products is Spectra Stack, a modular library that an organisation can start using with a single tape drive and 10 tape slots, and then expand incrementally as data requirements increase. The other, the Spectra T950v Tape Library, is a new affordable, entry-level model in the Spectra T950 enterprise Tape Library family.
Both new libraries support teams that need to manage growing data sets with the same budgets. Furthermore, all Spectra tape libraries - up to and including the new T950v - can now be deployed with less expensive half-height Fibre or SAS LTO tape drives, potentially saving considerable cost per installation. Spectra Logic plans to make RoCE 10Gigabit Ethernet connectivity available as well with its IBM TS1155 tape drives, for Ethernet tape library integration in Spectra's T380, T950, T950v and TFinity ExaScale Tape Libraries. This means customers can use their existing Ethernet infrastructure without investing in more hardware.
Spectra Stack Tape Library
The Spectra Stack Tape Library is a high-capacity, high-performance system in a single standard 19-inch rack built for backup, archive and data protection within midsize to large organizations. The modular design adds scalability so that users can start with only 10 LTO tapes and a single LTO tape drive in a 6U module, and expand the library, a module at a time, up to 560 LTO tapes and 42 LTO tape drives per rack. According to Spectra, users can install and completely upgrade the system themselves in about 30 minutes.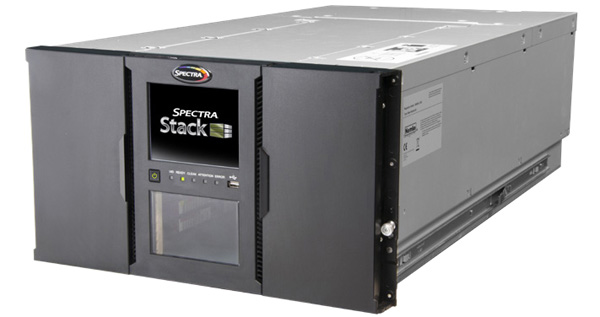 Each module holds up to 80 LTO tapes and up to six LTO half-height tape drives or three LTO full-height drives. Users can expand capacity in increments as small as 10 tape slots at a time. A seven-module Spectra Stack, when fully populated with LTO-8 drives and media, can store up to 6.7PB and transfer data at up to 45TB/hr within a single standard rack. Equivalent compressed values at 2.5:1 compression are 16.75 PB storage, 105 TB/hr transfers.
The Spectra Stack supports both full-height and half-height tape drives, multiple generations of LTO tape drives from LTO-5 to 8, and LTO media from LTO-3 to 8 and LTO-7 Type M. Systems may use new LTO tape equipment or integrate existing LTO tape drives and media into the library to help protect investments.
Users manage the library with Spectra Logic's BlueVision software, which includes a colour touchscreen, remote web interface, encryption and encryption key management. Users can create up to 20 Shared Library Services partitions, Further functionality covers built-in diagnostics and media lifecycle management, and Shared Library Services which integrates simple, internal partitioning so that a single library appears to users as multiple libraries. As an option, a BlueVision camera can be mounted to the top of the library to give a real-time and remote visual assessment of the robot.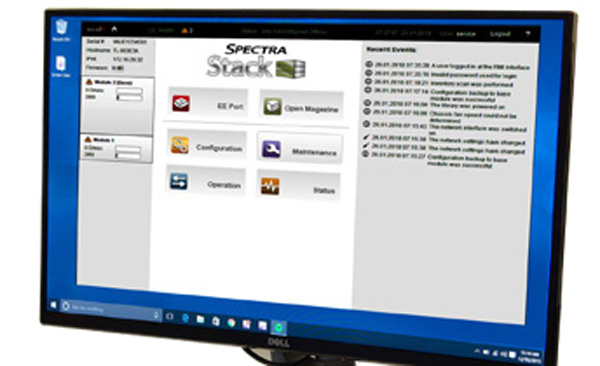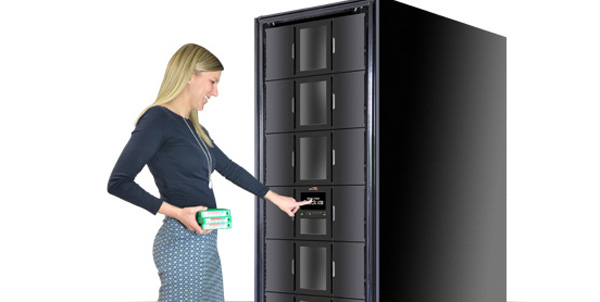 Certified with all major ISV packages for the data centre, Spectra Stack also directly integrates with Spectra's BlackPearl Converged Storage System, so that users can create an object storage ecosystem with tape, archive disk and online disk – and manage it through BlackPearl.
Spectra tape library customers are eligible for the MigrationPass program, which helps users consolidate third party storage tape library applications, drives and tape cartridges into the Spectra Stack using Shared Library Services. This avoids further expenses by increasing density and efficiency.
Spectra T950v Tape Library
Based on the Spectra medium-capacity T950 Tape Library, the T950v is basically a redesign, focused on reducing cost, and is intended for general IT and media & entertainment applications. Various services and functions that had been added for HPC (high-performance computing), such as the BulkTAP access port and remote camera monitoring, have been removed and support is added for lower-cost half-height drives, which saves substantial funds per installation.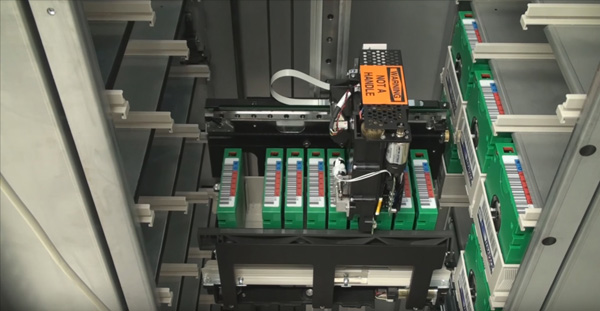 TeraPack 3-dimensional storage configuration
The T950v has the same enterprise-grade functions and level of reliability as the T950, but with a price that is closer to entry-level. When fully populated with 120 LTO-8 tape drives and media, the T950v stores up to 120PB (300PB compressed at at 2.5:1 compression) and transfers data up to 155TB/hr (324TB/hr compressed).
Users can choose between LTO and IBM TS11XX Tape media. Using Spectra's TeraPack 3-dimensional storage configuration for the physical tapes limits the overall size of the system. Media handling is reduced because the cartidges are moved about, both within the system and when importing and exporting, in groups packed into trays instead of one at a time.
You also can upgrade straight into a larger Spectra library with more capacity and performance – up to the TFinity ExaScale - as needs for throughput or capacity grow using Spectra's TranScaling. This function allows the use of existing components in a larger frame.
The Spectra Stack is available now in North America and Europe, with worldwide coverage in progress. www.SpectraLogic.com