EditShare Develops Auditing for XStream EFS; Software-only Flow MAM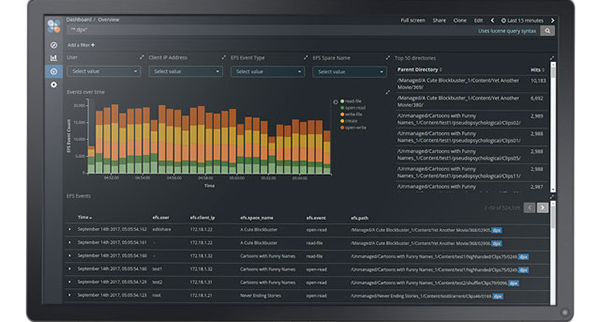 EditShare has upgraded the software supporting its shared storage including a software only version of Flow media asset management software for third-party storage, and auditing tools, permissions control and space utilisation reporting for XStream EFS.
The new XStream EFS File Auditing functions record every log-in/log-out, media space mount, file open read, move, copy or delete. To make these events easier to organise and analyse, an EFS Auditing Analysis Dashboard visualises file audit logs and read summary reports on user activity, which can be filtered by user, IP address, event type, media space and time interval for analysis.
Detailed reports indicate which user carried out an action, what files or directories were affected, and exactly when these actions took place. EFS Auditing does not impact real-time operations or system performance. The data can also be exported to third parties and other auditing applications, including Security Information Event and Management (SIEM) software.
XStream EFS File Auditing uses dedicated, redundant storage to isolate file audit logging and analysis workloads from ordinary storage read, write, metadata management and OS processes. As native functionality of the EditShare Shared Storage File System, all XStream EFS shared storage systems support EFS File Auditing. Existing systems can be upgraded to include EFS File Auditing by purchasing a field upgrade kit.
Editshare notes that although file-based workflows, remote collaboration and cloud applications can be efficient and lower costs, they may also increase the number of points through which an unauthorised user can try to enter data into or extract data from a system. In the past, security efforts focused on creating barriers to prevent access to media assets. However, as many of these have failed over time, the focus has shifted to file auditing to prevent internal and external theft, and to tracking interactions with a facility's files.
EditShare XStream EFS storage is one of the few purpose-built storage systems that supports comprehensive file auditing. Furthermore, it meets Motion Picture Association of America (MPAA) standards for security against cyber attacks and hacks.
ACL Media Spaces and Space Utilisation Reporting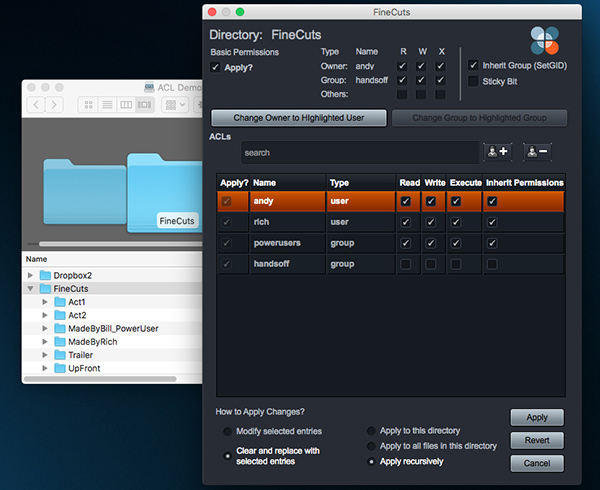 As well as activity audits, XStream EFS shared storage now includes ACL Media Spaces and upgraded storage space utilisation reporting. The main advantage of ACLs, or Access Control Lists, is the fine-grained control they afford over user permissions. They can be used instead of 'read-only' or 'read/write' rules that govern current EditShare EFS media spaces.
Becacuse ACLs give you control over every file and user, using the lists is very complex. However, the main point to remember is that users who have ACL-setting authority can take ownership or change the user group of a file or directory. They can create ACL entries for local users and groups, as well as Active Directory users. Entries can be applied on a single file or directory, on all files in a directory, or recursively down to everything inside a directory. Entries can also be added, modified or removed for one or more users at a time.
ACL Spaces are managed in Finder and Windows Explorer extensions that are installed with EditShare Connect. Users with the ACL Management Limited Administrative permission can modify ACL Space permissions.
EditShare has changed the way it reports used and free space on its EFS systems. Before the release of the XStream EFS scale-out storage systems, it was simple to view how much space was being used on EditShare's storage systems, and how much space remained. The new EditShare XStream EFS release returns to a simpler appraoch with a visual easy-to-read dashboard that summarises available usable space, whether you are using traditional media spaces or new ACL managed spaces.
Software-only Flow MAM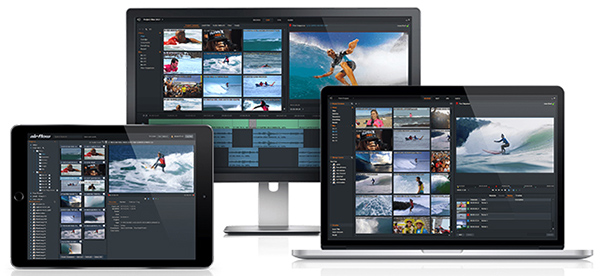 A new standalone version of EditShare's Flow media asset management software has been designed for non-EditShare storage environments such as Avid NEXIS, Storage DNA and Amazon S3. As an entirely software defined MAM platform, Flow takes advantage of customers' existing storage infrastructure by adding an intelligent media management layer that can manage millions of assets across multiple storage tiers in different locations.
Flow is based on a series of workflow engines that support collaboration through Ingest, Search, Review, Logging, Editing and Delivery, plus a workflow automation engine for automating tasks such as transcoding and delivery.
With a large number of apps for different tasks, Flow can be used to manage content and associated metadata from ingest through to archive, and includes collaboration tools for adding speed and efficiency to workflows. It gives a unified view of all your assets, no matter where they are stored - on premise, in tape archives or in the cloud. Flow tracks and manages content, making it immediately available for use. The new standalone version makes these same functions and workflows available for existing storage infrastructures.
Flow's remote workflow functionality allows users to review content remotely, as well as edit content on a timeline with voice-over and effects sourced from anywhere in the world. Flow users can remotely view Avid Media Composer or Adobe Premiere edits in a web browser using AirFlow.
AirFlow and associated software Flow Story now have a similar look and feel to Flow itself, making it easier to switch between them in different scenarios. New Range Markers improve the Logging and Review tools, and EditShare's new QScan automated QC software has been directly integrated as well, making it available at any stage of a post workflow. www.editshare.com