MPA Upgrades Video Production with Quantum Xcellis and CatDV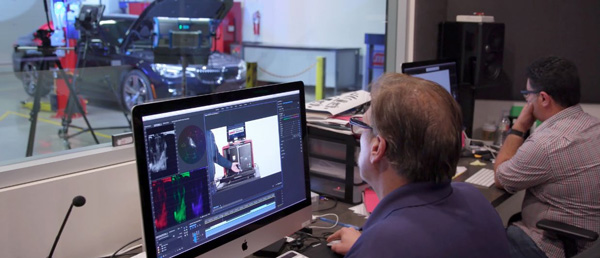 Motorcar Parts of America manufactures and remanufactures products and aftermarket components for cars and trucks for distribution across the US and Canada. Although its supply chain, manufacturing and test facilities are situated around the world, the company maintains a common quality standard throughout its operations.
To help standardise, the company produces its own video training content that shows professional mechanics and independent installers how to correctly fit and maintain the company's products. Over time, MPA has invested in a digital production facility at their headquarters in Southern California, running Blackmagic 4K hardware and consisting of two automotive repair bays and learning facilities built inside a TV studio with seating for a live audience.
In-House Studio
MPA's production team is equipped to carry out its own product photography and digital content creation for various installation, diagnostic, best practice and training videos, and also streams content and holds live webcasts. The video can also be re-purposed as marketing campaigns.
Earlier on, the artists worked on Apple workstations. But later, when sharing content between editors and re-using existing material became more difficult as their output increased, file sizes grew larger, and turnaround times shortened, they decided to upgrade their production and editing systems.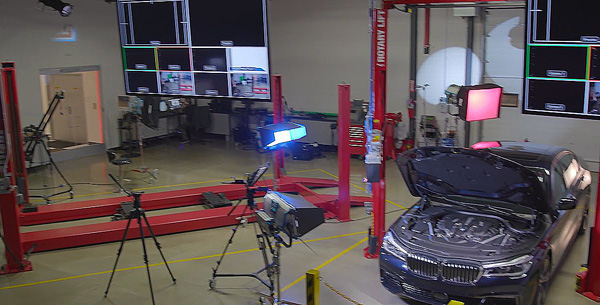 Integrator Sunset Studios, which specialises in customising workflows for clients, helped MPA create and modernise their studio to accommodate four-camera recording in a two-bay garage facility that is now supported by a high-performance data sharing and storage archive capabilities.
High-Speed Shared Access
"Phase two of this project entailed a Fibre Channel network with media asset management software, as well as sorting out the requirements for production storage and archiving that would align with the activities in our workflow," said John Edwards, Sunset Studios principal. "At the end of our evaluation, we chose Quantum and CatDV."

MPA's system is based on Quantum's Xcellis scale-out workflow storage and CatDV media asset management from Squarebox. The Xcellis storage appliance is built for high-speed shared access to critical production data to increase collaboration, simplify management and accelerate production timelines. The system includes an Xcellis Workflow Director node, Brocade Fibre Channel networking and Quantum QXS tiered storage. Workflow Director nodes contain StorNext data management software and are preconfigured with metadata storage to support the system's high-speed ingest and scalable shared access.
Quantum QXS is hybrid storage that optimises flash and disk in order to control the initial and operating costs. It automates tiering in real-time, and can be configured for specific applications and workflows. The StorNext file system is what allows the entire team to share and access files continuously from a centralised data pool. As their repository grows, the team will be able to add an archive tier of storage within the same global namespace at a reasonable cost.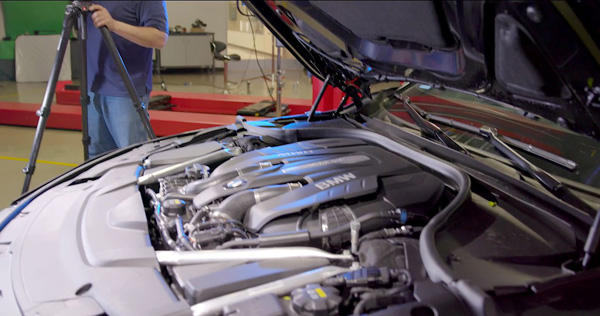 Fast Editing on MAM-Storage Integration
Xcellis is tightly integrated with CatDV's media asset management tools, which serve as the team's asset management and workflow control software. CatDV tracks, tags, archives and re-accesses digital media content inside a shared storage environment.

"The editors use CatDV to build custom tags to immediately recall specific content whenever they need it. It happens very quickly over the Fibre Channel network," said John Edwards. "We chose CatDV and Quantum because they have performed well in the past, and share a very close integration."
The new system speeds up editing by initially using low-res proxy formats. Once the programme has been set, the CatDV system automatically pulls the selected high-res content from the Xcellis archive and builds the final version.
Web Portal for Client Collaboration
Functionality that the MPA team finds especially useful is the system's web-based collaboration for projects that involve external clients. Clients can use Akomi's software web portal to access CatDV instead of having to learn how to use a new MAM system.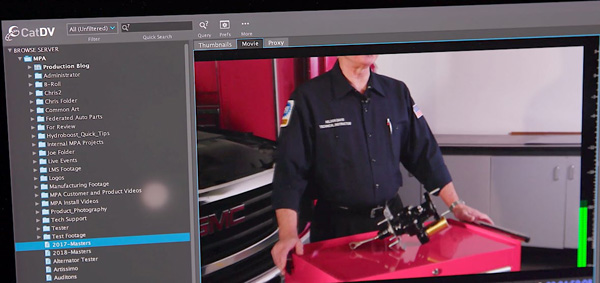 Akomi has a simple UI designed to share selected assets from CatDV MAM among a large group of non-technical users. Deploying and using it to view, share and download assets is similar to watching a web video and needs minimal training.

MPA's new facility and video capture, editing, storage and archiving systems helped the company launch its own YouTube Channel in 2016. The team can create better content more rapidly, and keep up with product changes and new customers in a more timely, interesting way.

"Basically, everything that we do now is going to YouTube because most of our installers, especially do-it-yourselfers, are already going to YouTube to find a solution," said Joe Micallef, multimedia production manager at MPA. "Now we can quickly pull content from previous shoots using CatDV and Quantum." www.quantum.com