NAB 2019 - Avid NEXIS | Cloudspaces Expands Storage on Demand in the Azure Cloud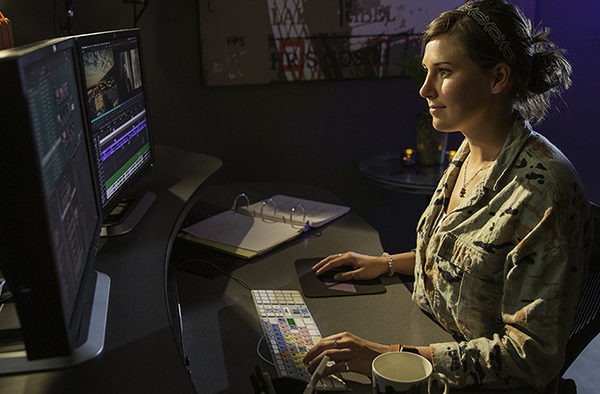 Avid NEXIS | Cloudspaces is storage management software delivered as a service that news, sports and post-production teams can use to store and park media in the Microsoft Azure cloud. Teams can use it to make local space available without interrupting production to move media back and forth between NAS or external drives.
The cloud can be a convenient option for smaller facilities to offload and park project media temporarily in the cloud until it is ready for processing or to be used in the workflow. Cloudspaces can also be used to synchronise the media in onsite Avid NEXIS workspaces, with media backed up offsite in the cloud. Advantages of Microsoft Azure are hyper-scale storage capacity, global distribution and networking capabilities.
Available as a completely integrated add-on service for all Avid NEXIS systems, Cloudspaces is cost efficient compared to buying extra physical storage, with set-up and management that is simple for people already using NEXIS systems. Avid NEXIS manages cloudspaces alongside workspaces – that is, it doesn't differentiate between workspaces and Cloudspaces, making searches, organisation and wrangling media less time-consuming.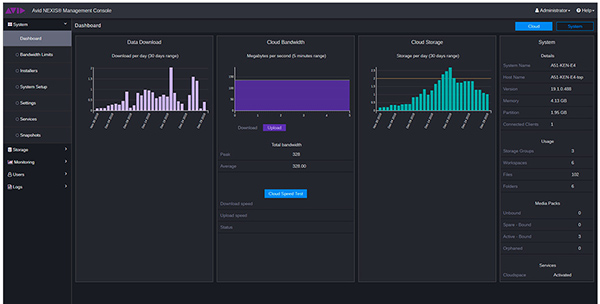 NEXIS usage management console
Currently, new Avid NEXIS systems come with 2 TB of cloud storage as part of a limited-time free offer, so that users can start storing media in the cloud immediately.
Avid NEXIS | Cloudspaces is ready to use whenever required, configured from the Avid NEXIS Management Console with the same NEXIS user access controls for security. It's also possible to configure multiple cloudspaces, and to use your own media management tools including Marquis Workspace Tools – which are mostly customised for Avid anyway - Windows File Explorer and macOS Finder instead of trying to learn manual processes. www.avid.com