Quantum's F-Series NVMe Storage Speeds Performance-Intensive Workflows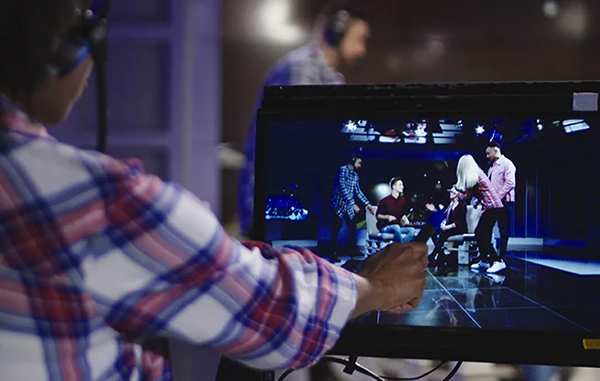 Quantum F-Series is a new line of NVMe storage arrays designed for performance, availability and reliability. Using non-volatile memory express (NVMe) flash drives for ultra-fast reads and writes, it supports massive parallel processing and is designed for studio editing, rendering and other performance-intensive workloads using large unstructured datasets.
Incorporating Remote Direct Memory Access (RDMA) networking, the F-Series opens direct access between workstations and the NVMe storage devices for faster, more predictable network performance. Users can reduce infrastructure costs by moving from fibre channel to Ethernet IP-based infrastructures. Combining this hardware functionality with the new Quantum Cloud Storage Platform and the StorNext file system makes the F-Series' storage capabilities especially useful for post-production, broadcast and other intensive media environments.
Purpose-built NVME Server - Quantum F2000
The first product in the F-Series is the Quantum F2000, a highly available storage server, purpose-built for NVMe. The F2000 is a 2U, dual node server with two hot-swappable compute canisters and up to 24 dual-ported NVMe drives. Each compute canister can access all 24 NVMe drives, and includes processing power, memory, and connectivity specifically designed for high performance with high availability.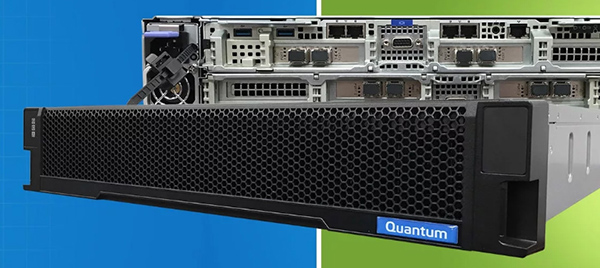 NVMe - Non-Volatile Memory Express
NVMe is a collection of interface specifications for connecting storage to servers via PCI Express and is a faster way for SSDs to communicate with host systems. Through high bandwidth and low latency storage access, it also helps avoid bottlenecks caused by trying to connect very fast flash memory to systems via the regular SAS or SATA connections originally designed for hard drives.
It's important to note that SSD flash drives run on NVMe - that is, it isn't be used to increase the performance of hard drives because computing systems have to read data off a spinning disk in order, one piece at a time. Nonvolatile memory like SSD flash, in contrast, have no moving parts, which means the system is able to read data from many locations at once, and which is why SSDs can take advantage of the parallel processing of NVMe, unlike HDDs.
The F-Series is based on the Quantum Cloud Storage platform, a software defined block storage stack tuned specifically for video and other unstructured data similar to video. It leaves out data services unrelated to video, focussing on capabilities that are more critical such as data protection, flexible networking and block interfaces. The result is a more reliable platform and efficient architecture with greater streaming performance.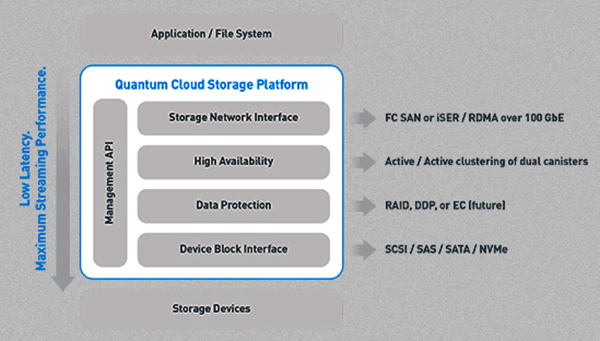 Quantum Cloud Storage platform architecture
StorNext Integration for Workflows
The Cloud Storage platform is tightly integrated with StorNext and its associated workflow storage capabilities. StorNext supports collaboration through multi-protocol access, protects data through replication and copy functionality, and can automate tiering of data to storage optimised by capacity. The potential advantages are a lower total cost of ownership and opportunities to extract further value from content across its life-cycle for various workflows.
In post-production, for example, the F-Series is designed for real-time editing of 4K and 8K content. The platform is also capable of handling multiple concurrent ingest streams and playing out the content in real-time, which suits environments with tens to hundreds of cameras generating content, like those set up for sports video. For rendering and simulation in animation and visual effects studios that require extremely high IOPs and low-latencies, the F-Series can be deployed between large-scale render farms and the storage subsystem. www.quantum.com